Our favourite 2022 Award Winners
7th December 2022
2022 has seen some fabulous shortlists and winners across a wide range of book prizes. Prizes such as The Booker Prize and Yoto Carnegie Medal receive great press and can jump straight to the top of many people's must-read lists.
Aside from the biggest and best-known awards there are a fantastic variety of great prizes in the UK that celebrate the very best books in a wide range of genres and specialisms. Read on to find out about some of our favourite prizes and the books that won in 2022…
The Diverse Book Awards:
This award was established in 2019 to showcase the talent of marginalised voices and celebrate the very best of the diverse books published in the UK & Ireland.
Diverse Children's Book Award Winner 2022
Dean, Benjamin
Paperback
WINNER OF THE DIVERSE BOOK AWARDS 2022. A rainbow-filled, JOYOUS debut from a hugely exciting new talent. Perfect for 9+ readers and fans of Elle McNicoll, Lisa Thompson and Onjali Rauf's The Boy at the Back of the Class. My name's Archie Albright, and I know two things for certain: 1. My mum and dad kind of hate each other, and they're not doing a great job of pretending that they don't anymore. 2. They're both keeping a secret from me, but I can't figure out what. Things aren't going great for Archie Albright. His dad's acting weird, his mum too, and all he wants is for everything to go back to normal, to three months before when his parents were happy and still lived together. When Archie sees a colourful, crumpled flyer fall out of Dad's pocket, he thinks he may have found the answer. Only problem? The answer might just lie at the end of the rainbow, an adventure away. Together with his best friends, Bell and Seb, Archie sets off on a heartwarming and unforgettable journey to try and fix his family, even if he has to break a few rules to do it... Praise for ME, MY DAD AND THE END OF THE RAINBOW: 'A life-affirming, must-read' - The Independent 'One of the most joyful books you'll read this year' - The Bookseller 'The novel wears its heart on its sleeve, and it is a very big heart' - Financial Times 'Joyful, funny and heartfelt' - Katie Tsang, co-author of SAM WU IS NOT AFRAID and DRAGON MOUNTAIN 'This joyful book has such heart, expertly navigating serious subjects around family, gender, and sexuality. Celebratory and advocating kindness, I'd recommend this book to all middle-grade readers. A real tear-jerker!' - Steven Butler, author of THE NOTHING TO SEE HERE HOTEL 'So adorable, funny, and heartwarming. I loved it!' - Alice Oseman, author of the HEARTSTOPPER series 'A joyful and thoughtful celebration of family, identity and inclusivity' - Anna James, author of the PAGES & CO. series 'A brilliant, smart book with a good heart. It's like a warm hug and I can't wait for the next one' - Danny Wallace, author of HAMISH AND THE WORLDSTOPPERS and THE DAY THE SCREENS WENT BLANK 'A powerful new voice in children's fiction' - Aisha Bushby, author of A POCKETFUL OF STARS 'I will recommend this book to everyone for years and years to come' - Gavin Hetherington, BookTuber - How to Train Your Gavin
More Details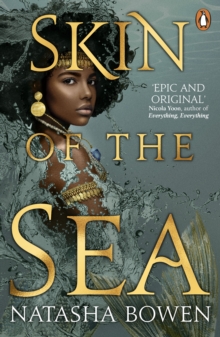 Diverse YA Book Award Winner 2022
Bowen, Natasha
Paperback
An epic love story infused with West African mythology. For fans of The Gilded Ones, Children of Blood and Bone, and Circe, this book is a powerful new imagining of a devastating time in history, told through the eyes of a bold and unforgettable heroine. This is the story of a great love - a love that will threaten worlds and anger Gods. This is a story that will change history. Simidele is one of the Mami Wata, mermaids duty-bound to collect the souls of those who die at sea and bless their journeys back home to the Supreme Creator. But when a living boy is thrown overboard a slave ship, Simi saves his life, going against an ancient decree and bringing terrible danger to the mami wata. Now Simi must journey to the Supreme Creator to make amends - a journey of vengeful gods, treacherous lands and legendary creatures. If she fails, she risks not just the fate of all Mami Wata, but also the world as she knows it. "A compelling, moving YA fairytale, richly woven with west African mythology" - The Guardian"One of the most epic and original fantasies Ive read in a long time. Natasha Bowen has crafted a world full of heart and imagination" - Nicola Yoon, #1 New York Times bestselling author of Instructions for Dancing"The most engrossing, thought-provoking, beautiful novel...knocks your socks off and leaves you wanting more" - Namina Forna, New York Times bestselling author of The Gilded Ones"A triumph of storytelling" - Kalynn Bayron, bestselling author of Cinderella is Dead'This poignant supernatural romance stands out for its sensuous prose' Financial Times'Fantastical creatures and vengeful gods form a vivid backdrop to this rich and original story of one girl's journey to find herself' Observer (YA Books of Month)
More Details
Diverse Adult Book Award Winner 2022
Abdullah, Kia
Paperback
Winner of The Diverse Adult Book Award 2022 'Abdullah's legal thrillers make John Grisham seem like a maiden aunt' Sunday Times Crime Club 'An enthralling, heartbreaking and thrilling courtroom drama that had me shouting out loud and gripped until the last page' Nadine Matheson, author of The Jigsaw Man 'Brilliantly tense, this is another clever page turner from Kia Abdullah that I couldn't put down. Just superb' Louise Hare, author of This Lovely City 'Twists and turns aplenty . . . The author's greatest strength lies in her sensitive and relatable description of the relationship between sisters Leila and Max's mother Yasmin' i 'A tense, brilliant read' Bella * * * * ON AN ORDINARY WORKING DAY… Leila Syed receives a call that cleaves her life in two. Her brother-in-law's voice is filled with panic. His son's nursery has called to ask where little Max is. YOUR WORST NIGHTMARE… Leila was supposed to drop Max off that morning. But she forgot. Racing to the carpark, she grasps the horror of what she has done. IS ABOUT TO COME TRUE… What follows is an explosive, high-profile trial that will tear the family apart. But as the case progresses it becomes clear there's more to this incident than meets the eye… A gripping, brave and tense courtroom drama, Next of Kin will keep you on the edge of your seat until the final, heart-stopping page. * * * * Readers are GRIPPED by Next of Kin 'Kia Abdullah is the absolute queen of the courtroom drama' NetGalley Reviewer, ⭐⭐⭐⭐⭐ 'WOW!! This book is astonishingly brilliant! An absolute masterpiece' NetGalley Reviewer, ⭐⭐⭐⭐⭐ 'I couldn't put this down and Kia Abdullah is becoming a firm favourite read' NetGalley Reviewer, ⭐⭐⭐⭐⭐ 'Kia Abdullah is a writing maestro' NetGalley Reviewer, ⭐⭐⭐⭐⭐ 'A gripping legal thriller that will leave you reeling. A book that will stay with you long after the last page. The ending is a stunner!' NetGalley Reviewer, ⭐⭐⭐⭐⭐
More Details
The Baillie Gifford Award Prize for Non-Fiction:
This prize rewards the very best in non-fiction writing in the English language. It covers all non-fiction in the areas of current affairs, history, politics, science, sport, travel, biography, autobiography and the arts.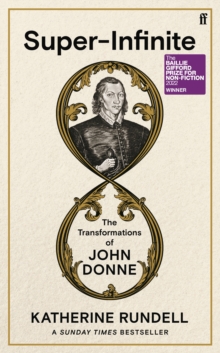 Baillie Gifford Award Prize for Non-Fiction Winner 2022
Rundell, Katherine
Hardback
** A Sunday Times bestseller **** A Guardian, Spectator, TLS, New Statesman, Daily Mail, Prospect and Telegraph Book of the Year**'Every page sparkles.' Claire Tomalin'Crackling with gusto and sympathetic intelligence' Andrew Motion'A triumph.' Matt Haig'A wonderful, joyous piece of work.' Maggie O'Farrell'Blazingly intelligent and witty' Telegraph'Frankly brilliant' Sunday TimesFrom a standout scholar, a sparkling and very modern biography of John Donne: the poet of love, sex, and death. John Donne lived myriad lives. Sometime religious outsider and social disaster, sometime celebrity preacher and establishment darling, John Donne was incapable of being just one thing. He was a scholar of law, a sea adventurer, an MP, a priest, the Dean of St Paul's Cathedral - and perhaps the greatest love poet in the history of the English language. He converted from Catholicism to Protestantism, was imprisoned for marrying a high-born girl without her father's consent, struggled to feed a family of ten children and was often ill and in pain. He was a man who suffered from black surges of sadness, yet expressed in his verse electric joy and love.
More Details
YA Book Prize
The YA Book prize celebrates books for teenagers and Young Adults and aims to get more teens reading. It is awarded to a book written by an author living in the UK or Ireland.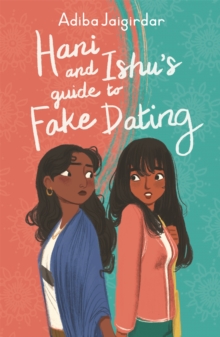 YA Book Prize Winner 2022
Jaigirdar, Adiba
Paperback
WINNER OF THE YA BOOK PRIZE 2022! Hani and Ishu couldn't be less alike - and they definitely don't like each other. But when fates collide and they pretend to date each other, things start to get messy... A heart-warming queer YA love story for fans of Becky Albertalli. Everyone likes Hani Khan - she's easy going and one of the most popular girls at school. But when she comes out to her friends as bisexual, they don't believe her, claiming she can't be bi if she's only dated guys. Panicked, Hani blurts out that she's in a relationship... with a girl her friends can't stand - Ishu Dey. Ishu is the polar opposite of Hani. An academic overachiever, she hopes that becoming head girl will set her on the right track for university. Her only problem? Becoming head girl is a popularity contest and Ishu is hardly popular. Pretending to date Hani is the only way she'll stand a chance of being elected. Despite their mutually beneficial pact, they start developing real feelings for each other. But some people will do anything to stop two Bengali girls from achieving happily ever after.
More Details
The Goldsmiths Prize
This prize rewards fiction that breaks the mould and is awarded to a book which embodies the spirit of invention.
The Goldsmiths Prize Winner 2022
Soobramanien, Natasha
Paperback
Edinburgh, 2014. Two writer friends, Damaris and Oliver Pablo, escape London, the city that killed his brother. They spend their days trying to get to the library, bickering over their tanking bitcoin, failing to write or resist the sadness. Then they meet Diego, a poet. He tells them he is named for his mother's island in the Chagos Archipelago, which she and her community were forced to leave by British soldiers in 1973. Damaris and Oliver Pablo become obsessed with this notorious episode and the continuing resistance of the Chagossian people, and want to write in solidarity. But how to share a story that is not theirs to tell? And how to account for a loss not theirs to grieve? A tragicomedy interrogating the powers of literature alongside the crimes of the British government, Diego Garcia is a collaborative fiction that opens up possibilities for the novel and seeks other ways of living together.
More Details
Children's Book Award:
The Children's Book Award is the only award voted for solely by children from start to finish.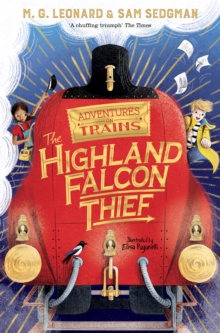 Children's Book Award Younger Readers Winner 2022
Leonard, M. G.
Paperback
Winner of the Book of the Year, Children's Fiction at The British Book AwardsWinner of the Books are My Bag Readers Award, Children's FictionShortlisted for the FCBG Children's Book AwardAdventures on Trains is a major mystery series for young readers, from bestselling authors M.G. Leonard and Sam Sedgman. Beautifully illustrated by Elisa Paganelli. First stop is The Highland Falcon Thief, a breathless train journey full of deceptions, puzzles and clues to solve. Harrison Beck and his Uncle Nat are enjoying the final journey of the Highland Falcon, Britain's most famous steam train. But when a precious jewel goes missing, Harrison and his new friend Lenny find themselves at the centre of the investigation. Can they solve the mystery and catch the culprit before they reach the end of the line?Hear whispers in the dining car, find notes in the library and unknown passengers among the luggage, as you help Harrison solve the mystery aboard one of the world's grandest trains. The Highland Falcon Thief can be read as a stand-alone novel, or enjoyed as part of the Adventures on Trains series. Join Hal and Uncle Nat on the next stops in this thrilling series, Kidnap on the California Comet and Murder on the Safari Star. Praise for the Series:'Like Murder on the Orient Express but better!' - Frank Cottrell-Boyce on The Highland Falcon Thief'A thrilling and hugely entertaining adventure story' - David Walliams on The Highland Falcon Thief'A first class choo-choo-dunnit!' - David Solomons on Kidnap on the California Comet'A high-speed train journey worth catching . . .The best yet' - The Times on Murder on the Safari Star'This series just gets better and better' - Maz Evans on Danger at Dead Man's Pass
More Details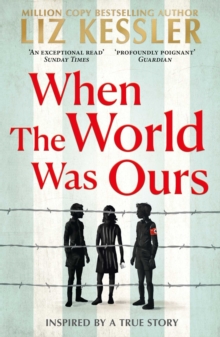 Children's Book Award Older Readers Winner 2022
Kessler, Liz
Paperback
ONE MOMENT CAN CHANGE A LIFE FOREVER. 'An exceptional read' The Sunday Times 'Vital glimmers of hope enlighten this profoundly poignant book' Guardian A powerful and heart-breaking novel about three childhood friends living during the Second World War whose fates are closely intertwined, even when their lives take very different courses. Inspired by a true story, this is the perfect read for fans of The Book Thief and Anne Frank's The Diary of a Young Girl. Vienna, 1936. Elsa, Leo and Max have always been best friends, a special team of three. Then the Nazis come. As a growing darkness descends around them, Leo and Elsa run for their lives, taking two very different paths across Europe. And Max, once their closest friend, now becomes the enemy as he is drawn into the Hitler Youth. Will the friends ever find their way back to each other? Will they want to? Inspired by a true story, WHEN THE WORLD WAS OURS is an extraordinary novel that is as powerful as it is heartbreaking, and shows how the bonds of love, family and friendship allow glimmers of hope to flourish, even in the most hopeless of times. Three friends. Two sides. One memory.
More Details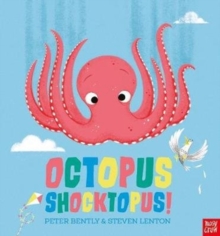 Children's Book Award Younger Children Winner 2022
Bently, Peter
Paperback
A brilliantly bonkers story about an octopus who lives on the roof, by two award-winning and bestselling picture book creators. When a giant octopus arrives, the children LOVE their new friend; it makes the perfect slide and is fantastic at football! But some of the grown-ups aren't so pleased. Will they drive it away . . . or will they realise just how helpful an octopus can be?A warm and witty rhyming story about welcoming newcomers. Sunglasses at the ready - this book has zingy fluorescent ink on the cover and inside illustrations. Peter Bently has won the Roald Dahl Funny Prize and his book with Helen Oxenbury, King Jack and the Dragon, was named an American Library Association Notable Book of the Year. Steven Lenton is the illustrator of the Shifty McGifty series by Tracey Corderoy, and also illustrates books by David Baddiel and Frank Cottrell-Boyce. His books have won awards such as the Sainsbury's Children's Book Award and have been selected for the WHSmith's Children's Book of the Year and Tom Fletcher Book Club. Every Nosy Crow paperback picture book comes with a free "Stories Aloud" audio recording. Just scan the QR code and listen along!
More Details
Theakston Old Peculiar Crime Novel of the Year:
This award celebrates excellence in crime fiction from UK and Irish authors. The 'Most Wanted' literary prize in crime writing, past winners have included Val McDermid and Chris Brookmyre.
Theakston Old Peculiar Crime Novel of the Year Winner 2022
Herron, Mick
Paperback
*Discover The Secret Hours, the gripping new thriller from Mick Herron and an unmissable read for Slough House fans**Now a major TV series starring Gary Oldman**THE INSTANT SUNDAY TIMES BESTSELLER***THE TIMES THRILLER BOOK OF THE YEAR*****WINNER OF THE THEAKSTON OLD PECULIER CRIME NOVEL OF THE YEAR 2022***'A gripping thriller' Ian RankinSlough House - the crumbling office building to which failed spies, the 'slow horses', are banished - has been wiped from secret service records. Reeling from recent losses in their ranks, the slow horses are worried they've been pushed further into the cold, and fatal accidents keep happening. With a new populist movement taking a grip on London's streets, the aftermath of a blunder by the Russian secret service that left a British citizen dead, and the old order ensuring that everything's for sale to the highest bidder, the world's an uncomfortable place for those deemed surplus to requirements. The wise move would be to find a safe place and wait for the troubles to pass. But the slow horses aren't famed for making wise decisions. 'The most completely realised espionage universe since that peopled by George Smiley' The Times'An absolute tour-de-force' Sunday Express
More Details
Little Rebels Award:
The Little Rebels Award is designed to celebrate and recognise the rich tradition of radical publishing for Children in the UK.
Little Rebels Award Winner 2022
Hagger-Holt, Sarah
Paperback
An accessible child-centred story about self-acceptance and the importance of opening up to those closest to you. Becky and Josh are almost-twins, with two mums and the same anonymous donor dad. Josh can't wait until he's eighteen, the legal age when he can finally contact his donor, and he'll do anything to find out more - even if it involves lying. Becky can't stop thinking about her new friend, Carli. Could her feelings for Carli be a sign of something more? Becky and Josh both want their parents to be proud of them...but right now, they're struggling to even accept themselves. Praise for Sarah Hagger-Holt's debut, Nothing Ever Happens Here "A barrier-breaking, empathy-inducing story for all." LoveReading4Kids"I can't wait for kids to read it - it's a book a lot of people need right now." Jay Hulme, award-winning poet"Compassionate and sweet and full of people trying their best. Highly recommended." Robin Stevens "Pitch perfect as far as I'm concerned. I wish there'd been books like this in my day." Christine Burns MBE, British Political Activist
More Details
The Orwell Prize:
Each year The Orwell Prize is awarded to the writing which best meets George Orwell's own ambition "to make political writing into an art".
The Orwell Prize – Political Writing Winner 2022
Hayden, Sally
Hardback
WINNER OF THE ORWELL PRIZE WINNER OF IRISH BOOK OF THE YEAR SHORTLISTED FOR THE BAILLIE GIFFORD PRIZE 'The most important work of contemporary reporting I have ever read' SALLY ROONEY The Western world has turned its back on refugees, fuelling one of the most devastating human rights disasters in history. In August 2018, Sally Hayden received a Facebook message. 'Hi sister Sally, we need your help,' it read. 'We are under bad condition in Libya prison. If you have time, I will tell you all the story.' More messages followed from more refugees. They told stories of enslavement and trafficking, torture and murder, tuberculosis and sexual abuse. And they revealed something else: that they were all incarcerated as a direct result of European policy. From there began a staggering investigation into the migrant crisis across North Africa. This book follows the shocking experiences of refugees seeking sanctuary, but it also surveys the bigger picture: the negligence of NGOs and corruption within the United Nations. The economics of the twenty-first-century slave trade and the EU's bankrolling of Libyan militias. The trials of people smugglers, the frustrations of aid workers, the loopholes refugees seek out and the role of social media in crowdfunding ransoms. Who was accountable for the abuse? Where were the people finding solutions? Why wasn't it being widely reported? At its heart, this is a book about people who have made unimaginable choices, risking everything to survive in a system that wants them to be silent and disappear.
More Details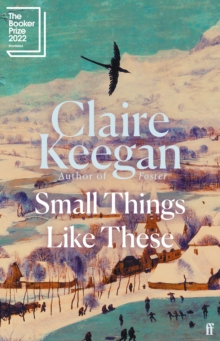 The Orwell Prize – Political Fiction Winner 2022
Keegan, Claire
Hardback
** A SUNDAY TIMES AND IRISH TIMES BESTSELLER **** Chosen as a Spectator, Irish Times and Irish Independent Book of the Year **THE NEW NOVEL FROM THE INTERNATIONALLY BESTSELLING AUTHOR OF FOSTER, ANTARCTICA AND WALK THE BLUE FIELDSWINNER OF THE ORWELL PRIZE FOR POLITICAL FICTION AND THE KERRY GROUP IRISH NOVEL OF THE YEAR. SHORTLISTED FOR THE RATHBONES FOLIO PRIZE AND THE IRISH NOVEL OF THE YEAR AT THE DALKEY LITERARY AWARDS'A single one of Keegan's grounded, powerful sentences can contain volumes of social history. Every word is the right word in the right place, and the effect is resonant and deeply moving.' Hilary Mantel (Winner of the Booker Prize 2009 and 2012)'This is a tale of courage and compassion, of good sons and vulnerable young mothers. Absolutely beautiful.' Douglas Stuart (Winner of the Booker Prize 2020)'Marvellous-exact and icy and loving all at once.' Sarah Moss'A haunting, hopeful masterpiece.' Sinéad Gleeson** A BBC TWO BETWEEN THE COVERS BOOK CLUB PICK****CHOSEN AS A BBC RADIO 4 BOOK AT BEDTIME**It is 1985, in an Irish town. During the weeks leading up to Christmas, Bill Furlong, a coal and timber merchant, faces into his busiest season. As he does the rounds, he feels the past rising up to meet him - and encounters the complicit silences of a people controlled by the Church. The long-awaited new work from the author of Foster, Small Things Like These is an unforgettable story of hope, quiet heroism and tenderness. 'Astonishing. Claire Keegan makes her moments real - and then she makes them matter.' Colm Tóibín'A true gift of a book. a sublime Chekhovian shock.' Andrew O'Hagan'A moral tale that is unsentimental and deeply affecting, because true and right.' David Hayden
More Details
To find out more about the many wonderful book awards and prizes in the UK and Ireland and check out the 2022 winners, have a look at our Official Awards Page. If you're looking for award winning titles from 2022 for a specific age group you can also find our lists for Primary, Secondary, FE and in eBook format on our website.