All About Rugby
6th September 2023
With the Rugby World Cup in France just around the corner I thought I would share my experience of playing both Rugby Union and Rugby League. I started my rugby journey at a later stage than most when I lived in Gloucester and moved schools for Year 6. I had always been to watch the rugby but never played it other than passing the ball about. Rugby Union was a big deal at the school, so I wanted to play the sport. From my first catch and run into the defensive line I was hooked! It was thrilling, and to me it was the perfect mix of skills as I worked with my team to score a try.
Rugby Union seems to many a very confusing sport with lots of rules, I believe however if you look into any sport you will get lost in the rulebook. At a basic level there are 15 players on each team, one team kicks the ball to the other at the start of the game and then the team that caught the ball proceeds to try get the ball across the opposing try line and put the ball on the ground scoring a try. A try is worth 5 points in Union and after they score the try, they have a shot at 2 extra points by kicking the ball off a tee through the rugby posts, this is called a conversion. If only it really were that simple! When the team with the ball is attempting to get a try, the other team tackles them in an attempt to stop them and potentially force a turnover or penalty. A turnover could come from a ruck which is what happens when a player is tackled, the player gets tackled and cannot move when on the floor so both teams go head-to-head to push each other over the ball to try and either keep possession or cause a turnover. It is an incredible skill to get the ball from a ruck and most of the time it occurs by a 'jackal' this is when a player gets to the tackle before anyone else, on their feet, and reaches down over the player and tries to scoop the ball off them or make them hold onto it, but if the tackled player does hold onto the ball after being tackled, that is a penalty. After a penalty the players are given an option, they can quickly tap the ball on their feet and run into the opposition, they can try kick for touch leading to a lineout (basically throwing a ball into a group of people where they lift each other up to catch it). They can also kick the ball at the posts, if they get it that will be worth 3 points. And finally, the scrum - one of the most dangerous parts of the game with 8 people linked together going against another 8 pushing as hard as they can to push the other team back to get the ball that has been put in the middle. There are so many more little rules and laws that can affect how the game is played but I hope my explanation has made you keen to explore the game!

After moving up to Hull when I was 16 I went to college and due to Union being less popular I started to play Rugby League, it was certainly very different and from my first session where I ran straight across the field to tackle someone and everyone looked at me strangely I knew it would be very hard to transition! Unlike Union where, if there is a player with the ball and you see him, you tackle him no matter where he is, in League everyone stays in their own line up and down the field and allows the opposition to fall into their defence. It's a lot faster and definitely harder fitness-wise, but it is impossible to compare to Union, I am asked a lot when speaking to people which sport I prefer and they cannot be compared, each game has amazing elements and different skill sets required.
Back to Rugby Union, and the imminent World Cup: The Rugby World Cup is the biggest competition for Rugby Union, it takes place every 4 years and countries from all around the world compete to win. This year the host is France, and the competition will be very exciting as many teams are potentially good enough to win. The last time England won the World Cup was in 2003 when they played Australia in Sydney. It was a brutal match that led to Johnny Wilkinson scoring a drop goal in extra time winning the game (a drop goal is when a player literally drops the ball on the floor just before kicking it and trying to get it through the posts and is worth 3 points). This win would go down in history and the clip of Johnny sending the ball through the posts is still one of my favourite highlights. The last World Cup, in 2019, came to a heartbreaking end - England had an amazing tournament with players like Kyle Sinclair and Maro Itoje showing their power in the forwards, and we had made it all the way to the final after beating Australia in the quarter-finals and New Zealand in the semi-finals. Our final opponents were the Springboks, South Africa. From the get-go we lost players due to injury and the speed and power that South Africa had was too much, unfortunately the game ended 32 – 12 to South Africa. I remember watching every game and waking up early to watch it in the Pub with everyone. After an amazing tournament it was hard to watch it end that way. Hopefully this year England can bring back some of that magic they displayed in 2019 and bring back the cup….
Many rugby players over the years have written autobiographies including Joe Marler, Alun Wyn Jones and James Haskell which I have had the pleasure of reading. All these players have so many amazing stories and insights into a world that at times is a lot more private and has more to it than other sports. Rugby isn't like football or bigger world wide sports where the players are constantly subjected to attention, yes the attention and media still watches them but due to the wage caps and the fact that rugby union players were not paid until 1995 the sport has always been about the team and the love of the sport, rather than it being a show and filled with politics, with players being paid tens of millions. Each of these books just show how human the players are and are a real insight into big defining moments in their careers and what they were experiencing. Even if you are not a massive fan, or a fan at all of rugby, reading these books and seeing how these professionals react at big moments are things you can take away and adapt into your own life. I'm sure you'll like my selection of books!
I hope this year England can make a difference at the World Cup and bring that trophy home, and I would recommend playing rugby to anyone as the friendships and life skills you will pick up along the away will last a lifetime.

Ethan, Marketing Team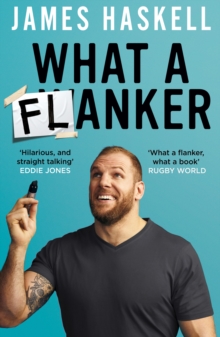 What a flanker
Haskell, James
Paperback
THE SUNDAY TIMES BESTSELLER 'Hilarious, and straight talking but also articulate and insightful - I am just hugely fond of this guy' -Eddie Jones 'James Haskell: what a flanker, what a book' -Rugby World 'I'd like to be remembered as a player who showed that you can be incredibly professional but also a lot of fun - a bit of a joker in the changing room, but the ultimate competitor on the pitch. That should have been the subtitle of this book, really...' One of rugby's most ferocious flankers and biggest characters, James Haskell has had an extraordinary, global experience of the game, having played for the Wasps, Northampton and England, and in New Zealand, France and Japan. After seventeen years and with 77 international caps under his sizeable belt, he has a shitload to say about rugby life - from pitch to pub and everywhere in between. In What A Flanker, Haskell sheds fresh light on the dynamics and the day-to-day of the game. Whether he's recalling the most brutal team socials; dispelling the myths surrounding New Zealand's dominance; introducing his Japanese teammates to manscaping or calling out play-acting in the modern game, no subject is off limits. Side-splittingly funny and ruthlessly honest, What A Flanker delves into the touring, drinking, training, eating and sometimes unconscionable antics of the professional rugby player. It's an unforgettable read, even if there are some stories you'd rather forget...
More Details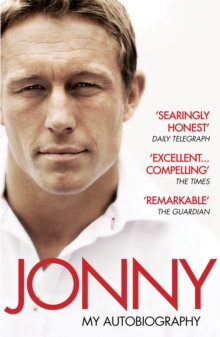 Jonny : my autobiography
Wilkinson, Jonny
Paperback
Jonny Wilkinson's career has crossed three decades and four World Cups. He has accumulated phenomenal achievements, world points records, an impressive list of broken body parts, and a drop goal that will be remembered for ever. But the peculiar calmness with which he played the game masked a very different reality. In JONNY, he reveals the extraordinary psychology that he had to tame in order to be able to dominate his sport. For most of his life, he was driven by a quest for perfection and an obsession to be the best player in the world; here he shows how these two facets of his competitive mind took such a hold of him that they sent him to the top of the world, then swept him up and dragged him down into a spiral of despair. Jonny's career has spanned the far reaches: amazing highs and iconic moments, then a fight against injury that culminated in a battle with depression. Here he tells of the physical toll he knew his body was taking from rugby, even from his youth; he tells of how he never wanted to be a kicking fly-half but learned to adapt his natural game to play the style that Clive Woodward believed necessary to win a World Cup, and how he nearly walked out on Martin Johnson's England team 13 years later.
More Details
Loose head : confessions of an (un)professional rugby player
Marler, Joe
Paperback
SHORTLISTED FOR THE TELEGRAPH RUGBY BOOK OF THE YEARThe truth about being a rugby player from the horsey's mouth. This book is not just about how a psychiatrist called Humphrey helped me get back on my horse and clippity-clop all the way to the World Cup semi-final in Japan. It's the story of how a fat kid who had to live up to the nickname Psycho grew up to play and party for over a decade with rugby's greatest pros and live weird and wonderful moments both in and out of the scrum. That's why I'm letting you read my diary on my weirdest days. You never know what you're going to get with me. From being locked in a police cell to singing Adele on Jonathan Ross (I'll let you decide which is worse), being kissed by a murderer on the number 51 bus to drug tests where clipboard-wielding men hover inches away from my naked genitalia, melting opponents in rucks, winning tackles, and generally losing blood, sweat and ears in the name of the great sport of rugby. This is how (not) to be a rugby player.
More Details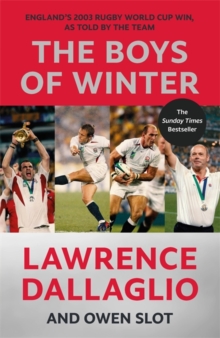 The boys of winter : England's 2003 Rugby World Cup win, as told by the team
Dallaglio, Lawrence
Hardback
THE INSTANT SUNDAY TIMES BESTSELLER and must-read book for the Rugby World Cup 2023. England have been in four Rugby World Cup finals and only won one of them. In 2003, this team was the one that did it. And this is their story in their words. The image of Jonny Wilkinson's last-minute winning drop goal is etched deep into the nation's consciousness - everyone knows where they were during that iconic moment on the 22nd November 2003. Twenty years on, with their achievement still unmatched, the affection and respect this band of brothers command is as great as ever. There is still no modern player as beloved as Jonny Wilkinson, no captain as celebrated and respected as Martin Johnson, and no coach as revered as Sir Clive Woodward. And there is no one with the aura and drive of Lawrence Dallaglio. In The Boys of Winter, Dallaglio and writer Owen Slot tell the inside story of England's triumphant 2003 Rugby World Cup through interviews with those involved, revealing how the team planned it and executed it; the iconic memories as well as the unseen moments. But what has become of those heroes of our youth? This book also tells the story of how the tournament has shaped the lives of those involved, for better or worse. For many it was the pinnacle, for some a missed opportunity and for others a curse from which they never recovered. - Includes never-before-seen interviews with the squad and coaching staff- Reveals how the team planned and executed the 2003 Rugby World Cup win- Uncovers for the first time the impact of the achievement on the players- Explores why this success has never been repeatedThis is the definitive account of a legendary sporting moment and an examination of the costs of our dreams.
More Details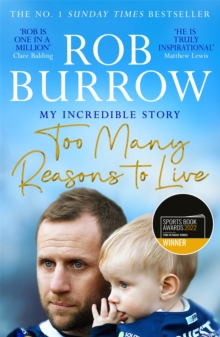 Too many reasons to live : my incredible story
Burrow, Rob
Paperback
The huge Sunday Times number one bestselling inspirational memoir from rugby league legend Rob Burrow on his extraordinary career, his incredible friendship with fellow Rhino Kevin Sinfield, and his battle with motor neurone disease. 'A pocket rocket of a player and a giant of a character . . . He is one in a million and his story is truly inspirational' – Clare Balding'I'm not giving in until my last breath' – Rob BurrowRob Burrow is one of the greatest rugby league players of all time. And the most inspirational. As a boy, Rob was told he was too small to play the sport. Even when he made his debut for Leeds Rhinos, people wrote him off as a novelty. But Rob never stopped proving people wrong. During his time at Leeds, for whom he played almost 500 games, he won eight Super League Grand Finals, two Challenge Cups and three World Club Challenges. He also played for his country in two World Cups. In December 2019, Rob was diagnosed with motor neurone disease, a rare degenerative condition, and given a couple of years to live. He was only thirty-seven, not long retired and had three young children. When he went public with the devastating news, the outpouring of affection and support was extraordinary. When it became clear that Rob was going to fight it all the way, sympathy turned to awe. This is the story of a tiny kid who adored rugby league but never should have made it – and ended up in the Leeds hall of fame. It's the story of a man who resolved to turn a terrible predicament into something positive – when he could have thrown the towel in. It's about the power of love, between Rob and his childhood sweetheart Lindsey, and of the life-changing bond of friendship between Rob, Kevin Sinfield, and their Rhino teammates. Far more than a sports memoir, Too Many Reasons to Live is a remarkable, awe-inspiring story of boundless courage and infinite kindness.
More Details
The extra mile
Sinfield, Kevin
Hardback
THE INSPIRATIONAL NUMBER ONE BESTSELLERThe extraordinary memoir of the sporting icon, devoted friend and fundraising hero who has inspired the nation in his fight against MND'An inspirational and life-affirming read. What Kevin Sinfield has achieved on and off the field is truly remarkable. His inspiring leadership and relentless focus on fundraising for MND shows how we should all strive to care more for each other' Gareth Southgate'If you want inspiring, uplifting and empowering... give this amazing man some of your time' Jake Humphrey'Kevin Sinfield is adored and respected . . . he is the best of men' Brian Moore, Daily Telegraph'I've always thought Kevin Sinfield was a hero. His quiet, calm, committed leadership makes people want to support him and we are all doing that as he supports Rob Burrow and everyone living with MND' Clare Balding'The friendship between Kevin Sinfield and Rob Burrow gives you faith in humankind' Sir Chris HoyThe Extra Mile is no ordinary sports memoir. But Kevin Sinfield is no ordinary sportsman. A one-club legend of Leeds Rhinos, who has now crossed codes as a defence coach for the England national rugby union team, Kevin Sinfield is a rugby icon. But in recent years has shown heroism of a very different kind through his selfless and extraordinary fundraising for motor neurone disease (MND), the terminal illness that has affected his best mate and former teammate Rob Burrow. Sinfield's epic challenges have included running 7 ultra marathons in 7 days, and running over 101 miles in 24 hours. In the process, Sinfield has captured the hearts of the nation and over £7 million for MND. He was awarded an OBE in the Queen's Birthday honours for his efforts, along with the Freedom of Leeds and a special BBC Award for his fundraising. Told with Sinfield's characteristic warmth, dry wit and inspirational leadership, The Extra Mile is the story of an astonishing life, of an enduring friendship, of perseverance against the most difficult of challenges, and of a remarkable, humble human being who has defied the odds. The book equips readers with the tools and the mindset to embrace togetherness and to overcome their own challenges. It leaves the reader with the urgent question: Who would you go the extra mile for to help in life?PRAISE FOR KEVIN SINFIELD'Inspirational does not do him justice, he's that and much, much more' Matt Dickinson'Kevin Sinfield is an incredible human being' Gabby Logan'A total hero' Yvette Cooper'Britain's greatest sportsman (off the pitch) ... Kevin Sinfield's fundraising is a poignant story of friendship and human endeavour' The Times
More Details
Proud
Thomas, Gareth
Paperback
**WINNER British Sports Book Awards SPORTS BOOK OF THE YEAR****Shortlisted for the William Hill Sports Book of the Year Award**Gareth Thomas had it all. He was a national hero, a sporting icon. He was a leader of men, captain of Wales and the British Lions. To him, rugby was an expression of cultural identity, a sacred code. It was no mere ball game. It gave him everything, except the freedom to be himself. This is the story of a man with a secret that was slowly killing him. Something that might devastate not only his own life but the lives of his wife, family, friends and teammates. The only place where he could find any refuge from the pain and guilt of the lie he was living was on the pitch, playing the sport he loved. But all his success didn't make the strain of hiding who he really was go away. His fear that telling the truth about his sexuality would lose him everything he loved almost sent him over the edge. The deceit ended when Gareth became the world's most prominent athlete to come out as a gay man. His gesture has strengthened strangers, and given him a fresh perspective. Gareth's inspiring and moving story transcends the world of sport to tell a universal truth about feeling like an outsider, and facing up to who you really are.
More Details
Rassie : stories of life and rugby
Erasmus, Rassie
Hardback
THE BOLD NEW MEMOIR FROM SOUTH AFRICA'S DOUBLE WORLD CUP-WINNING COACH RASSIE ERASMUSRassie Erasmus has been called a genius. He's been called reckless. All his life, he's done things differently. Now, with his trademark candour, Rassie talks openly about his adventures and misadventures at the pinnacle of world rugby, both as player and coach. From his role in Nick Mallett's record-breaking Springbok team of the late 1990s, to the devastating injuries that cut short his playing career, to his revolutionary coaching career, Rassie is an essential window into one of the most successful figures of modern rugby. When his teammates relaxed, Rassie preferred to watch hours of video and devise winning strategies. His coaching methods were initially laughed off – before being eagerly adopted when their success proved undeniable. He fought the rugby establishment at the Stormers, and later earned the grudging respect of Irish fans at Munster. Most crucially, Rassie talks about his greatest contribution to South African rugby: appointing its first black captain, Siya Kolisi, without much fanfare or controversy. As his bold plans for effective racial transformation of the national team achieved immediate success, they culminated in glory at the 2019 Rugby World Cup. Here, that monumental period is recounted in vivid, insightful detail. Entertaining and eye-opening, Rassie is full of behind-the-scenes revelations, telling the story of a towering figure in world rugby.
More Details
Rise
Kolisi, Siya
Paperback
'Siya's rise from humble beginnings to lifting that World Cup trophy is the stuff of fairytales.' MARCUS RASHFORD 'Siya Kolisi is a warrior on the field and an inspiration off it. This book is an extraordinary reminder of what can be achieved with inner belief and an indefatigable spirit.' JAY SHETTY 'Siya's story is well documented, and I am so impressed by the way he conducts himself. As the captain of his team and as a statesman he is measured and thoughtful. He is a leader in every way. An inspiration to a dynamic South African nation.' EDDIE JONES 'Few people embody the tenacity of what the New South Africa stands for, like Siya does. His story mirrors the nations'; in its trials and tribulations and also in it's triumph against all odds. This is a real life heroes journey.' TREVOR NOAH 'There is no doubt Siya has made a significant impact on World rugby, especially within South African rugby. [He] is passionate about changing people's lives for the better and uses his position and status to do that.' MARO ITOJE 'Brilliant' THE TIMES 'Moving' THE GUARDIAN His truth. His story. In his words. There have been many comments made and books written about Siya Kolisi, captain of the Springboks, and the first black man to lead his country in over 128 years of South African rugby.  But now, for the very first time, Siya Kolisi shares his story in an extraordinarily intimate memoir, charting his journey from being born into the impoverished Zwide township, to leading his proud nation to an astonishing victory at the Rugby World Cup in 2019.  However, Rise is not simply a chronology of matches played and games won; it is an exploration of a man's race and his faith, a masterclass in attaining a positive mindset, and an inspirational reminder that it is possible to defy the odds, no matter how they are stacked against you.  In 2020, partly in response to the pandemic, Siya and his wife, Rachel, launched The Kolisi Foundation, providing personal protective equipment to healthcare workers and delivering food parcels throughout South Africa.  The title Rise is inspired by Siya's mother – Phakama – which translates to the book's name, as well as a celebration of his Xhosa heritage.
More Details
Leadership : lessons from my life in rugby
Jones, Eddie
Paperback
Praise for Eddie Jones'A genuine super-coach' - The Sunday Times'His gifts of leadership and organisation are remarkable' - The Daily MailEddie Jones is one of the most successful sports coaches of all time. From coaching three different nations to Rugby World Cup finals and enjoying a winning record with England of nearly 80 per cent, he knows what's needed to lead and manage high performance teams. For the first time, Eddie reveals what it takes to operate in high pressure environments, the successes and setbacks, and how these lessons can be applied to every walk of life, from coaching a children's sports team to leading a multinational organization to simply doing your job better. Forthright and unflinchingly honest, Eddie Jones reveals what he has learnt from Sir Alex Ferguson, Arsene Wenger and Pep Guardiola, as well as from the founder of Uniqlo and Ron Adams of the NBA. Drawing on stories from nearly thirty years of coaching, Eddie explains how you need humour, humility and relentless curiosity to lead an eclectic mix of superstars - from Maro Itoje to James Haskell, George Smith to Kyle Sinckler - and create teams that are relentlessly hungry to win. Leadership is the ultimate rugby book about what it takes to be the best. Written with Donald McRae, two-time winner of the William Hill Sports Book of the Year Award, Leadership is the book for anyone who wants to learn how to build and lead a team to success.
More Details
Rugby World Cup France 2023 : the official book
Collings, Simon
Paperback
The must-have companion to the greatest event in world rugby, the Rugby World Cup France 2023. Containing everything rugby fans will need to enjoy the World Cup, this official guide is packed with images, profiles, previews and charts, making it essential reading for any fan and the perfect companion to all of the tournament action. Contents include:• Team-by-team profiles • Star player profiles • A guide to every venue • Fill-in tournament progress chart • History of the Rugby World Cup • Rugby World Cup records • Qualification round-upAnd much, much more besides.
More Details