Browns Best New Books for April 2023
31st March 2023
Every month we carefully select our favourites from the fabulous new titles on offer. We're taking inspiration from William Wordsworth (whose birthday it is on the 7th of April) and his famous I Wandered Lonely as a Cloud this month:
And then my heart with pleasure fills,
And dances with the daffodils.
May your April be filled with the joys of Easter & Spring, dancing daffodils and fabulous new books!
Check back next month for our picks of the new books May has to offer.
Adult Non-Fiction
The LGBTQ+ history book
DK
Laminated
The LGBTQ+ History Book celebrates the long, proud- and often hidden- history of LGBTQ+ people, cultures, and places from around the world. It presents a bold and accessible overview of LGBTQ+ history: the celebrations, the tragedy and persecutions and lesser-known individuals playing a key role in both…

This book forms part of the brilliant Big Ideas Simply Explained series – one of our favourite series for older Secondary and Further Education students. This best-selling series explores and explains a wide range of always-relevant key subject areas via its graphic and quote-led approach, and uses creative design and innovative graphics, along with straightforward and engaging writing, to make complex issues and subjects easier to understand. These books provide just the information needed for students or anyone interested in concise, thought-provoking refreshers on a single subject. You can see all the titles in this series here.
More Details
Adult Fiction
Atalanta
Saint, Jennifer
Hardback
Jennifer Saint is firmly on our 'must-read' radar – her novels Elektra and Ariadne have shown that she is a master of retellings of Greek mythology that are told in the voices of the often-overlooked women at the heart of the ancient legends. Her new novel tells the story of Atalanta – a figure we know as a famed huntress, wrestler, runner and perhaps most famously as the only female to join Jason's band of Argonauts. (Oh, and raised by bears too, let's not forget that!). Jennifer Saint once again shows us that we didn't really know the story at all, and vividly brings life to Atalanta's story in an easy-to-read and vibrant way – we highly recommend this read….

Modern retellings of Greek Myths that show the untold stories hidden within the myths are having a huge resurgence at the moment, especially those giving agency to women. We highlighted many of these, including Atalanta, in our recent Blog It's (Not) All Greek to Me – click here to read it.
More Details
Children's Non-Fiction
See inside genes and DNA
James, Alice
Novelty hardback
We've long been admirers of the Usborne See Inside series, and we're pleased to see this great addition to the series publishing this month. Genes and DNA are fascinating subjects for even the youngest of readers who want to learn about themselves and what makes them unique, why we all look different and so many more mysteries about the code that connects us with every living creature on the planet.

The fantastic See Inside series feature an oversized, sturdy lift-the-flap book, with engaging modern illustrations. The flaps reveal hidden information or answer intriguing questions. This bite-size representation of facts is particularly engaging for less-confident or less-keen readers of ages 7 and up.
More Details
Children's Fiction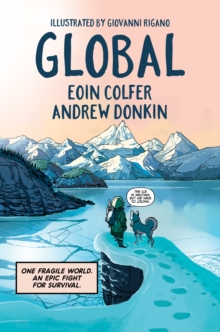 Global
Colfer, Eoin
Laminated
Illegal has been a Browns customer favourite since it was published, being read and used in primary and lower Secondary classrooms to vividly make real the story of refugees and their plight. We're so excited to now bring you another marvel from the same team – this time highlighting climate change.

Yuki is a 14 year old girl who lives in an increasingly deserted Inuit township in Nova Scotia, Canada, and Sami a 12 year old boy who lives in a fishing village on the Bay of Bengal. They have never met, but their communities have both been catastrophically changed by global warming.

This superior graphic novel has text that is actually easy to read and the full-colour illustrations by Giovanni Rigano are glorious and compelling. This is a moving and timely novel that is perfect for readers aged 10 and up – the story and action zip along, and the underlying call to action is powerful. Global is further enhanced by a section at the end explaining the real-life themes covered – a really useful teaching tool showing that no matter where you live climate change will affect us all. Not to be missed!
More Details