Browns Best New Books for July 2023
30th June 2023
Every month we carefully select our favourites from the fabulous new titles on offer. Six months of 2023 have been and gone! Actually, fun fact: July 1st is not the mid-point of the year. The exact halfway point comes at 1pm BST on July 3rd in a non-leap year. 2023 has already seen some fantastic new titles published in the first half, and July continues to deliver with fantastic new books for every taste and reading occasion!
Check back next month for our picks of the new books August has to offer.
Adult Non-Fiction
Do yourself a flavour : 75 easy recipes to feed yourself, your flatmates and your freezer
Freeborn, Fliss
Paperback
Fliss Freeborn wrote her first 'cookbook' aged 8. It included a recipe for clotted cream and golden syrup on toast, and instructed readers to eat cake batter straight out of the bowl rather than bothering to turn on their ovens. She cooked all meals at home, and by the time she started uni was well-versed in cooking delicious food for large groups of people on a tight budget. In 2017, she started her blog - Student Cuisine for the Gloomy Teen - to share her recipes, accompanied by a hefty side-salad of surrealist humour. She still maintains that clotted cream and golden syrup on toast is an outrageously good snack, but now prefers her cake batter fully cooked!

We're excited that Fliss has written her first cookbook - Do Yourself a Flavour – which is packed with over 75 recipes like Puff Pastry Pizza Florentine; Sweet Potato, Spinach & Chickpea Curry; Mushroom, Ale & Lentil Pie, and Sausage, Squatternut Bosch & Red Onion Traybake. Also included are tips and tricks to turn leftovers into meals and how to make something to eat for, as Fliss calls it, those quick fridge-to-face moments!

So if you're bored of pesto-pasta or baked potatoes, have a small budget and you don't want to have to buy outlandish ingredients or more equipment that will never fit in your small shared kitchen, and want to learn how to feed both your plant based pals and raging carnivore flatmates then this is the book for you!
More Details
Adult Fiction
Queuing for the queen
Rana, Sweta
Paperback
One queue. 250,000 people. Twenty-four life-changing hours. We are of course talking about the queue to pay respects to Queen Elizabeth II – which became a symbolic embodiment of the national mood where everyone wanted to pay respect to a Queen that was admired around the world.

In this very queue we find mother Rani, a Gujarati Indian woman who emigrated to London as a young child, and her daughter Tania. They are estranged after Tania put love before her culture by marrying a man of her choosing without the blessing of her parents.
We see mother and daughter take tentative steps to start a conversation and we meet a host of characters in the queue, who are all beautifully written – there is talk of love, community, family and of course what the Queen meant to all of them. An easy read by a talented debut author that is memorable and evocative, a perfect read for a Summer Holiday or those looking for their escapism to have lot of heart and good feels!
More Details
Children's Non-Fiction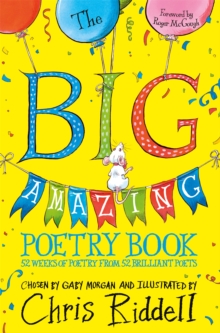 The big amazing poetry book : 52 weeks of poetry from 52 brilliant poets
Morgan, Gaby
Paperback
What a fantastic poetry resource! Seven poems each from 52 different poets, each with a biography of the poet to give context and to lead to deeper understanding. Given there is a poem for every day of the year it is great to see such a variety of styles: ballads, riddles, tongue-twisters, shape poems, haikus, sonnets and raps. We particularly loved James Carter's fab shape poem Electric Guitars.
A huge variety of poets are included - from famous names of the past like Lewis Carroll and Charles Causley, to well-loved poets of today including Nikita Gill and the new Children's Laureate Joseph Coelho. Included are John Agard, Ruth Awolola, Brian Bilston, Julia Donaldson, Carol Ann Duffy, A. F. Harrold, Jackie Kay, Roger McGough - and many more.
What makes the poems leap off the page and gives them extra appeal for those who need a little more encouragement to read poetry is Chris Riddell's exciting line artwork. There is also a little mouse that appears throughout the book for readers to spot.

Altogether this is an accessible, engaging introduction to poetry that lends itself to classroom use, but is also a perfect gift to treasure.
More Details
Children's Fiction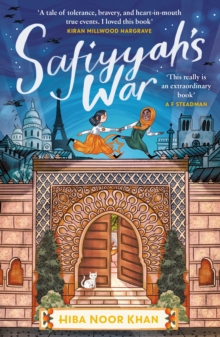 Safiyyah's war
Khan, Hiba Noor
Paperback
There are fantastic books for children about the Second World War, whether it be classics like Carrie's War or more recent novels like the fabulous When the Sky Falls by Phil Earle. However, Safiyyah's War, whilst also set in WWII, does something entirely new, it shows an all-but-forgotten part of history: the unforgettable true story of the Resistance run from the Grand Mosque of Paris that saved the lives of hundreds of Jews.
We meet Safiyyah, who lives in the Grand Mosque with her family and see how her life changes overnight when Nazi soldiers occupy Paris. Safiyyah is a wonderful protagonist; compassionate, curious, courageous and loves spending time in the library (Which we wholeheartedly approve of, and actually is an important part of the plot) When Safiyyah learns that her father and the imam are forging documents to help Jews escape occupied France and are also secretly sheltering refugees in the mosque she is compelled to help those in greater need than themselves regardless of their faith and becomes a vital part of the Resistance effort.
Safiyyah's War is both gripping and moving and the pace never lets up. There are plenty of real-life characters woven into the story, like British spy Noor Inayat Khan, but ultimately this is a story about humanity and compassion. Stereotypes are challenged and interfaith dialogue and understanding is really brought to the foreground. In the historical note it tells us that both Muslim and Jewish faiths share a saying "For whoever saves a single life, it is as if they have saved all of humanity".
Safiyyah's War should be read by every child, it reads like a future classic and the themes will continue to be relevant. As a classroom resource it would be perfect for cross-curricular work in History and RE for Years 5,6 and 7 too. I simply cannot recommend this book highly enough!
More Details