Browns Best New Books for June 2023
30th May 2023
Every month we carefully select our favourites from the fabulous new titles on offer. This year, like all years, June brings the warmer weather, butterflies flitting around your newly planted summer bedding Petunias and the inevitable wearing of flip-flops when it's not yet warm enough! June can also be relied on for some fresh new titles, with lots of sparkling debuts and blockbuster authors alike. Hope you get to enjoy a good book in your garden soon!
Check back next month for our picks of the new books July has to offer.
Adult Non-Fiction
My friend Anne Frank
Pick-Goslar, Hannah
Hardback
My Friend Anne Frank is the long-awaited memoir of Holocaust survivor Hannah-Pick Goslar, who sadly died at the age of 93 in October 2022.
Hannah's close friendship with Anne Frank was memorialized in what became The Diary of a Young Girl, the record of Anne's life in hiding from the Nazis. After fleeing Germany the Goslar family moved to Amsterdam where they lived close to the Frank family, and the two girls met when their mothers went shopping for groceries together. Their friendship continued to grow when they were in kindergarten together. Hannah (or Hanneli as Anne called her) recalls attending her friend's 13th birthday party and seeing a red-and-white checkered diary that Anne's parents gave their daughter as a gift, and ultimately Hannah herself would be immortalised in the pages of this diary.

The friends were separated when Anne's family went into hiding, but were tragically reunited when they met briefly at the Bergen-Belsen concentration camp in Germany where Hannah recalls how they were held in different sections separated by tall barbed wire fence, through which she was able to talk to Anne and pass her some scraps of food, before Anne died of typhus two months before the Allies liberated the camp.
Hannah's life is a testament to survival, friendship and remembrance, and her memoir reminds us of her incredible life and legacy.
More Details
Adult Fiction
Stone blind
Haynes, Natalie
Paperback
Stone Blind tells the story of Medusa. Spoiler alert – we all know that Medusa's story doesn't end well; with her frightening appearance she turned men into stone and she literally lost her head! Natalie Haynes' retelling delves deeper into Medusa's story – from her origins as a mortal child born of sea gods, when she is left on the beach in the care of her immortal sisters the Gorgons, Euryale and Sthenno, to her slaying at the hands of Perseus. Stone Blind's strength is that we not only learn of Medusa's fate but also get to know a huge colourful cast of characters and how they all connect to each other and end up feeding into Medusa's story.

We love Natalie's Podcast – Natalie Haynes Stands up for Classics (do look out for it, the episodes are informative and oh, so funny), and she brings the same dry, witty humour to Medusa's tale, whilst not shying away from exposing the brutal lives of these gods and mortals. Ultimately this is an exploration on what we think makes a monster. Is it how they look? How they act? Or the thoughts they think? Not all heroes wear capes… and not all villains have snakes in their hair.
Looking for more fantastic, modern retellings of Greek Myths? You can see our selection here
More Details
Children's Non-Fiction
Roar : a guide to dreaming big and playing the sport you love
Mead, Beth
Paperback
Beth Mead MBE is a professional footballer playing for Arsenal W.F.C and the England Women's team but started on the pitches of North Yorkshire. Beth was the top goalscorer in the UEFA Euros 2022, which saw England crowned champions - their first international trophy since the 1966 Men's FIFA World Cup. She was also named Player of the Tournament and has since been nominated for the 2022 Ballon d'Or Feminin. She also launched the Beth Mead Scholarship in February 2022 with Teesside University to support students who have the potential to reach professional level in women's football. The determination and resilience and daring to follow-your-dreams mentality that have taken Beth to these levels are exactly what this Lioness has packed this inspiring and accessible guide with- giving young readers tips on how to follow their passions, bouncing back from rejection and growing in confidence to name but a few. Roar will not only set youngsters on a path to success in Sport, but in all areas of their life.
More Details
Children's Fiction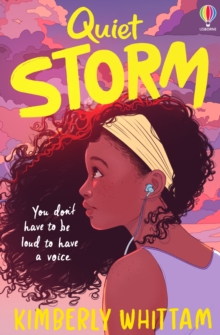 Quiet Storm
Whittam, Kimberly
Paperback
Storm's life is a whirlwind. With rollerskating, rock-singing parents, an overachieving big brother and a mischievous dog, there is never a dull moment in the Williams' household. But despite the noise around her, Storm is quiet. She's lurked in the shadows since joining Daisy Mill Academy; her classes are difficult, but making friends is even harder and despite being told that she'll 'grow out' of her shyness, she just doesn't know how to. Until one day, Storm breaks the record for the fastest Year 7 sprinter in the history of the academy. As she's recruited to represent her school in Manchester's highly anticipated athletic championships, Storm must dig deep and decide whether to continue being known as 'Isaiah's little sister' or finally step into her own spotlight.

Quiet Storm is a little gem of a novel that deserves to be read widely, especially by those in Year 6 transitioning to Secondary School, or those in Year 7 who find themselves lost in their new school environment. Kimberly Whittam's strength as a writer shines through in her descriptions of what everyday life is like at school, with teachers who have distinctive personalities, and classmates that can be as infuriating as they can be supportive. Storm's interactions with her best friend Zarrish and mean-girl Melissa feel authentic and normal – this is a novel that celebrates everyday school life but above all teaches that you don't have to be the loudest person in the room to be able to shine.
More Details