Browns Best New Books for May 2023
1st May 2023
Every month we carefully select our favourites from the fabulous new titles on offer. This year May is an unexpected party month with a Coronation and a Eurovision in our own back garden, and there are plenty of joyous new books that are each like a little celebration in their own right too! So grab a book, some flags and bunting and enjoy this month…
Check back next month for our picks of the new books June has to offer.
Adult Non-Fiction
Fearless : adventures with extraordinary women
Minchin, Louise
Hardback
In this dazzling book BBC Breakfast presenter Louise Minchin goes on 17 exhilarating adventures with strong, inspiring superwomen, each of whom has used sport and endurance to break taboos and pave the way for others. From free diving under the ice in the dark in Finland, to swimming from Alcatraz to San Francisco, it's a roller-coaster of highs and lows, and moments of sheer terror. We'll let these quotes speak for us….
'Prepare to be blown away… the most incredible examples of girl power' Judy Murray OBE

'A celebration of the strength, power and determination of women' Giovanna Fletcher
More Details
Adult Fiction
Atlas : the story of Pa Salt
Riley, Lucinda
Hardback
During the early days of Lockdown I ran out of books to read(!), but luckily my local library came to the rescue and I used their ebook downloads to keep myself occupied. I discovered The Seven Sisters series at this time, and as they are all 700 page plus novels, multiplied by seven books – this equalled lots of contented reading hours! And now I'm super excited that the final novel in this absorbing series is published this month. Atlas: The Story of Pa Salt is as epic in scope as the story of the Seven Sisters, spanning borders, oceans and decades and finally concludes this epic series.
More Details
Children's Non-Fiction
Saving H'non : Chang and the elephant
Trang, Nguyen Thi Thu
Laminated
Here at Browns we adored Saving Sorya: Chang and the Sun Bear, a gorgeous eco-tale created by environmental activist Trang Nguyen and award-winning manga artist Jeet Zdung. We're so pleased this wonderful Carnegie Nominated Team are back with another inspirational based-on-a-true-story graphic novel adventure!
While volunteering at a wildlife rescue centre near Yok Don National Park in Vietnam, Chang helps rescue an injured and abused Asian elephant named H'Non. For decades, H'Non was forced to haul heavy timber logs and concrete poles at construction sites, and then to carry riders at tourist attractions all day long with no break – and now our young conservationist wants to overcome the odds to give H'Non the life she deserves after 50 years of hardship.
With breathtaking art, energetic storytelling and STEM facts galore, Chang's daring story is great for use in Year 4 and up.
More Details
Children's Fiction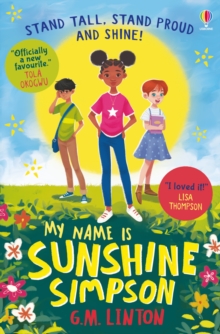 My name is Sunshine Simpson
Linton, G.M.
Paperback
Debut author GM Linton introduces us to the very marvellous Sunshine Simpson – a 10-year-old black British girl who learns that she doesn't have to try to be somebody else; being herself is enough. Sunshine has a wonderful relationship with her Grandad Bobby who helps her face tribulations like no longer being skipping champion, mean comments from new friend Evie and the stress of a special Jubilee Assembly.
My Name is Sunshine Simpson is a novel that deals with grief, friendship dynamics and individuality – yet is imminently readable and funny and charming, with fantastic vocabulary too. What makes this novel extra special is that woven wonderfully into this story are facts about the Windrush generation, black history, black role models and Jamaican culture.

Highly recommended.
More Details