Browns Best New Books for October 2023
29th September 2023
Every month we carefully select our favourites from the fabulous new titles on offer. October - the evenings are getting darker (and nobody is quite sure when the clocks go back), leaves crunch underfoot, and there is something spooky in the air! All things Christmas are beginning to pop up everywhere and thoughts may be turning to what gifts to buy for family and friends (and what you might be hoping for!). October also has a bumper crop of fabulous new publishing so whether you are looking for the perfect autumnal read or thinking about perfect presents here are our pick of the very best books published this month.
Check back next month for our picks of the new books November & December have to offer.
Adult Non-Fiction
The book you want everyone you love* to read : *(and maybe a few you don't)
Perry, Philippa
Laminated
The Book You Want Everyone You Love* To Read *(and maybe a few you don't): Sane and sage advice to help you navigate all of your most important relationships
Philippa Perry is a renowned psychotherapist and writer, her book The Book You Wish Your Parent's Had Read was a deserved bestseller full of useful advice for those navigating parenthood and she writes a regular advice column for The Observer Magazine.
In this book Philippa looks at the relationships we have, with family, partners, friends, colleagues and ourselves and the huge importance they have in our lives. As Christmas approaches, we may be planning on spending more time with family and friends and some of those relationships might benefit from some good and clear advice on how to best navigate them. This book contains warm and straightforward advice about how to manage relationships – what can you do to manage conflict better? How do you find and keep love? How can you best cope with change and loss? Are other people annoying or could you be the problem? Philippa Perry's advice is always warm, compassionate and often witty no matter what questions and dilemmas she is dealing with. Ultimately this book offers practical and wise advice to help everyone manage one of the most fundamental aspects of life and become a happier and more compassionate person.
More Details
Adult Fiction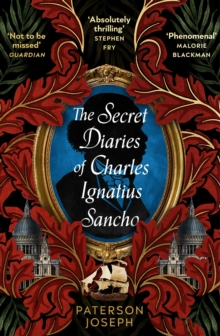 The secret diaries of Charles Ignatius Sancho
Joseph, Paterson
Paperback
I really enjoy reading historical fiction that features real people, especially those who may not have featured prominently before, and was really looking forward to Paterson Joseph's acclaimed account of the life of Charles Ignatius Sancho.
Born on a slave ship on which both his parents died, how did Charles Ignatius Sancho become one of the most notable people at the centre of London society, the first Black person to vote in Britain and a leader in the fight to end slavery? Presented in diary form, the detailed research and passion for his subject that Paterson Joseph has really shines through and I found this to be a highly engaging and wonderfully written historical novel. The characterisation and evocative descriptions of Georgian London make this book a fantastic read; the fact that it is based on the life of a real historical figure just adds to the enjoyment. A great book to lose yourself in on an autumnal evening or the perfect gift for a fan of historical fiction - gripping, witty, enthralling and a hugely enjoyable read.
More Details
Children's Non-Fiction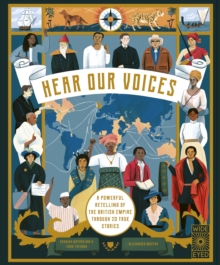 Hear our voices
Natarajan, Radhika
Laminated
At one time, the British Empire ruled over almost a quarter of the world's population and was famously the 'Empire where the sun never sets'. The impact that this had on people's lives, in many different ways from the food they ate to the rights they had as well as the legacy of the empire that is still evident all over the world is explored in this fascinating book.
This great book, that is perfect for readers of 9+, introduces a variety of figures both powerful and modest who lived through, challenged, influenced the British Empire. Stories of 20 different real people who may previously have been sidelined or overlooked are told in first person narrative allowing readers to get to know these remarkable and often ignored historical figures. Stories of leaders, activists, poets and freedom fighters from five continents are covered in this book with some fascinating facts and wonderful illustrations. This is a perfect book to start conversations, look at history through a diverse lens and think about how events of the past still impact people around the world today.
More Details
Children's Fiction
Kicked out
Dassu, A. M.
Paperback
I adored A.M Dassu's debut novel Boy, Everywhere, a powerful and empathetic look at the plight of refugees which won the Little Rebels Award and was shortlisted for the Waterstones Children's Book Prize and the Diverse Book Awards. Kicked Out is the sequel to this wonderful book and finds Sami and Ali living their dream, playing football for the school team and hanging out with their friend Mark is his new luxury pool. When some money goes missing, their friend Aadam is accused of theft and Sami and Ali are determined to prove Aadam's innocence. With tricky family relationships to contend with and school to navigate can Ali and Sami help their friend?
As in Boy, Everywhere, A M Dassu's writing is always warm and empathetic when dealing with prejudice, hardship and complicated relationships. The story and characters always feel authentic and truthful, especially the relationships between the characters. Kicked Out is a story about friendship, prejudice, being an ally and discovering your place in what can be a confusing and unfair world. Boy, Everywhere was a book that stayed with me long after the final page and Kicked Out continues Sami's moving story. It's another powerful, empowering and important book from a brilliant writer whose books deserve a place in every classroom.
More Details