Browns Best New Books for September 2023
1st September 2023
Every month we carefully select our favourites from the fabulous new titles on offer. September always feels a bit special, it's the beginning of Autumn, the nights are drawing in and it's the start of a new school year for those in England, Wales and Northern Ireland (new pencil cases at the ready!). September is also a bumper month for brilliant new books and this year is no exception; there are so many fantastic books released this month it has been a real challenge to pick our favourites and we hope you love these as much as we do.
Check back next month for our picks of the new books October has to offer.
Adult Non-Fiction
Divine might : goddesses in Greek myth
Haynes, Natalie
Hardback
I'm a huge fan of comedian, broadcaster and classicist Natalie Haynes and have enjoyed her retellings of Greek myths enormously. The book I found most fascinating however was her non-fiction work Pandora's Jar, a look at the often misrepresented and overlooked women of Greek myth and so I've been eagerly awaiting Natalie's new non-fiction work on Greek Goddesses.
Divine Might examines the role of goddesses in Greek myth and introduces not only well-known Olympians such as Athene, Aphrodite and Hera but also looks at some of the less high-profile deities like Demeter, Hestia and The Furies. The detailed research Natalie Haynes has clearly done is always impressive and lots of sources are cited; there are also plenty of pop culture references which feel like a fresh and fun way to look at some of these myths. The writing is accessible, vivid, compelling and very funny.
I always finish one of Natalie Haynes books feeling as if I've learnt something new, discovered a different way of looking at things and having had a really enjoyable time and Divine Might didn't disappoint. An interesting, informative, funny and fascinating read whether you are familiar with these goddess's stories or discovering them for the first time.
More Details
Adult Fiction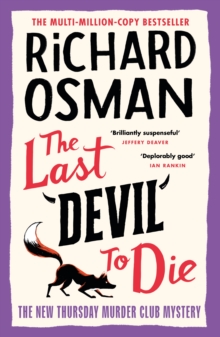 The last devil to die
Osman, Richard
Hardback
I know I'm not the only reader for whom a new instalment of Richard Osman's The Thursday Murder Club series is a treat to look forward to. This is the fourth book in the series and the amateur detectives of Cooper's Chase retirement village, Elizabeth, Joyce, Ibrahim and Ron, along with police Chris and Donna, feel like old friends to readers.
In the latest case for the Thursday Murder Club the friends discover that an old friend has been killed and an important and dangerous package he was protecting is missing. With drug dealers, art forgers, online fraudsters and a rising body count to contend with will this case prove to be too much everyone's favourite septuagenarian and octogenarian super sleuths?
At times the, always gripping and twisty, mystery element of these books feels secondary to the warmth, humour and wonderful characterisation. Richard Osman writes with real sensitivity and compassion in The Last Devil to Die, especially around the topic of those living with dementia, portraying an impossible and heartbreaking situation in an affecting and authentic way.
A warm, clever, moving and very funny book and a perfect treat of a read.
More Details
Children's Non-Fiction
Growing up Black in Britain : stories of courage, success and hope
Lawrence, Stuart
Paperback
Stuart Lawrence is an educator and motivational speaker and the younger brother of Stephen Lawrence, the young man who was murdered in an unprovoked racist attack in 1993 when he was aged just 18. In this book Stuart talks to seven inspirational figures about what it is like to grow up Black or Black dual heritage in Britain. Contributors include award-winning author Patrice Lawrence, TV Presenter Alison Hammond, Olympic medallist Kye White and actor Lolly Adefope.
Stuart's first book Silence Is Not An Option was highly praised for its approachable and empowering style and writing and the way it spoke to pre-teen and teen readers. Growing Up Black in Britain is a book full of inspiring, thoughtful, brave and hopeful pieces of writing about experiences of growing up from a range of different contributors as well as insights into Stuart's own childhood. An insightful, empowering and important collection of real-life stories for children aged 10 and above that deserves a place in every classroom.
More Details
Children's Fiction
Finding Bear
Gold, Hannah
Hardback
Hannah Gold's wonderful debut novel The Last Bear won the 2022 Waterstones Children's Book Prize and the 2022 Blue Peter Best Story Award and has also won legions of fans amongst readers of all ages. I was one of many readers who utterly adored The Last Bear and I was thrilled when I discovered there would be a sequel.
Over a year after her adventures on Bear Island, April Wood has returned home but is still thinking about "Bear". When she hears that a polar bear has been shot and injured, she is sure that it is her friend and persuades her father to travel to Norway to try to help. Once again, April's special friendship with Bear leads to gripping adventures that highlight the impact of global warming and the plight of polar bears. April is a determined and headstrong protagonist and Finding Bear is full of edge-of-your-seat action. The relationship between April and her dad is wonderful, despite their differences and it is great to see how April's character progresses from the first book.
As with The Last Bear, Levi Penfold's wonderful illustrations add an extra layer of magic to a really beautiful book that features an unlikely friendship and a powerful message about how we treat our planet and those we share it with. Finding Bear will be adored by fans of The Last Bear and will win many new readers for Hannah Gold's spellbinding writing. A highly recommended class-read.
More Details