Children's Books are for Everyone
2nd June 2023
Grandparents can be very special people in our lives; there is a dedicated day to celebrate Grandparents in October but it's a relationship many of us appreciate and cherish all year round. Likewise, commemorating LGBTQ+ history and community and cherishing the LGBTQ+ people in our lives doesn't just happen during Pride month in June but throughout the year. At Browns we've taken the opportunity to highlight Pride Month and celebrate Grandads with a Guest Blog from Harry Woodgate. Harry is the author of Grandad's Camper which was published in 2021 to much critical acclaim; this special story featuring Milly and her Grandad now can be found delighting readers in many libraries and schools round the country. Harry shares with us how stories help us connect and how they build communities…
"Something that fascinates me as a writer and illustrator is how we share stories through generations, and how much we can learn by doing so. When we're very young, it can be quite hard to imagine our parents or grandparents at different stages of their lives, because we've only ever known them at the age they are now, but listening to their stories and learning how they became the people they are today can be such a wonderful and precious experience - like getting to know someone all over again. Activities like looking through photo albums, recounting treasured memories and revisiting special places can be so meaningful to children and adults alike, bringing us closer together and creating opportunities for questions, discovery and understanding."
"These were some of the moments I really wanted to celebrate in my debut author-illustrator picture book, Grandad's Camper, as well as its sequel, Grandad's Pride. In Grandad's Camper, we meet Milly, who loves visiting her Grandad by the seaside and listening to his stories about the adventures he went on with his late husband Gramps in their vintage pink camper van. Now that Gramps is no longer around, Grandad has lost his appetite for travelling, so Milly decides to try and find a way to get them both out in the beloved camper van again. In the sequel, Grandad's Pride, we return to Grandad's sleepy seaside village with Milly and her parents, and after discovering Grandad's old Pride flag hidden away in a box in the attic, Milly learns all about the history of Pride and is inspired to help organise the community's first ever Pride parade."
"The books are by no means autobiographical, but I drew upon stories and memories shared by my own family about my grandparents, as well as other older role models in my life who taught me important lessons or inspired me through their kindness, generosity and curiosity of spirit. I never set out to write something personal, but through the process of writing and illustrating, I found I was able to unlock and understand feelings I'd been carrying around for a long time – about love, grief, and how to honour and celebrate our loved ones whilst they're still with us but also after they've passed away. I really hope readers and families resonate with this, and that the books inspire them to share their own stories and make new memories together."
"The other key inspiration for the books came from my university research into LGBTQ+ representation in illustrated children's literature, which revealed a lack of representation for older LGBTQ+ characters. The LGBTQ+ community, like many other marginalised communities, has a rich, diverse and important history which deserves to be shared, but sadly it hasn't always been accessible. Section 28, a law brought in by the Conservative government at the end of the 1980s, remained in place until 2003 and prohibited the promotion of homosexuality and other LGBTQ+ identities in schools, meaning that generations of children were denied access to positive, inspirational LGBTQ+ stories. Today, the abhorrent Don't Say Gay laws and book bans in the US are having the same effect, and on both sides of the Atlantic the rights of trans people to self-identify, access healthcare and exist in public life are increasingly under threat."
"With Grandad's Pride, I wanted to spotlight significant moments from LGBTQ+ history, such as the Lesbians and Gays Support the Miners and ACT UP movements in the 80s, the repeal of paragraph 175 in Germany in 1994, and the legalisation of same-sex marriage in the UK in 2014, to show that where we are today is simply another step on a long journey made by countless individuals, all with their own stories to share – and that progress is always possible if we're prepared to fight for it. In the book, Grandad's seaside village is made up of a diverse group of people from many different walks of life, and I hope it provides a starting point for classroom and family discussions about how readers can come together in their own communities to ensure nobody is left behind, and to stand up against those who seek to divide us."
"I firmly believe that children's books are for everyone, regardless of age, and far from being less complex than their adult counterparts, they provide an incredible playground for exploring important topics and imagining a better world. The best picture books are those which speak to and resonate with children, parents and caregivers alike without pretension or artifice, and I really hope that with Grandad's Camper and Grandad's Pride I've managed to write stories which remind us all to treasure the time we spend with the people closest to us, and to be generous, open and accepting in the communities we build."
- Harry Woodgate


Our Blog is just in time to celebrate the publication Harry's second fantastic picture book featuring Milly and her Grandad – Grandad's Pride which further explores the relationship between Milly and Grandad and celebrates their wonderful bond and diverse community. You can see details of this, and other recent books by Harry Woodgate below. You can also see a selection of fantastic book lists to celebrate Pride Month on our Browns Pride Resource.
Books authored & illustrated by Harry: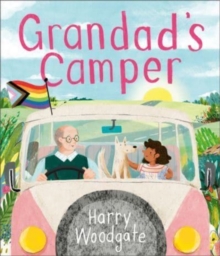 Grandad's camper
Woodgate, Harry
Paperback
Celebrate love in all its forms, as Grandad tells his granddaughter about the adventures he used to have with Gramps. A long time ago, Grandad and Gramps spent many happy days travelling the world together in a camper van. But now Gramps isn't around anymore, Grandad doesn't feel much like having adventures. As she listens to his wonderful stories, Grandad's granddaughter has an idea to cheer him up...
More Details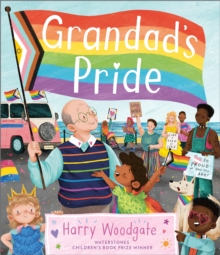 Grandad's pride
Woodgate, Harry
Laminated
Milly can't wait to spend a summer at Grandad's cottage by the sea, and is even more excited when she discovers Grandad and Gramps' Pride flag in the attic. Grandad insists he's too old to go to the London celebrations, especially now Gramps isn't around anymore, but Milly has an idea to get the local community together and bring Pride to Grandad . .
More Details
Books illustrated by Harry: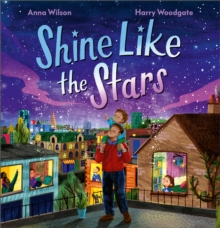 Shine like the stars
Woodgate, Harry
Laminated
You are part of this earth. You grow like the seed. You shine like the stars. We are all connected to the natural world, and it is connected to us. And just as the stars shine brightly in the night sky, so can you. Told from the point of view of the natural world, this exquisite and thought-provoking story invites us to connect with the world around us and achieve our potential.
More Details
About the Author
Harry Woodgate
Harry Woodgate (they/them) is an award-winning illustrator, whose debut picture book Grandad's Camper won the Waterstones Children's Book Award & Children's Illustrated Book of the Year at the British Book Awards in 2023, was an ALA Stonewall Honor Book, and shortlisted for the inaugural Polari Children's & YA Prize. It was inspired by their university dissertation, which revealed a lack of representation for older LGBT characters in children's books. When they're not creating diverse and inclusive stories that inspire children to be inquisitive, creative, kind and proud of what makes them unique, they love writing music, cycling, baking, and exploring independent coffee shops and bookstores. Harry is based in St Albans, Hertfordshire.