Give a Book – Give a Perfect Gift
22nd November 2023
In our opinion there is no better gift than a book! Not only are they an easy shape to gift-wrap, they are much more interesting than socks, and fantastic value too. No matter who you are giving it to, you'll be able to find a thoughtful or thought-provoking book that is perfect for the recipient and you'll know that it will find a home on their bookshelf and be treasured. Whether you are looking for a gift for an eager crafter, a sports fanatic, or a book that is ideal for their Stocking, the Team at Browns has selected perfect gifts this Christmas that they can open again, and again...
Books for Animal Lovers
Isle of dogs : my canine adventure through Britain
Balding, Clare
Hardback
Every dog must have his day. Dogs are never just pets. Not for the British. We love them as members of the family. They work with us, sleep with us, eat with us, help us live our daily lives and come on holiday with us. Some parents will freely admit to enjoying the company of their dogs more than their children while many couples would choose the dog over their partner. So what is it that makes our bond so special?In this fascinating adventure across Britain, Clare Balding explores the many roles dogs fulfil and the history of how they became such an intrinsic part of our lives. She talks to people whose everyday survival depends on their dog, those whose experience of life has been transformed by them and what dogs have meant to her. From the mysteries of extinct breeds to the ancient dogs still thriving today, she journeys from Battersea to the Orkney Islands via Buckingham Palace to tell a moving and humorous tale of loyalty and partnership. Isle of Dogs is an unmissable read for anyone whose life has been transformed by a faithful hound.
More Details
Books for Puzzle & Quiz Fiends
Murdle : #1 SUNDAY TIMES BESTSELLER: Solve 100 Devilishly Devious Murder Mystery Logic Puzzles
Karber, G.T
Paperback / softback
THE NUMBER 1 SUNDAY TIMES BESTSELLERWINNER OF WATERSTONES GIFT OF THE YEAR 2023'THE PUZZLE SENSATION OF THE YEAR!' - JANICE HALLETT, bestselling author of THE TWYFORD CODE'I'M COMPLETELY OBSESSED' - OLIVIA BLACKE, author of A FATAL GROOVE* The 'utterly addictive' murderous puzzle book for armchair detectives everywhere *From G. T. Karber, the creator of the popular online daily mystery game at www.Murdle.com, comes this fiendishly compulsive and absolutely killer collection of 100 original murder mystery logic puzzles. Join Deductive Logico and pit your wits against a slew of dastardly villains in order to discover: - Who committed the ghastly deed?- What weapon was used to dispatch the victim?- Where did the dreadful demise occur?These humorous mini-mystery puzzles challenge you to find whodunit, how, where, and why. Examine the clues, interview the witnesses, and use the power of deduction to complete the grid and catch the culprit. Packed with illustrations, codes, and maps, this is the must-have detective casebook for the secret sleuth in everyone. Are you the next Miss Marple or Hercule Poirot? You'll soon find out, if you dare to Murdle!
More Details
Books for Film & TV Superfans
Star Wars timelines : from the time before the High Republic to the fall of the First Order
Baver, Kristin
Hardback
Chart the history of Star Wars in this stunning guide, from the time before the High Republic to the end of the First Order. An indispensable companion for all Star Wars fans, this premium quality book displays visual timelines that chronologically map key events, characters, and developments, and mark their significance. Track crucial conflicts across the years that affect the galaxy in profound ways. Follow the Skywalker lightsaber as it passes through the generations and witness the evolution of the iconic TIE fighter across different eras. Trace the movement of the Death Star plans over the years and uncover multiple branching timelines that break down important battles. See essential events at a glance arranged by era and drill down into details to discover major and minor events, key dates, and fascinating insights all chronologically arranged. Pore over intricate timelines on nearly every page. Soar into Star Wars Timelines to explore: • Chronological approach divides Star Wars history into seven eras:Early History, The High Republic, The Fall of the Jedi, The Reign of the Empire, The Age of Rebellion, The New Republic, and The Rise of the First OrderA must-have addition to the library of all fans of Star Wars, Star Wars Timelines is sure to thrill.
More Details
Books for Cooking & Baking Fanatics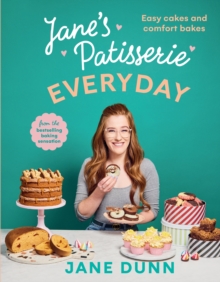 Jane's patisserie everyday : easy cakes and comfort bakes
Dunn, Jane
Laminated
THE THIRD NUMBER ONE BESTSELLER from Jane DunnSimple cakes and delicious bakes for every dayBestselling author Jane Dunn shows you how easy it is to bake every day with her simple treats, foolproof cakes, and comforting savoury bakes. Covering all the classics from chunky cookies and fluffy cupcakes, deliciously flaky pastry and cheesy breads, to easy no-bake cheesecakes and quick one-tray feasts. This book has everything you need for effortless mouth-watering winners every day. With 70 new and exclusive fan-requested recipes, 30 classic favourites, tips on freezing and how to make Jane's staple bakes free-from, Jane's Patisserie: Everyday is packed with big flavours that everyone will love. Including:Carrot Cake BlondiesChocolate Orange Fudge CakeChocolate Cheesecake MuffinsIrish Coffee CupcakesMini Biscoff CheesecakesMarmite & Cheese BunsBacon TurnoversLoaded Potato SkinsUltimate Mac & CheeseAnd more!
More Details
Books for Bookworms
Puss in books : our best-loved writers on their best-loved cats
Magrs, Paul
Hardback
A charming collection of quotes about cats from our favourite authors, accompanied by artwork in the trademark style of Paul Magrs (author of The Panda, the Cat and the Dreadful Teddy). 'I love them, they are so nice and selfish' - L.M. Montgomery This collection of quotes from the literary greats explores just why cats have fascinated, mesmerised and often infuriated writers for centuries. Celebrating the mystery of these daydreaming, snarky, selfish, watchful, contemplative and changeable creatures, Puss in Books helps cat and book lovers to understand these beings who have intrigued great thinkers and writers since the dawn of time. Quotes include: 'Time spent with a cat is never wasted' - Colette 'Those who play with cats must expect to get scratched' - Miguel de Cervantes 'If cats could write history, their history would be mostly about cats' - Eugen Weber
More Details
Books for Sports Fans
What it takes : my playbook on life and leadership
Wiegman, Sarina
Hardback
Winning strategies of one of football's most successful coaches As FIFA's most decorated female football manager and a former player, Sarina Wiegman has led both the Netherlands and England women's national teams to historic victories. She stands out as a true pioneer in the game, and her coaching philosophy has earned her a reputation as one of the most successful coaches in football history. This personal account of Sarina's life journey begins with her early passion for football, and covers her key moments on the pitch as well as her ascension to the top of the coaching world. Join Sarina as she talks us through her rollercoaster ride of victories and challenges, the tough decisions she had to make both on and off the pitch, and the relentless pursuit of excellence that saw her rise to become an indomitable figure in the world of sports. And, it's not just about the game. In a world where football has become more competitive than ever, Sarina's revolutionary approach to leadership, mentorship, and performance management has garnered global attention. In What It Takes we gain invaluable insight into Sarina's unique philosophy, as she shares how she fostered an environment that values determination, teamwork, and mutual respect. A strong advocate for women in the sport, she outlines a transformative and inclusive future for football where everyone has an equal chance to shine, irrespective of gender.
More Details
Books to Make them Laugh
Britain according to Kaleb : the wonderful world of country life
Cooper, Kaleb
Hardback
An entertaining whistle-stop tour of rural British traditions, from the bestselling author of The World According to Kaleb. Ever wondered what goes down at a Tar Barrel Festival? Don't know your wassailing from your wife carrying? Well buckle up, because Kaleb Cooper - star of hit TV show Clarkson's Farm and Sunday Times bestselling author - is here to take you on a guided tour of some of the UK's most eccentric rural traditions. In his smash-hit debut The World According to Kaleb, we learnt how Kaleb feels about everything from existentialism to comb-overs, and why he doesn't want to visit the Mediterranean. In this follow-up, Kaleb casts his focus closer to home to examine what people like to get up to in the great outdoors. You'll go gravy wrestling in Lancashire, nettle eating in Somerset, and venture to Hereford for the significant occasion that is Best Dressed Stick. Along the way Kaleb will muse upon enduring British traditions like Morris Dancing and country fairs with his trademark warmth and deadpan wit. For fans of Kaleb's unique perspective and amusing hot takes, this will be a must-read.
More Details