Give yourself goosebumps!
25th October 2022
Celebrate Halloween curled up with a spooktacular book this year as we, at Browns Books, pay homage to Robert Lawrence Stine, who has just celebrated his 79th birthday! Here you can learn a bit more into Stine's background and see the bestselling titles that we have selected for you to get you started with his works or renew your shelves with his newly published titles. We have even made a handy VLeBook list with over 100 titles readily available to take you to the deep, dark places he has so beautifully created.
Stine was born in 1943 and raised in Columbus, Ohio. He began writing at the age of nine when he found a typewriter in his attic. If you have seen the film adaptation of 'Goosebumps' on Netflix, you will know that the typewriter has a very significant role in his works. Stine once described himself as a very fearful child and said that his mother gave him one of his first serious frights by reading Pinocchio to him, "The original Pinocchio is terrifying … he goes to sleep with his feet on the stove and burns his feet off!" He started off by writing joke books and humorous stories, not the spine-tingling tales that later in his life would make him famous.
After graduating from Ohio State University in 1965, where he had served three years as the editor of the campus humour magazine 'The Sundial'. He went on to live in New York City eventually landing an editorial role within Scholastic Books. He created a humour magazine for kids, 'Bananas' in the mid 1970's, and he also wrote dozens of humour books for children under the name Jovial Bob Stine.
He came to write his first scary novel, Blind Date, in 1986 which launched his career as a horror writer. Having found his calling he wrote several other spooky novels for teens before starting the first instalment of the 'Fear Street' series in 1989, which grew to include roughly 100 novels! In 1992, Goosebumps came to life with his first title 'Welcome to dead house' which was quickly followed by more novels in this series, at one point he confessed to writing one or two books each month, featuring page turning plots and daring cliff-hangers at the ends of each chapter. It was a literary phenomenon with over 130 titles in the series – and it's still going strong! Stine did not stop there as he launched various spin off series linked to Fear Street and Goosebumps, also creating two more noteworthy series called Point Horror and Rotten School. In total he penned over 400 titles and sold over 400 million copies over his vast career.
Just to touch on some of the many awards he has been attributed.
He was named as the bestselling children's book series author of all time by the Guinness Book of world records in 2003.
According to Forbes list of the best-paid entertainers of 1996-97, Stine placed 36th with an income of $41 million for that year.
In three consecutive years during the 90's, USA today named Stine as America's number one best-selling author.
He won the Thriller writers of America silver bullet award in 2007.
In 2017, Stine was awarded the Inkpot award.
At this time of year, we all like to give ourselves a little fright to get into the Halloween spirit, and for the Tween's you can bring the words on the page to life with Goosebumps on Netflix, starring Jack Black as Stine. It features forty monsters from the Goosebumps books and Stine's favourite creation Slappy, the evil dummy. This 2015 film had a cameo appearance from the author himself as he plays a teacher named 'Mr Black' the irony with the names is too perfect to be a coincidence don't you think?
Here are some of our favourites from his works (we couldn't possibly list them all!)
Night of the living dummy
Stine, R.L.
Paperback
Suitable for KS2 readers.
Published in 1993, this is the first time that we got to meet Stine's favourite monster. Slappy is an evil ventriloquist dummy who will try to take control of you after you say the magic words 'Karru Marri Odonna Lorna Molanu Karrano'. Slappy was inspired by the literary classic 'The adventures of Pinocchio', he liked the books idea of a wooden puppet coming to life so he created his own with a mischievous twist. Some might say that Slappy is Stine's most terrifying creation.
More Details
You may now kill the bride
Stine, R.L.
Paperback
Suitable for 14-17 years.
The Return of Fear Street, read the books behind Netflix's trilogy! Who likes a bit of déjà vu? Part of this story takes place in 1924 where we learn about the Fear curse, and a wedding ends in tragedy. The other part of the story takes place in present day and another wedding is about to take place but in true horror style, will it end in tragedy again?
More Details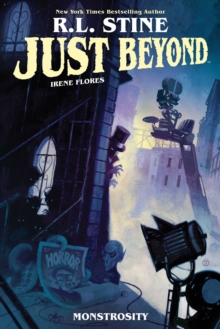 Monstrosity
Stine, R.L.
Paperback
Suitable for KS2 readers.
Stine does not disappoint in this graphic novel full of horror and mystery. Set in an old Hollywood movie studio and full of cheesy vintage movie monsters that never left in the first place. Suspicious accidents occur and a mysterious amulet is found under the floorboards, leading the gung-ho, perky kids on a wild goose chase but everything is not as it seems, especially when the batteries are all dead. Can they out-wit the slapstick movie menaces?
More Details
Who killed the homecoming queen?
Stine, R.L.
Paperback
Suitable for 14-17 years.
This is one of the more recently published titles and is part of the Fear Street series. Can you figure out this classic whodunnit? With a new killer at each turn this will keep you in suspense until the very end. A great mystery for any age, whether it is your first Stine novel or you are being nostalgic to your younger days you will not be disappointed.
More Details
There is nothing better to read during a thunderstorm than a R.L.Stine novel, filled with horror, drama and some tragedies! Here are all of the titles that are available on our VLeBook platform for you to get on your favourite device for an easier read.