It's (Not) All Greek to Me!
7th March 2023
Gods, monsters, heroes, magic, love, hate, war, betrayal, vengeance, redemption – Greek mythology has all this and so much more. Myths and legends are some of the most enduring stories we have, they can help to make sense of the world around us and try to explain some of the best and worst of human behaviour. Greek myths have influenced writers, artists, musicians and even psychologists throughout the ages and continue to captivate and enthral every new generation. Although we may not think about it, Greek mythology is part of our everyday lives, images from these legends are carved on buildings, featured in some of our most recognisable artwork, influence lots of fantastic film & TV, feature in fashion (did you know Nike was the Greek goddess of victory?) and are part of our language – have you ever been warned not to "fly too close to the sun" or heard something described as "a real Pandora's Box"?
Greek mythology has endured through the ages and is currently inspiring some brilliant contemporary authors. My love of Greek myth has been rekindled by some of these modern retellings, some of which have found legions of fans on TikTok and often focus on women who may have been minor or mis-represented characters in previous versions. So where to start with these varied and brilliant tales? Read on for recommendations of some of my favourite classic myths and some of the best of the recent retellings of these much-loved stories.
For Children
These books are a great introduction to some of the best-known and loved myths. As well as being really great stories, Greek myths can help children with some life lessons, such as even the strongest people have weaknesses (The Story of Achilles). The stories featured here can be enjoyed by even the youngest of children and with so many monsters and heroes there will always be something to really capture their imaginations.
Ancient Myths Collection - 16 Books
Paperback
A great first introduction that features twelve of the most popular Greek myths (and four Roman myths), including The Wooden Horse, Daedalus & Icarus and The Golden Fleece. Perfect for children aged 7 and up who are just discovering Greek mythology. The short stories and lively illustrations make these great to share with younger children as well.
More Details
Percy Jackson and the lightning thief
Riordan, Rick
Paperback
The first in the super-selling Percy Jackson series that feature a boy who just wants to be normal despite being the son of a Greek god. With a modern setting this fantastic series features lots of characters and plots from Greek myths and is hugely popular with readers of 9+ (and plenty of adults too). In my opinion, the books are much, much better than the films that were made of them!
More Details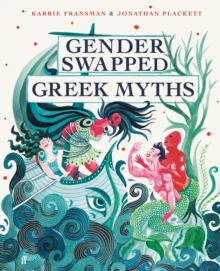 Gender swapped Greek myths
Fransman, Karrie
Hardback
The majority of protagonists and heroes in Greek myth are men whilst female characters tend to be helpless maidens or monsters and witches. The myths in this book haven't been rewritten, the endings haven't been changed but the central characters have swapped gender, and this brings a new and refreshing take on these ancient tales.
More Details
The versions of Greek myths that we learn as children may often have significant differences from the traditional stories, which can be violent and sometimes disturbing. If you are rediscovering these tales for the first time as an adult then the books recommended below may contain some surprises!
Classic Myths
There are many, many versions of Greek myths available and it's hard to pick just a few but here are some I've recently enjoyed or revisited. Whether you are already familiar with Greek myths (or think you are!), are rediscovering some favourite legends from childhood or are new to the whole cannon, I'm confident that these books will have something for you.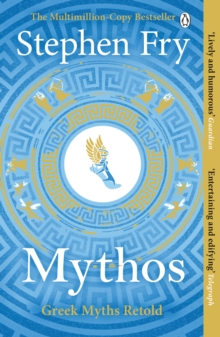 Mythos
Fry, Stephen (Audiobook Narrator)
Paperback
A fantastic introduction to Greek myths or hugely enjoyable retellings if you are already familiar with the stories. Stephen Fry covers the origin stories of gods and some of the most well-known and best-loved fables and legends in this brilliant book. The handy 'family-tree' at the start is a real help in working out how some of these gods and legendary creatures are connected! The follow-up volumes Heroes and Troy are also fantastic reads.
More Details
The Odyssey
Homer
Paperback
One of the earliest works of Western Literature, this epic tale follows Odysseus and his ten-year journey home from the Trojan War. This may not be as accessible as some of the other books recommended here (and might even bring back memories of school!) but with many familiar characters and adventures this is a true classic and one that has inspired artists and writers throughout the ages.
More Details
Pandora's jar : women in the Greek myths
Haynes, Natalie
Paperback
Women in Greek myth are often helpless, minor characters and when they are focused upon they are frequently painted as vengeful monsters. I loved this fascinating book by Classicist and broadcaster Natalie Haynes which looks at the women of Greek myth and how they have been mis-represented through the ages (including how Pandora has been mis-served by a translation mistake). A thought-provoking look at some of the most compelling but under-explored characters in myth.
More Details
Recent Retellings
Greek myths have been retold throughout the centuries with each generation overlaying their experiences and beliefs on these ancient tales. The current trend for retelling Greek myths has resulted in some truly unmissable and brilliant books; there have been a number of fascinating and fresh retellings, often looking at characters or angles that have been ignored or overlooked in older versions. Recommended here are a just a few of my favourite modern versions.
The song of Achilles
Miller, Madeline
Paperback
Madeline Miller's international bestseller and TikTok sensation arguably kick-started the recent trend for myth retelling. Exploring the relationship between the hero Achilles and exiled prince Patroclus and set during the Trojan War this is a captivating, inventive and passionate retelling of The Iliad.
More Details
Ariadne
Saint, Jennifer
Paperback
A mesmerising retelling of the story of the Minotaur, one of the best-known Greek myths. This book looks at the myth and events from the point of view of the woman at the centre of the story, the Minotaur's sister Ariadne. A real page-turner with a compelling central character who can feel lost in other versions of this legend.
More Details
The Penelopiad
Atwood, Margaret
Paperback
Penelope is the clever and faithful wife of Odysseus, waiting for her husband to return home from the Trojan War. Told by Penelope from the Underworld, Margaret Atwood's brilliant novella mirrors Greek drama in places and puts a new spin on the exploits of one of Greek myth's most familiar heroes. An original take on The Odyssey with a formidable central character that really made me rethink this well-known myth.
More Details
Medusa
Burton, Jessie
Hardback
Medusa is a snake-haired monster of legend, often depicted in books and films (including a great cameo in The LEGO Movie!). This beautiful retelling looks at Medusa's life before she became the familiar fearsome monster and illuminates the woman behind the legend. A fantastic retelling that sheds light on the humanity of another character who may have been misrepresented in other versions of her myth.
More Details
Coming Soon - I Can't Wait to Read
Fortunately the trend for retellings of Greek myths seems to be as enduring as the myths themselves and there are so many stories I'd love to see given a fresh spin by some of the brilliant authors who are writing at the moment. Here are just a few of the books coming out this year that will be going straight to the top of my to-read pile…
Clytemnestra
Casati, Costanza
Hardback
Murderous, power-hungry wife or grieving mother, Clytemnestra is one of Greek mythologies most divisive heroines and I'm really looking forward to exploring her story more.
More Details
Ithaca
North, Claire
Paperback
This book, which explores the choices made by the women of Ithaca left behind as their men fight the Trojan War, is one I can't wait to read. With such a strong cast of characters including Penelope, the famed wife of Odysseus and the goddesses whose influence is so key in these tales it is sure to be a fascinating read.
More Details
Atalanta
Saint, Jennifer
Hardback
I've loved Jennifer Saint's books about at Ariadne and Elektra and will most definitely be reading her new novel about the only female Argonaut. Atalanta's story is one I'm not hugely familiar with so I'm very much looking forward to losing myself in her adventures and viewing the story of the Argonauts through her eyes.
More Details
I hope the books here have you enjoying Greek myths in all of its varied and brilliant forms as much as I currently am.

Kate, Content Selection Team