Just the ticket! Our favourite locomotive literature.
20th October 2022
Trains are great for booklovers! They provide a pocket of precious reading time with excellent conditions, inspirational scenery, free of distractions and a few hours to drift away to another time and place. There's no better way to pass a journey than reading, even more so when the setting mirrors the content of the book. In literature trains represent a way for people to escape and burying your head in a good book helps to avoid awkward chat with fellow passengers.
October sees the adventure filled memoir from the world's most beloved trainspotter, and national treasure of the TikTok age, Francis Bourgeois. His social media posts received widespread acclaim for his joyful and uplifting content. With The Trainspotter's Notebook he hopes to inspire readers to reconnect with their childhood passions and embrace every part of themselves wholeheartedly.
To celebrate the publication of The Trainspotter's Notebook we've selected our favourite locomotive literature so hop aboard and embark upon your next page-turning journey. Full steam ahead!
Children's Titles
The Primrose Railway children
Wilson, Jacqueline
Paperback
'An unbelievable talent' - David WalliamsFrom multi-million bestselling author Jacqueline Wilson and inspired by E. Nesbit's timeless classic, The Primrose Railway Children is a gorgeous, heartwarming story of family secrets and new adventures. Make sure to catch both The Railway Children and The Railway Children Return in cinemas this summer! Sit back and enjoy the journey!Phoebe Robinson loves making up stories - just like her wonderful, imaginative Dad. When he mysteriously disappears, Phoebe, Perry, Becks and their mum must leave everything behind and move to a small cottage in the middle of nowhere. Struggling to feel at home and missing her Dad terribly, Phoebe's only distraction is her guinea pig Daisy. Until the family discover the thrilling steam trains at the railway station and suddenly, every day is filled with adventure. But Phoebe still can't help wondering, what is Mum hiding and more worryingly is Dad okay?'It's a brave author who reimagines E. Nesbit's classic The Railway Children, but this thoroughly modern update by Jacqueline Wilson is a delight.' - Daily Mail
More Details
The train to impossible places : a cursed delivery
Bell, P.G.
Paperback
All aboard for the first journey in the bestselling Train to Impossible Places Adventures, with magic at every stop. Shortlisted for the Waterstones Children's Book Prize, the Branford Boase Award and the IBW Book Awards, with dazzling illustrations from Flavia Sorrentino, join Suzy on this magical adventure, where the journey will never, ever take you where you expect it to. When Suzy hears a strange noise in the middle of the night, she creeps downstairs to find a train roaring through her house. But this is no ordinary train. This is the magical delivery express for The Union of Impossible Places. Whisked onboard by a troll-boy, Suzy's world is turned upside down when she's asked to deliver a cursed package to a fearsome sorceress. And quite suddenly, Suzy realizes the fate of the Impossible Places is in her hands... Except when the mysterious package begs not to be delivered, Suzy discovers the fate of the Impossible Places might just be in her hands... "Great fun!" Philip Reeve, author of Mortal Engines
More Details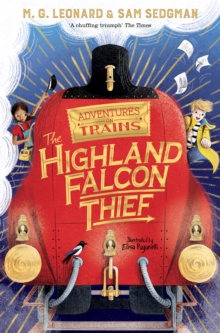 The Highland Falcon thief
Leonard, M. G.
Paperback
Winner of the Book of the Year, Children's Fiction at The British Book AwardsWinner of the Books are My Bag Readers Award, Children's FictionShortlisted for the FCBG Children's Book AwardAdventures on Trains is a major mystery series for young readers, from bestselling authors M.G. Leonard and Sam Sedgman. Beautifully illustrated by Elisa Paganelli. First stop is The Highland Falcon Thief, a breathless train journey full of deceptions, puzzles and clues to solve. Harrison Beck and his Uncle Nat are enjoying the final journey of the Highland Falcon, Britain's most famous steam train. But when a precious jewel goes missing, Harrison and his new friend Lenny find themselves at the centre of the investigation. Can they solve the mystery and catch the culprit before they reach the end of the line?Hear whispers in the dining car, find notes in the library and unknown passengers among the luggage, as you help Harrison solve the mystery aboard one of the world's grandest trains. The Highland Falcon Thief can be read as a stand-alone novel, or enjoyed as part of the Adventures on Trains series. Join Hal and Uncle Nat on the next stops in this thrilling series, Kidnap on the California Comet and Murder on the Safari Star. Praise for the Series:'Like Murder on the Orient Express but better!' - Frank Cottrell-Boyce on The Highland Falcon Thief'A thrilling and hugely entertaining adventure story' - David Walliams on The Highland Falcon Thief'A first class choo-choo-dunnit!' - David Solomons on Kidnap on the California Comet'A high-speed train journey worth catching . . .The best yet' - The Times on Murder on the Safari Star'This series just gets better and better' - Maz Evans on Danger at Dead Man's Pass
More Details
First class murder
Stevens, Robin
Paperback
The third mystery in the bestselling Murder Most Unladylike series; just like the iconic Agatha Christie, Hazel and Daisy have boarded the Orient Express! 'A delight . . . Hazel and Daisy are aboard the Orient Express: cue spies, priceless jewels, a murder and seriously upgraded bun breaks' The Bookseller'Addictive . . . A rumbustious reworking of Agatha Christie's Orient Express caper' New Statesman----- Daisy Wells and Hazel Wong are taking a holiday on the world-famous Orient Express - and it's clear that each of their fellow first-class passengers has something to hide. Even more intriguing: there is rumour of a spy in their midst. Then, during dinner, there is a scream from inside one of the cabins. When the door is broken down, a passenger is found murdered, her stunning ruby necklace gone. But the killer has vanished - as if into thin air. Daisy and Hazel are faced with their first ever locked-room mystery - and with competition from several other sleuths, who are just as determined to crack the case.
More Details
Epic adventures
Sedgman, Sam
Laminated
From Adventures on Trains author and British Book Award 2021 winner Sam Sedgman comes a beautiful and fact-filled book encapsulating the excitement and wonder of adventure and travel – all seen through the world's most epic train journeys. So climb on board and travel across six continents, 34 countries and numerous cities via twelve of the world's most awe-inspiring railways. Bestselling author Sam Sedgman brings to life these astonishing feats of railway engineering, including the Eurostar (London to Amsterdam), Orient Express (Paris to Istanbul), the first Transcontinental Railroad (Chicago to San Francisco) and the Rejuvenation Express (Beijing to Hong Kong). Each locomotive adventure reveals some of the rich history, culture, landscape and wildlife of the countries travelled. Take in the safari sights of Southern Africa, wrap up warm in the Arctic Circle, cross scorching deserts on the California Zephyr, and taste tea in India whilst on a toy train – there's a whole world to discover when travelling by train! Detailed, colourful illustrations by Sam Brewster bring the facts and journeys to life. Epic Adventures will appeal to culture-, travel-, locomotive-fans of all ages.
More Details
Adult's Titles
Bullet train
Isaka, Kotaro
Paperback
* NOW A MAJOR NEW FILM *FIVE KILLERS. ONE JOURNEY. BUT WHO WILL SURVIVE?Discover the original and propulsive thriller from the massive Japanese bestselling author. Satoshi looks like an innocent schoolboy but he is really a viciously cunning psychopath. Kimura's young son is in a coma thanks to him, and Kimura has tracked him onto the bullet train heading from Tokyo to Morioka to exact his revenge. But Kimura soon discovers that they are not the only dangerous passengers onboard. Nanao, the self-proclaimed 'unluckiest assassin in the world', and the deadly partnership of Tangerine and Lemon are also travelling to Morioka. A suitcase full of money leads others to show their hands. Why are they all on the same train, and who will get off alive at the last station?(Bullet Train was originally published in Japan with the title Maria Beetle.) 'A locked-room crime drama played out at 200mph' The Times 'A high-octane thriller... Thoroughly enjoyable' Guardian Readers are OBSESSED with Bullet Train: 'Original, quirky and highly entertaining' 'A dark-humoured, twisty thriller that's a lot of fun' 'One of the most addictive thrillers I've ever read... smart and cinematic' 'What an original novel! Exciting from beginning to end' 'A whole lot of darkly comic fun' 'A thrilling ride'
More Details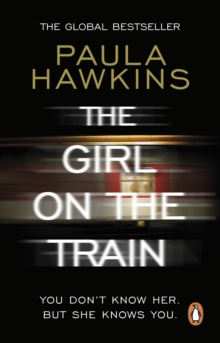 The girl on the train
Hawkins, Paula
Paperback
THE RUNAWAY GLOBAL BESTSELLER***Includes a preview of Paula's scorching new thriller, A Slow Fire Burning ***'Gripping, enthralling - a top-notch thriller and a compulsive read.' SJ Watson, bestselling author of BEFORE I GO TO SLEEPRachel catches the same commuter train every morning. She knows it will wait at the same signal each time, overlooking a row of back gardens. She's even started to feel like she knows the people who live in one of the houses. 'Jess and Jason', she calls them. Their life - as she sees it - is perfect. If only Rachel could be that happy. And then she sees something shocking. It's only a minute until the train moves on, but it's enough. Now everything's changed. Now Rachel has a chance to become a part of the lives she's only watched from afar. Now they'll see; she's much more than just the girl on the train...
More Details
Murder on the Orient Express
Christie, Agatha
Paperback
Agatha Christie's most famous murder mystery, reissued with a striking new cover designed to appeal to the latest generation of Agatha Christie fans and book lovers. Just after midnight, a snowdrift stops the Orient Express in its tracks. The luxurious train is surprisingly full for the time of the year, but by the morning it is one passenger fewer. An American tycoon lies dead in his compartment, stabbed a dozen times, his door locked from the inside. Isolated and with a killer in their midst, detective Hercule Poirot must identify the murderer - in case he or she decides to strike again.
More Details
The late train to Gipsy Hill
Johnson, Alan
Paperback
A woman hiding a deadly secret. And the man who went in search of adventure, but found himself in danger ... 'The Girl on the Train with a dash of Russian poisoning and a classic femme fatale' Sunday Telegragh'A fast-moving plot ... expertly told.' Alastair Campbell'A cracking crime thriller.' The Sun'Really gripping, so many twists and turns' ⭐ ⭐ ⭐ ⭐ ⭐ READER REVIEW'I couldn't put this book down.' ⭐ ⭐ ⭐ ⭐ ⭐ READER REVIEW'Action from start to finish' ⭐ ⭐ ⭐ ⭐ ⭐ READER REVIEWGary Nelson has a routine for the commute to his rather dull job in the city. Each day, he watches as a woman on the train applies her make up in a ritual he now knows by heart. He's never dared to strike up a conversation . . . but maybe one day. Then one evening, on the late train to Gipsy Hill, the woman invites him to take the empty seat beside her. Fiddling with her mascara, she holds up her mirror and Gary reads the words 'HELP ME' scrawled in sticky black letters on the glass. From that moment, Gary's life is turned on its head. He finds himself on the run from the Russian mafia, the FSB and even the Metropolitan Police - all because of what this mysterious young woman may have witnessed. In the race to find out the truth, Gary discovers that there is a lot more to her than meets the eye . . . Readers love Alan Johnson and The Late Train to Gipsy HIll'A fast-moving plot ... expertly told. The fact it comes from the pen of a former Home Secretary makes the rich security detail all the more powerful' Alastair Campbell'Espionage, the Russian Mafia and a gorgeous female on a train with a deadly secret' Fiona Phillips'Johnson's writing style is easy, relaxed, self-deprecating . . . impressive' Observer'Johnson writes wonderfully' Telegraph'This boy can write . . .' The Spectator
More Details
Around the world in 80 trains : a 45,000-mile adventure
Rajesh, Monisha
Paperback
WINNER OF THE NATIONAL GEOGRAPHIC TRAVELLER AWARD FOR BEST TRAVEL BOOKSHORTLISTED FOR THE STANFORD DOLMAN TRAVEL BOOK OF THE YEAR AWARD'Monisha Rajesh has chosen one of the best ways of seeing the world. Never too fast, never too slow, her journey does what trains do best. Getting to the heart of things. Prepare for a very fine ride' Michael PalinFrom the cloud-skimming heights of Tibet's Qinghai railway to silk-sheeted splendour on the Venice Simplon-Orient-Express, Around the World in 80 Trains is a celebration of the glory of train travel and a witty and irreverent look at the world. Packing up her rucksack - and her fiance, Jem - Monisha Rajesh embarks on an unforgettable adventure that takes her from London's St Pancras station to the vast expanses of Russia and Mongolia, North Korea, Canada, Kazakhstan, and beyond. The journey is one of constant movement and mayhem, as the pair strike up friendships and swap stories with the hilarious, irksome and ultimately endearing travellers they meet on board, all while taking in some of the earth's most breathtaking views.
More Details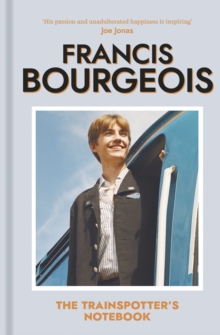 The trainspotter's notebook
Bourgeois, Francis
Laminated
The adventure filled memoir from the world's most beloved trainspotter, TikTok sensation Francis Bourgeois. 'Francis is one of the kindest, most genuine people I've met in a long time. His passion and unadulterated happiness is inspiring. I can't wait for more magical adventures with him.' - Joe Jonas'A National Treasure Of The TikTok Age.' - Grazia'Thrashing builds and builds. I look down and pull up my sleeve: I've got goosebumps, making all the hairs on my arm stand on end. I'm absolutely buzzing.' From sleeping in a car to get a good shot of 73962 Dick Mabbutt to trainspotting with Joe Jonas, Francis Bourgeois has been on one hell of a ride over the past year. Bringing joy to millions, his epic journeys have highlighted the importance of connecting with your passions. In The Trainspotter's Notebook, Francis shares his greatest trainspotting adventures and takes you with him across the fields and footbridges of Britain, passing through historic terminals and backwater stations in pursuit of tones, thrash and locomotive perfection. Told in his inimitable style, these hilarious and heart-warming tales take you behind the scenes of his most popular videos, and celebrate the places and people of the railway. Are you ready to depart?'Oh for goodness sake, I'm on the wrong platform!'
More Details