Moving Up – Starting Secondary School
12th July 2023
Moving from Primary to Secondary school can be a big transition for many children. Starting Secondary school brings with it lots of new challenges – a new (and often bigger) setting, new teachers, new subjects and, of course, chances to forge new friendships. Many children will have mixed emotions about starting Secondary school with excitement and apprehension likely to feature for many. There may also be mixed emotions about leaving behind Primary school – some may feel sad about the ending of this stage of their education whilst others will be eager to begin a new chapter.
We recently read Kimberley Whittam's brilliant Quiet Storm which features a central character who has is finding the transition from Primary to Secondary school very challenging. This empowering debut is a perfect read for those in Year 6 who are about to start a new school or Year 7 pupils who may feel overwhelmed in their new environment. The writing and descriptions of teachers, classes and friendships feel really authentic and true to life. Reading this fabulous book about Shyness and strength had us thinking about top tips for starting Secondary school; here are just a few tips for starting a new school that we hope are helpful to anyone making this transition.
Try not to over-think what September will bring
Wondering about what your new school will be like is only natural but thinking about it too much could make you anxious. Everyone will be feeling a bit nervous about starting a new school but if you feel really anxious then talking to a friend or family member may help.
Be Yourself
Focus on the things that you enjoy, celebrate your strengths and make time for yourself.
Talk to New People
This can seem really hard for some people, especially if you are shy, but it's a great way to make new friends and find out more about your new classmates and teachers. Joining a club has the benefit of being a fun activity, whilst getting to know people who may have similar interests to you.
Ask Questions
Nobody expects you to know your way around or understand new subjects at first! If you have questions or aren't sure about something then ask somebody.
Get Organised
Knowing that you have everything you need will help you feel relaxed and prepared for each day and new experience.
Be Kind to Yourself
Everyone adjusts to new places and environments in different ways and at different points. Don't put pressure on yourself and take your time to get used to your new teachers, friends and subjects. Remember that you are in the same position as everyone else starting your new school; everyone will be feeling nervous, even if they don't look it!
There is lots of practical advice out there - we particularly love this area on the BBC Bitesize website which covers loads of things about Secondary School and has advice from pupils, teachers and celebrities.
As well as Quiet Storm we have lots of other great book recommendations for anybody starting Secondary school. Here are a few more of our favourites:
Fiction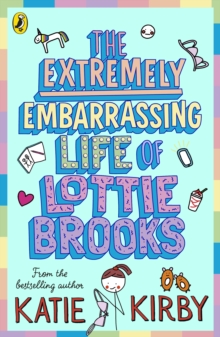 The extremely embarrassing life of Lottie Brooks
Kirby, Katie
Paperback
A laugh-out loud book following 11 ¾ year-old Lottie Brooks who is about to start high school. Filled with friendships and plenty of embarrassing and hilarious moments this is perfect if you need a good giggle.
More Details
The gifted, the talented and me
Sutcliffe, Mr William
Paperback
Sam is ordinary and proud of it! When he starts at North London Academy for the Gifted and Talented he knows he will never belong, even if he wanted to. A wonderfully funny look at fitting in and staying true to yourself.
More Details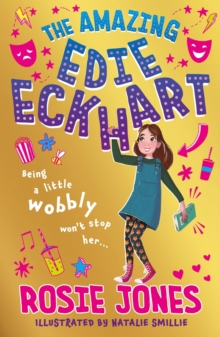 The amazing Edie Eckhart
Jones, Rosie
Paperback
Edie is starting Secondary school, she has cerebral palsy and is throwing herself into life at her new school and adapting to everything that it brings. A true-to-life and very funny story about challenging ourselves, understanding and accepting others and navigating changing relationships.
More Details
New kid
Craft, Jerry
Paperback
Fantastic graphic novel that follows Jordan Banks as he starts at a new school where he is one of the few kids of colour. Jordan loves drawing and feels out of place at his new academic school. An honest and poignant story about feeling like you don't fit in and staying true to yourself.
More Details
Non-Fiction
Go big
Burton, Matthew
Paperback
A brilliant handbook for anyone starting Secondary school or still settling in. Written by head teacher and star of Educating Yorkshire Matthew Burton this is full of fantastic and practical advice and is warm and reassuring.
More Details
You are awesome
Syed, Matthew
Paperback
An empowering and inspiring read. I'm no good at sport ... I can't do maths ... I really struggle with exams ... Sound familiar? If you believe you can't do something, the chances are you won't try. But what if you really could get better at maths, or sport or exams? In fact, what if you could excel at anything you put your mind to? Practical, insightful and positive, this book will help children build resilience, embrace their mistakes and grow into successful, happy adults.
More Details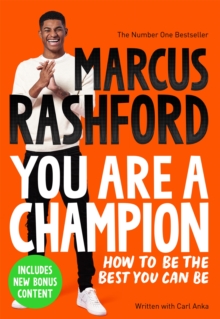 You are a champion : how to be the best you can be
Rashford, Marcus
Paperback
Bestselling book from Marcus Rashford who draws on stories from his own life to show you that success is all about the mindset. You'll find out how positive thinking can change your life, build mental resilience, learn how to navigate adversity and discover the unstoppable power of your own voice. You already have the tools you need to achieve your dreams; you just might not know it yet.
More Details
A better day
George, Dr. Alex
Paperback
A friendly and accessible toolkit for lots of different situations, not just starting school. Sweep away the rain clouds, talk about what's on our minds and care for our mental health in the same way we look after our bodies. This is a positive and practical book guiding young readers in how they can care for their mental health with confidence.
More Details
Click here for more Starting Secondary School titles.
For all of those starting Secondary School this September we wish you the very best of luck and hope you have a fabulous time at your new school.

Kate, Content Selection Team