Screen Free Week – May 1st to May 7th
24th April 2023
It is difficult to imagine a world without screens – they are everywhere you look. There hardly is a place of work or education without monitors, and we use our phones and tablets constantly. None of us will be able to avoid using a screen for a full week – yet that is exactly what Screen-Free Week is challenging us to do from May 1st to May 7th!
Screen-Free Week is an invitation to put your entertainment screens down for a week and discover other activities in your free time. When was the last time you unplugged yourself and played a game, read a book, drew a picture or rode a bike?
We are all glued to our phones and our favourite apps. It is the first thing we look at in the morning and often the last thing before we go to sleep. This constant stimulation leaves no room for real connection and imagination and does not improve our mental health. There is a clear link between screen use and mental health.
Adults spend as much as 11 hours a day in front of a screen, and it is seriously affecting our wellbeing by putting a strain on our eyes, disturbing our sleep, increasing the risk for weight gain and can contribute to depression.
By using our various electronic gadgets to look for solutions to all our problems we are no longer using our brain for problem-solving, and this is affecting our cognitive abilities too.
Kids nowadays are no longer watching children's TV and are rather following their favourite YouTuber. YouTube is the second-most visited website on the Internet, beaten only by Google - and becoming a YouTube star is top of the career wish list. Parents definitely have to keep an eye on what content their children are watching. Too much screen time in children can lead to sleep problems, mood problems, neglect of school work, fear of missing out and poor self-image and body image issues.
Social media platforms like TikTok and Instagram have become a massive part of a teenager's life. Scrolling through the seemingly perfect news feeds can cause low self-esteem and create constant pressure to strive for perfection. Although they are great to connect with friends and obtain information they can conversely also lead to cyberbullying.
We usually try to fight boredom with quick distractions, and it is so easy just to pick up our phones or switch on the TV. But in the long run we need more and more stimulation to fight our boredom and we get addicted to our screens. It is also proven that boredom enables creativity by letting the mind wander and makes us think in a different way.
Don't be afraid to be bored! It can be a good thing giving your brain time to recharge and to relax.
Why don't you, instead of picking up your phone or tablet or watching TV, give the following activities a go:
- Instead of texting, call your friends to catch up
- Read a good book or listen to an audio book
- Go for a short walk or go swimming
- Bake a cake or cook a nice meal
- Play cards or a board game
- Take up a new hobby
- Write a diary or try journalling
- Listen to the radio, or find a podcast about something that interests you
Here at Browns Books we are all aware that being glued to a screen is having an adverse effect on us, so for Screen Free Week we are making pledges to reduce our screen time during this week. For some it's a small, baby-steps, pledge for themselves, or for their family. For others it's a scary prospect of being without Instagram for even 10 minutes – but we're pledging to try! Below are some of our pledges… Why don't you get your colleagues or friends to make a pledge too – you can find more information here.
Screen Free Week Pledges from our Browns Colleagues:

Kate:
My son's favourite show is Taskmaster so rather than watching episodes on catch-up we'll be making up our own crazy tasks for the week and challenging each other to do them.

Nic:
I pledge to spend an evening not on the Xbox but instead do some painting!

Jess:
I pledge to not scroll the reels on Facebook when I am at darts each night during Screen Free Week, and leave my phone in my car to not tempt me.

Claire:
I will pledge to play board games each evening rather than watch T.V.

Ashley:
I pledge to spend an hour outside & no online shopping all week!

Amanda:
I pledge to stay away from online shopping, and no Ipad games for Screen Free Week.

Laura:
I pledge to not take my phone to bed and scroll endlessly into the abyss of Pinterest (which in turn will make my husband happy with no new household project ideas thrown at him each night!)

Julie:
I pledge to cross-stitch for the week, instead of watching telly.

Garry:
I pledge to have no screen time between 5-7pm. This is the time to wind down from the working day, and spend precious time with family. With the light nights now here, my son George will be getting extra bike riding lessons!

Amy:
I pledge to have no screen time at meal times, and to spend more time outdoors with Garry and George (worrying about the bike riding lessons!!)

Claudia:
I've been meaning for ages to go to a new board game café that's opened up nearby, so am going to get some friends together for one night of good old-fashioned screen-free fun (and fierce competitiveness!)

Marketing Team:
Our team pledges to stop using our phones after 7pm and focus on our other hobbies instead.
To finish we've selected some fantastic books that all support the subject, and remind us of how exciting precious time spent away from our screens can be. And by reading them you'll be going screen free!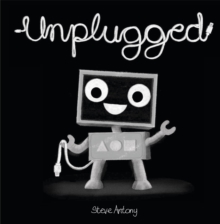 Unplugged
Antony, Steve
Paperback
A delightful picture book about the fun you can have when you unplug yourself and get outside! From the author of the much-loved Mr Panda series. Blip spends all day plugged into her computer, playing games and having fun. But when there's a power cut, Blip goes down the stairs and out the front door, where she discovers playing games and having fun... outside! Isn't it wonderful to be unplugged? This simple story is perfect for families trying to strike the right balance between screen time and outdoor play. Steve Antony is the winner of the Evening Standard Oscar's First Book Prize. He's been nominated for the Kate Greenaway Medal and shortlisted for the Waterstones Children's Book Prize.
More Details
The screen thief!
Docherty, Helen
Paperback
A little Mauritanian girl realises that the traditional clothing of women in her country represents many things but most importantly faith. Lalla lives in the Muslim country of Mauritania, and more than anything, she wants to wear a malafa, the colourful cloth Mauritanian women, like her mama and big sister, wear to cover their heads and clothes in public. But it is not until Lalla realizes that a malafa is not just worn to show a woman's beauty and mystery or to honour tradition—a malafa for faith—that Lalla's mother agrees to slip a long cloth as blue as the ink in the Koran over Lalla's head, under her arm, and round and round her body. Then together, they pray. An author's note and glossary are included in the back of the book.   "Poetic language, attractive illustrations and a positive message about Islam, without any didacticism: a wonderful combination," declares Kirkus Reviews in a starred review.
More Details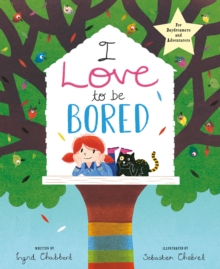 I love to be bored
Chabbert, Ingrid
Paperback
Boredom can be a meditation. Boredom can be fun! Or, so thinks the main character of the picture book I Love to be Bored. When she's bored, she loves it – her mind wanders and she can notice the world with fresh eyes. This delightful book espouses the concept that boredom can equal mental freedom, an idea that is especially important for children whose over-scheduled lives and too much screen-time rarely allow time for much-needed, beautiful... boredom!
More Details
The day the screens went blank
Wallace, Danny
Paperback
'So funny' Noel Fielding'Brilliantly funny' Shappi Khorsandi'Hilarious' Tim Minchin'Warm and funny' Frank Cottrell-Boyce  Can you imagine a world with no screens? Don't miss the hilarious new 'what-if' adventure from bestselling author, comedian, and presenter Danny Wallace, with illustrations throughout from Gemma Correll. When ten-year-old Stella wakes up to discover a world full of BLANK screens, her family, town, and in fact the whole world seems to have been thrown into chaos. And what about poor Grandma who is stranded at the other end of the country? Cue a rollicking madcap road trip, full of driving disasters and family fallouts, as they set off on a rescue mission. And along the way Stella and her family discover that being away from screens might not be the WORST THING EVER, and even though they might not be able to rely on technology anymore, they can rely on each other instead.  Other books by Danny Wallace:The Boss of Everyone The Luckiest Kid in the WorldHamish and the Worldstoppers Hamish and the Neverpeople Hamish and the Gravity Burp Hamish and the Baby Boom Hamish and the Terrible Terrible Christmas and Other Stories Hamish and the Monster Patrol
More Details
The stick book : loads of things you can make or do with a stick
Danks, Fiona
Paperback
'A beautiful and inspiring book, bursting with practical suggestions which will appeal to every child's imagination. Reading it, I wanted to rush out to my nearest wood immediately!'Julia Donaldson, author of The Gruffalo Who doesn't love a stick? The universal toy for children and adults alike, sticks can provide endless opportunities for outdoor adventures, creative play, woodcraft and conservation. Packed with 70 ideas and projects, The Stick Book will give you loads of inspiration for using the wonderful, free and all-natural toy: the stick. As The National Museum of Play (New York) pointed out when they put the stick in their National Toy Hall of Fame, 'It can be a Wild West horse, a medieval knight's sword, a boat on a stream, or a slingshot with a rubber band ...' A stick can be anything you want it to be. This book will give you loads of inventive ideas for spending quality time outdoors with your children - from the adventurous to the magical, getting creative to playing games, making music to building bug hotels. Try your hands at:Making a DIY tent or denCreating a woodland monster or magic carpetWild weaving or making your own natural wind chimesPlaying capture the flag or a woodland mapping gameMaking a bird feeder or bug hotelWith 70 ideas and projects, there will be something for every little adventurer, dreamer or budding ecologist in The Stick Book. All you need to get started is ... a stick!
More Details
Screen-free fun : 80 alternatives to screen time
The School of Life
Laminated
Whether we're big or small, it can be hard to get away from our screens. Most children spend between five and seven hours a day looking at some form of screen – and most grown-ups spend twice as much time. Screens promise endless entertainment, but the more time we spend with them, the more we lose sight of all that is strange, fascinating and delightful in the world around us. Even when we're stuck indoors, there are infinite possibilities for banishing boredom and having fun so long as we use our imagination. All we need are a few helpful suggestions....  No-tech Fun contains 80 of the weirdest and most wonderful activities children can do at home , all without using a screen. Rather than scrolling or tapping, you'll be invited to draw, make, write, invent, dress up, hide, seek and discover. You can paint like Picasso or meditate like Buddha; become an indoor entomologist or a home Olympian; make up a new language or a mythical creature; and even find the fun in some household chores. Inventive and irreverent, this book is the perfect companion for humdrum days and wet weekends. It is a compendium of the world's strangest, silliest and most stimulating activities.
More Details
Screen-free family activities : things to do together at home, around town, and in nature
Navarro, Zazu
Hardback
365 activities for play and adventure without screens: having fun with your family and without technology is possible! Children spend a lot of time with their screens, and while it's true that there are many alternatives to screen-time, many modern parents don't know where to look for these opportunities. In the absence of inspiration, this book proposes 365 activities to play without screens for the whole family. Activities are designed to be enjoyed in different spaces such as at home, in the city or town, and in nature. Completing them as a family will create positive emotional bonds, reduce stress, and teach children empathy, love, and respect. Montessori-inspired Ideas range from crafts and hobbies to everyday activities (singing in the rain, jumping on the bed, taking bubble baths) to outdoor activities like treasure hunts and gardening. Each project has a photo or illustration; an appropriate age range listed; a season; and a time for how long to play. Each activity is a different idea with the same objective: to strengthen bonds and help pass the time in a way that helps you grow as a family. At Home: Mystery Box, Bubble Beards and Hairdos, Painting on the Windows, Art on Continuous Paper, Camping at HomeAround Town: Observe an Anthill, Feed the Pigeons, Crosswalks, Visit a Museum, Reusing Napkins, Playing "I Spy"In Nature: Pick Flowers, Count Rings in a Tree Trunk, Build Mandalas with Rocks, Get Muddy, and Make a Nature Candle
More Details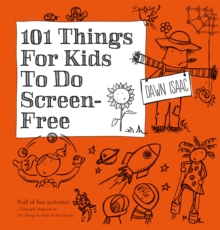 101 things for kids to do screen-free
Isaac, Dawn
Paperback
'Packed with original ideas.' - the Telegraph on 101 Things for Kids To Do on a Rainy Day'A quarter of the price of a theme-park ticket and delivers significantly better value for money.' - the Independent on 101 Things for Kids To Do Outside From bestselling kids' activity author Dawn Isaac comes this exciting new volume full of creative, fun and occasionally silly ideas for games and activities. From creating a mini golf course to mastering hands-free eating, from squirt gun painting to microwave mug cakes, every single activity is fun, easy and 100 per cent screen free. With exciting makes including no-sew sock creatures and stress balls, and wacky games such as outdoor noughts and crosses and thumb wrestling tournaments, Dawn's engaging and entertaining ideas are sure to provide hours of fun. So put away your tablets and mobile phones, switch off the TV and leave the computer alone - it's time to get screen free.
More Details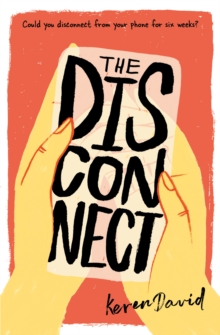 The disconnect
David, Keren
Paperback
Could you disconnect from your phone for six weeks? An eccentric entrepreneur has challenged Esther's year group to do just that, and the winners will walk away with GBP1,000. For Esther, whose dad, sister and baby nephew live thousands of miles away in New York, the prize might be her only chance to afford flights for a visit ... But can she really stay disconnected for long enough to win? Particularly suitable for struggling, reluctant or dyslexic readers aged 13+
More Details
Adults
Unsworth, Emma Jane
Paperback
THE SUNDAY TIMES BESTSELLER 'AN AMAZING WRITER' Margot Robbie* 'HILARIOUS' Stylist 'DAZZLING' Marian Keyes 'WITTY' Guardian 'HEARTBREAKING' Dolly Alderton 'INCREDIBLE' Candice Carty-Williams Jenny McLaine:* can't afford her mortgage since her ex moved out* is about to get dumped by her best friend* spends all day online-stalking women with picture-perfect lives And now her mother has appeared on her doorstep, unbidden, to save the day... Is Jenny ready to grow up and rescue herself this time? UK's #6 bestselling hardback, The Sunday Times chart 9th February 2020 *Margot Robbie talking about Adults, as quoted in CHANEL's short film segment, 'In the library with Margot Robbie'
More Details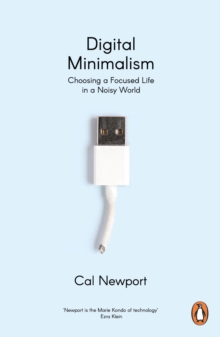 Digital minimalism : on living better with less technology
Newport, Cal
Paperback
Learn how to switch off and find calm - from the New York Times bestselling author of A World Without Email 'Digital Minimalism is the Marie Kondo of technology' Evening Standard 'An eloquent, powerful and enjoyably practical guide to cutting back on screen time' The Times 'An urgent call to action for anyone serious about being in command of their own life' Ryan Holiday 'What a timely and useful book' Naomi Alderman, author of The Power Do you find yourself endlessly scrolling through social media or the news while your anxiety rises? Are you feeling frazzled after a long day of endless video calls? In this timely book, professor Cal Newport shows us how to pair back digital distractions and live a more meaningful life with less technology. By following a 'digital declutter' process, you'll learn to: · Rethink your relationship with social media · Prioritize 'high bandwidth' conversations over low quality text chains · Rediscover the pleasures of the offline world Take back control from your devices and find calm amongst the chaos with Digital Minimalism.
More Details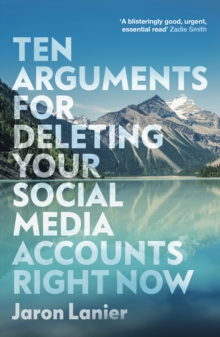 Ten arguments for deleting your social media accounts right now
Lanier, Jaron
Paperback
Social media is supposed to bring us together - but it is tearing us apart. 'A blisteringly good, urgent, essential read' Zadie SmithThe evidence suggests that social media is making us sadder, angrier, less empathetic, more fearful, more isolated and more tribal. Jaron Lanier is the world-famous Silicon Valley scientist-pioneer who first alerted us to the dangers of social media. In this witty and urgent manifesto he explains why its toxic effects are at the heart of its design, and, in ten simple arguments, why liberating yourself from its hold will transform your life and the world for the better. WITH A NEW AFTERWORD BY THE AUTHOR 'Informed, heartfelt and often entertaining ... a timely reminder that even if we can't bring ourselves to leave social media altogether, we should always think critically about how it works' Sunday Times 'Indispensable. Everyone who wants to understand the digital world, its pitfalls and possibilities should read this book – now' Matthew d'Ancona, author of Post-Truth
More Details
Unwired : gaining control over addictive technologies
Bernstein, Gaia (Seton Hall University, New Jersey)
Laminated
Our society has a technology problem. Many want to disconnect from screens but can't help themselves. These days we spend more time online than ever. Some turn to self-help-measures to limit their usage, yet repeatedly fail, while parents feel particularly powerless to help their children. Unwired: Gaining Control over Addictive Technologies shows us a way out. Rather than blaming users, the book shatters the illusion that we autonomously choose how to spend our time online. It shifts the moral responsibility and accountability for solutions to corporations. Drawing lessons from the tobacco and food industries, the book demonstrates why government regulation is necessary to curb technology addiction. It describes a grassroots movement already in action across courts and legislative halls. Groundbreaking and urgent, Unwired provides a blueprint to develop this movement for change, to one that will allow us to finally gain control.
More Details
Why not take a break from digital entertainment and enjoy life beyond the screen!

Marlis,
Content Selection Team
(who pledges to read only 'proper' books and no ebooks during this week, and also won't watch TV or use her tablet for one day.)