Browns Super 6 – Books on African Wildlife
27th March 2023
Our 'Browns Super 6' highlights six of our favourite books on a chosen theme or topic, chosen by an experienced member of the Browns Selection Team. We hope you enjoy our selection!
I have always been fascinated with animals. From tiny, little bugs, to enormous whales in the ocean! As a child, going to the zoo was the best day out for me. I'd spend the whole day looking at every single animal (at least twice!) and then I would go home and pick up a book with my favourite animal from that day and try and teach myself every single fact about them!
I had a family member whose passion for animals (especially African) was so inspiring to me. He was a published author and I used to read all of his books; my favourites being Year of the Leopard Song and The Place of Lions. I even took both books with me when I was lucky enough to travel to Tanzania and Kenya at 17 years old, and I would spend my evenings reading them in my tent! These books are sadly out of print now, but I still have my old copies on my bookshelf.
I eventually studied wildlife conservation and completed my master's degree in animal welfare science. It is such a fragile ecosystem full of beautiful animals and plants that we need to look after so that people in the future will be able to see and love them too.

The books that I have selected on African Wildlife all have a special place in my heart. There are books here that I read as a child and have stuck so vividly in my mind - I can still remember seeing the cute lion cub on the front cover of The Butterfly Lion in my school's library and I took it home to read straight away! You may be surprised to see that I have included C.S Lewis' The Magician's Nephew on this list, but there was no way that I could leave it out - this is my favourite book and features Aslan, the mighty Lion! I still have my old, tattered copy that my parents used to read to me, and I will hopefully one day read this to my children in the future. These books are for anybody who loves wildlife and wants to protect all the animals and plants that live and grow on the savannah!
- Kat, Content Selection Team
Handa's surprise
Browne, Eileen
Paperback
Handa puts seven delicious fruits in a basket to take to her friend, Akeyo. But as she walks, carrying the basket on her head, various creatures steal her fruits. A monkey takes the banana, an ostrich the guava, a zebra the orange, an elephant the mango, a giraffe the pineapple, an antelope the avocado and a parrot the passion fruit. Handa walks on, wondering which of the fruits her friend will like best, oblivious to the fact that her basket is now empty. But then, behind her, a goat charges into a tangerine tree and fills Handa's basket with the fruit. "Hello, Akeyo," she greets her friend. "I've brought you a surprise." But when she lifts off her basket, it's Handa who gets the biggest surprise. Akeyo, meanwhile, is delighted, because tangerines are her favourite fruit! Eileen Browne also created "Through My Window" which was shortlisted for the Smarties Book Prize (1986), "No Problem", "Tick Tock" and "Where's my Bus?".
More Details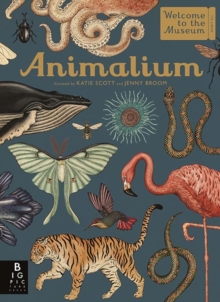 Animalium
Broom, Jenny
Laminated
Welcome to the museum! There are more than 160 animal specimens to bediscovered in Animalium, the first in a series of virtual museums. Wander thegalleries - open 365 days a year - and discover a collection of curated exhibits onevery page, accompanied by informative text. Each chapter features a differentbranch of the tree of life, from the simple sponge to the enormous elephant.
More Details
The butterfly lion
Morpurgo, Michael
Paperback
ILLUSTRATED BY CHRISTIAN BIRMINGHAM. A lyrical and moving tale of a young boy growing up in Africa, and his lifelong friendship with a white lion. "All my life I'll think you you, I promise I will. I won't ever forget you." Bertie rescues an orphaned white lion cub from the African veld. They are inseparable until Bertie is sent to boarding school far away in England and the lion is sold to a circus. Bertie swears that one day they will see one another again, but it is the butterfly lion which ensures that their friendship will never be forgotten.
More Details
The magician's nephew
Lewis, C. S.
Paperback
A beautiful paperback edition of The Magician's Nephew, book one in the classic fantasy series, The Chronicles of Narnia. This edition is complete with cover and interior art by the original illustrator, Pauline Baynes. On a daring quest to save a life, two friends are hurled into another world, where an evil sorceress seeks to enslave them. But then the lion Aslan's song weaves itself into the fabric of a new land, a land that will be known as Narnia. And in Narnia, all things are possible. The Magician's Nephew is the first book in C. S. Lewis's classic fantasy series, The Chronicles of Narnia, which has captivated readers of all ages for over sixty years. This is a stand-alone novel, but if you would like to journey through the wardrobe and back to Narnia, read The Lion, the Witch and the Wardrobe, the second book in The Chronicles of Narnia.
More Details
West with giraffes : a novel
Rutledge, Lynda
Paperback
An emotional, rousing novel inspired by the incredible true story of two giraffes who made headlines and won the hearts of Depression-era America. "Few true friends have I known and two were giraffes..."Woodrow Wilson Nickel, age 105, feels his life ebbing away. But when he learns giraffes are going extinct, he finds himself recalling the unforgettable experience he cannot take to his grave. It's 1938. The Great Depression lingers. Hitler is threatening Europe, and world-weary Americans long for wonder. They find it in two giraffes who miraculously survive a hurricane while crossing the Atlantic. What follows is a twelve-day road trip in a custom truck to deliver Southern California's first giraffes to the San Diego Zoo. Behind the wheel is the young Dust Bowl rowdy Woodrow. Inspired by true events, the tale weaves real-life figures with fictional ones, including the world's first female zoo director, a crusty old man with a past, a young female photographer with a secret, and assorted reprobates as spotty as the giraffes. Part adventure, part historical saga, and part coming-of-age love story, West with Giraffes explores what it means to be changed by the grace of animals, the kindness of strangers, the passing of time, and a story told before it's too late.
More Details
An elephant in my kitchen : what the herd taught me about love, courage and survival
Malby-Anthony, Francoise
Paperback
'The most magical book about the African bush since Born Free' - Daily Mail'A beautiful love story between humans and the majestic elephants' - Jo Malone, Daily ExpressFrancoise Malby-Anthony never expected to find herself responsible for a herd of elephants with a troubled past. A chic Parisienne, her life changed forever when she fell in love with South African conservationist Lawrence Anthony. Together they founded a game reserve but after Lawrence's death, Francoise faced the daunting responsibility of running Thula Thula without him. Poachers attacked their rhinos, their security team wouldn't take orders from a woman and the authorities were threatening to cull their beloved elephant family. On top of that, the herd's feisty new matriarch Frankie didn't like her. In this heart-warming and moving book, Francoise describes how she fought to protect the herd and to make her dream of building a wildlife rescue centre a reality. She found herself caring for a lost baby elephant who turned up at her house, and offering refuge to traumatized orphaned rhinos, and a hippo called Charlie who was scared of water. As she learned to trust herself, she discovered she'd had Frankie wrong all along . . . Filled with extraordinary animals and the humans who dedicate their lives to saving them, An Elephant in My Kitchen by Francoise Malby-Anthony is a captivating and gripping read.
More Details