Browns Super 6 - Chinese & Lunar New Year
16th January 2023
Our 'Browns Super 6' highlights six of our favourite books on a chosen theme or topic, chosen by an experienced member of the Browns Selection Team. We hope you enjoy our super six for Chinese and Lunar New Year!
Chloe's Lunar New Year
LaMotte, Lily
Laminated
Lily LaMotte, brilliant author of the graphic novel Measuring Up, an ALA Top Ten, has written her debut picture book about a special Lunar New Year feast. Perfect for fans of Bringing in the New Year by Grace Lin and I Am Golden by Eva Chen. "Themes of love and family underlie the snappy text." -KirkusIt's almost Lunar New Year, and Chloe can't wait to celebrate! But first, Chloe and her family must prepare for the new year. They buy new shoes, lay out good-luck oranges in a bowl, decorate the red envelope, and make a crispy turnip cake. Everyone comes together to cook a fantastic feast, saving a plate for A-ma, of course. Chloe enjoys the festive celebration and yummy food, but most of all, she loves spending time with her family. Lily LaMotte and Michelle Lee have created a tender, warm, and uplifting holiday story about tradition and the importance of being with those you love. The backmatter contains educational facts about the Lunar New Year celebration in Taiwan and a fun recipe for a yummy fortune cake!
More Details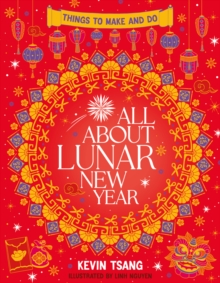 All About Lunar New Year: Things to Make and Do
Tsang, Kevin
Paperback / softback
All About Lunar New Year: Things to Make and Do is the perfect gift! Lunar New Year is one of the most significant holidays celebrated across Asia. This beautiful book is filled with crafts and recipes, fun activities and facts about the Lunar New Year celebrations observed by over ONE BILLION people. Read about the twelve animals of the Chinese Zodiac and learn why they're so important to the Lunar New Year as well as the other stories behind this festival. Children can also create magical decorations, plan for the wonderful year ahead and make delicious treats! The perfect activity book, children can: Create magical lanterns Make paper firecrackers Design a rooster mask Recipes include: Korean rice cake soup Chinese walnut cookies Dumplings This is the ULTIMATE book of Lunar New Year fun! Also in the series: All About Eid: Things to Make and Do All About Diwali: Things to Make and Do
More Details
I love Chinese New Year
Wong Nava, Eva
Paperback
A gorgeously illustrated introduction to Chinese New Year, written by Eva Wong Nava and illustrated by Li Xin. 'Twelve animals, one for each year, each one with their own special powers. It all started with a race to cross the most heavenly of rivers.' Chinese New Year is right around the corner and Mai-Anne is so excited! As her family start decorating the house, there's a knock on the door... her grandmother, Nai Nai, has arrived! They start their celebrations with a traditional meal filled with fish for good luck, noodles for long life, dumplings for blessings and a WHOLE chicken. Then after dinner Nai Nai tells the story of how Chinese New year began, with the Great Race! Join Mai-Anne as she learns about twelve animals and their special powers in the story of how Chinese New Year began! A beautifully illustrated introduction to the true meaning of Chinese New Year and family traditions for little ones A love letter to all the grandparents in the world Features some non-fiction facts on the last pages for especially curious minds about Chinese New Year, including different countries' traditions Illustrations of China Towns around the world on the first and last pages Written and illustrated by two brilliantly talented Asian women
More Details
The great race : story of the Chinese zodiac
Corr, Christopher
Paperback
Celebrate Chinese New Year and learn how every animal earned its place in the Chinese zodiac by taking part in the Great Race! Discover who will come first to win the ultimate prize, and find out why Cat will never forgive his friend Rat in this ancient folk tale that has been passed from generation to generation. Praise for Deep in the Woods, the previous title from Christopher Corr: '... the book looks like a delectable candy box... There is a lesson here - about friendship, and sharing - but the book never feels plodding or pedantic... Which may be why the lesson just goes down like the truth.'
More Details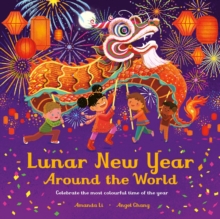 Lunar New Year around the world
Li, Amanda
Paperback
Find out all about Lunar New Year and how it is celebrated in different communities across the world!This stunning picture book is the perfect introduction for little ones to Lunar New Year celebrations. The most colourful time of the year is celebrated in communities around the world and you can now discover how it's celebrated through the eyes of the children who live there. Meet families in China, Vietnam, Singapore, Thailand and Indonesia, as well as in bustling cities like San Francisco, London, Sydney and Toronto and join them in their celebrations at home and on the streets in parades, lantern festivals and in temples. Packed with fascinating facts, young readers will love finding out all about different Lunar New Year traditions in this gorgeously illustrated picture book.
More Details
Lin Yi's lantern : a moon festival tale
Williams, Brenda
Paperback
Meet Lin Yi - a little boy with a big heart and a talent for bargaining. He wants to buy himself a red rabbit lantern at the market for the moon festival tonight; but first, he must buy the things his mother needs. Will he be able to save enough money on his mother's needs to buy the lantern? This heartwarming story shows the practical use of math in everyday life and the rewards of putting others first. Features educational notes at the end about the Chinese moon festival, life in rural China and the legend of the moon fairy.
More Details