Browns Super 6 - Coronation of King Charles III
27th April 2023
Our 'Browns Super 6' highlights six of our favourite books on a chosen theme or topic, chosen by an experienced member of the Browns Selection Team. We hope you enjoy our selection!
Parades! Pageantry! Crowns! History! An extra bank holiday! Whether you are eagerly awaiting the forthcoming coronation of King Charles III or have little interest in the royals, seeing a new British monarch crowned is something that many of us will never have experienced.
There are many traditions and rituals involved in a coronation and many more fascinating stories and legends about past Kings and Queens. Here, we've selected just a few books about the latest person to sit on the British throne and some of those who have worn the crown in the past.
The books we've chosen for the Coronation have something for every reader. Little People, Big Dreams: King Charles is the latest in this brilliant series for Early Years whilst A Life Story: King Charles III has biographical information for primary-age readers who want to know about the new King. The King's Pants answers important questions about royal undergarments and is sure to make you giggle. We've also included Crown & Sceptre: 1000 Years of Kings and Queens, a history of the British monarchy and those who have worn the crown and a look at the life of the latest monarch (Charles: The Heart of a King). My personal favourite is Horrible Histories: Top 50 Kings and Queens which is full of fascinating, funny and gruesome facts about monarchs throughout the ages.
Whatever your plans for the coronation, whether it's flag waving and celebrating or just enjoying an extra bank holiday, we are sure you'll find our pick of Coronation books fit for a (new) King!
Kate, Content Selection Team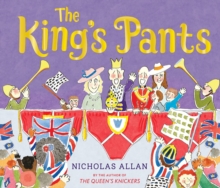 The King's pants
Allan, Nicholas
Paperback
Celebrate King Charles III's coronation with this hilarious story jam-packed with royal pants from the author of the award-winning, bestselling, funny family favourite The Queen's Knickers!The King cannot rule without his Royal Pants. He has a pair for every occasion: coronation pants (he can't be crowned without them), organic pants (edible in royal emergencies) and even inflatable space-pants (because one never knows when they might come in handy). But in a boxer-shorts blunder at the Royal Mail, the King's undies have been posted to his subjects nationwide! With his Y-fronts gone wandering, how will the King possibly cope?'A delightful tale' GuardianThe Queen's Knickers has been a bestselling family favourite for 30 years, and won The Sheffield Children's Book Award and The Coventry Inspirational Award. Praise for The Queen's Knickers:'Made my four-year-old son hoot with laughter' Daily Telegraph'Cheerily irreverent' Guardian'Pure fun' The Mail on Sunday'Naughty and charming' Evening Standard
More Details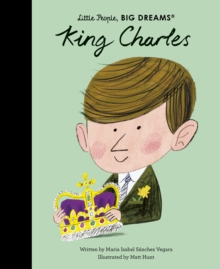 King Charles
Sanchez Vegara, Maria Isabel
Laminated
*Sunday Times bestseller* *As featured in The New York Times* From the critically acclaimed, multimillion-copy bestselling Little People, BIG DREAMS series, discover the life of King Charles. Little Charles always knew that, one day, he would have a big job to do. As the son of Queen Elizabeth II, he was a prince, and in the future, he was to inherit the throne of the United Kingdom. As a young man, he developed a passion for one cause; the environment. Charles recognised that plastics and pollutants were causing harm to Earth, and as the Prince of Wales, he spent all his efforts championing climate justice and sustainability. As a member of the Royal Family, Charles used his power to build important organisations such as The Prince's Trust, a charity that works to improve the lives of young people across the UK. And in 2022, when he became King, he pledged that he would spend the rest of his life serving his people with loyalty, respect and love. This inspiring book features stylish and quirky illustrations and extra facts at the back, including a biographical timeline with historical photos and a detailed profile of the royal's life, from little prince to grown-up king. Little People, BIG DREAMS is a bestselling biography series for kids that explores the lives of outstanding people, from designers and artists to scientists and activists. All of them achieved incredible things, yet each began life as a child with a dream. This empowering series of books offers inspiring messages to children of all ages, in a range of formats. The board books are told in simple sentences, perfect for reading aloud to babies and toddlers. The hardback and paperback versions present expanded stories for beginning readers. With rewritten text for older children, the treasuries each bring together a multitude of dreamers in a single volume. You can also collect a selection of the books by theme in boxed gift sets. Activity books and a journal provide even more ways to make the lives of these role models accessible to children. Inspire the next generation of outstanding people who will change the world with Little People, BIG DREAMS!
More Details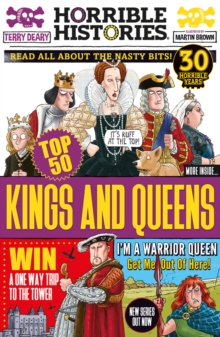 Top 50 kings & queens : read all about the nasty bits!
Deary, Terry
Paperback
Discover all the foul facts about the history of royalty with history's most horrible headlines: Top 50 Kings and Queens edition. The master of making history fun, Terry Deary, turns his attention to 50 foul royals across history. From who kept a zoo in the Tower of London and which monarch died from eating too many eels to who pretended to be a corpse to make an escape. It's all in Horrible Histories: Top 50 Kings and Queens: fully illustrated throughout and packed with hair-raising stories - with all the horribly hilarious bits included with a fresh take on the classic Horrible Histories style, perfect for fans old and new the perfect series for anyone looking for a fun and informative read Horrible Histories has been entertaining children and families for generations with books, TV, stage show, magazines, games and 2019's brilliantly funny Horrible Histories: the Movie - Rotten Romans. Get your history right here and collect the whole horrible lot. Read all about it!
More Details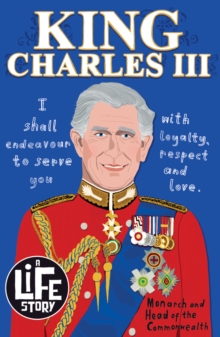 King Charles III
Morgan, Sally
Paperback
King Charles III: environmental activist, monarch and head of the Commonwealth. Read all about the life of King Charles III, from his early days at boarding school and watching his mother become queen to his dedicated work as an environmental activist and becoming king himself, this book will take you on a royal tour through King Charles III's life. Celebrate the king's coronation and the beginning of his reign with this book that shines a light on the wonderful achievements that form King Charles III's legacy. Did you know that Charles has a frog named after him? Or that he's a qualified pilot and diver? How about that Charles is an accomplished artist? Find out everything there is to know about Great Britain's newest king with this remarkable history book. A Life Story: With striking black and white illustrations, this gripping series throws the reader directly into the lives of modern society's most influential figures. Also in the series: Queen Elizabeth II: A Life Story Katherine Johnson: A Life Story Stephen Hawking: A Life Story Alan Turing: A Life Story Rosalind Franklin: A Life Story Serena Williams: A Life Story Kamala Harris: A Life Story David Attenborough: A Life Story Emma Raducanu: A Life Story Captain Tom Moore: A Life Story
More Details
Crown & sceptre : 1000 years of kings and queens
Borman, Tracy
Paperback
A stunning tour de force and a remarkable achievement.- Alison WeirThis is Our Island Story for the modern age. - Charles Spencer'Not just a brilliant compendium of biographies, but the biography of an institution: a marvellous read' - Tom Holland'This royal throne of kings, this sceptred isle'(William Shakespeare, Richard II)With 1000 years of royal history from 1066 to the present day, Domesday Book to Magna Carta the Field of Cloth of Gold to King Charles' accession, Crown & Sceptre is an unparalleled exploration of the British monarchy. From Sunday Times bestselling author and joint Chief Curator of Historic Royal Palaces Tracy Borman, comes a fresh, engaging and authoritative account of the crown's tumultuous history - including a chapter on King Charles III. Impeccably researched, Crown & Sceptre explores in gripping detail how this iconic institution has survived the storms of rebellion, revolution and war that brought most of the world's other monarchies to an abrupt and bloody end. It is a story of ruthless dynastic battles, political and social leadership, usurpation and abdication, all set against a backdrop of dazzling ceremony and pageantry. "Crown and Sceptre shows an astonishing command of a thousand years of the British monarchy, its traditions, roles and realities beyond the pageantry and romance. Beautifully crafted, insightful, and a genuine pleasure to read, it underscores the royal heritage at the heart of a nation." - Lauren Mackay"Crown and Sceptre" combines an eminently accessible narrative with a lucid scholarly lens. Tracy Borman skilfully unravels the trials and triumphs of this ever-shifting institution. By charting both the majesty and mechanics of monarchy, we get a vivid understanding of why its glittering gears shifted over time, and by whom the levers of change were pulled. A triumph.' - Owen Emmerson, Curator at Hever Castle'Tracy Borman's passion for the British monarch and the crown is infectious and compelling!' - Estelle Paranque'Borman embraces a huge task' - Gerard DeGroot, The TimesEnlightening, gripping and skilfully composed, Tracy Borman navigates the twists and turns of the British monarchy with an expert hand. A pacy narrative that's simply bursting with colour and intrigue, Crown and Sceptre is both powerful and compulsively readable. A masterpiece. - Nicola Tallis
More Details
Charles : the heart of a king
Mayer, Catherine
Paperback
The Sunday Times Top Ten Bestseller'Breathtaking' The Times'[The book that] made headlines around the world.' IndependentThe former Prince of Wales has lived his whole life in the public eye, yet he remains an enigma. He was born to be king, but he aims much higher. A landmark publication, Charles: The Heart of a King reveals Charles in all his complexity: the passionate views that mean he will never be as remote and impartial as his mother; the compulsion to make a difference and the many and startling ways in which the Prince and now King of the United Kingdom and fifteen other realms has already made his mark. The book offers fresh and fascinating insights into the first marriage that did so much to define him and an assessment of his relationship with the woman he calls, with unintended accuracy, his 'dearest wife': Camilla, now Queen Consort. We see Charles as a father and a friend, a serious figure and a joker. Life at court turns out to be full of hidden dangers and unexpected comedy. Now, updated and revised with a new preface and two new chapters - covering details of Harry and Meghan's exit and its implications, the cash-for-honours scandal, Prince Andrew, and more - this significant study reveals a monarchy threatened and a man in sight of happiness yet still driven by anguish and a remarkable belief system, a charitable entrepreneur, activist, agitator and avatar of the Establishment who just as often tilts against it. Based on multiple interviews with his friends and courtiers, palace insiders and critics, and rare access to Charles himself, before his kingship, this biography explores his philanthropy and his compulsive interventionism, his faith, his significant impact on politics and the philosophy that means when he seeks harmony he sometimes creates controversy. Gripping, at times astonishing, often laugh-out-loud, this is a royal biography unlike any other. 'A must-read ... this important book is nothing short of a manual to our future King's world-view' GQ'A sustained piece of higher journalism' Independent
More Details
For more comprehensive lists check out our Coronation lists for readers of all ages.