Super 6 Blog – Eurovision – United by Music
10th May 2023
Our 'Browns Super 6' highlights six of our favourite books on a chosen theme or topic, chosen by an experienced member of the Browns Selection Team. We hope you enjoy our selection!
What is your first memory of the Eurovision Song Contest?
Mine is watching Sandy Shaw (barefoot!) on a black and white TV, singing 'Puppet on a String' to a studio audience (showing my age now).
How things have changed! From black and white to a sparkling colourful extravaganza with a live audience, and from the incomparable broadcasting legend Terry Wogan to the acerbic humour of Graham Norton.
We all will remember the remarkable performances and crazy outfits by the likes of Bucks Fizz, Dana International, Lordi or a group of Russian Grannies.
This year the excitement is second to none with Liverpool hosting the event for the Ukraine, due to Russia's invasion of the country. It will be the first Eurovision Song contest to be held in the UK for 25 years and Liverpool being the 'City of Pop' seems to be the obvious choice. Famous bands like the Beatles, Echo & the Bunnymen, OMD, and the Sugababes and The Coral all started here.
Tickets for the event were sold out within hours but a two-week cultural festival will take over the streets and put Ukraine and its culture at the heart of its celebrations.
And whilst you are preparing cocktails and snacks and getting ready for the party you might have time to immerse yourself into the world of music or learn more about the Ukraine with the help of these books.

Marlis, Content Selection Team
One two three four : The Beatles in time
Brown, Craig
Paperback
SHORTLISTED for the Baillie Gifford Prize's 25th Anniversary Winner of Winners award WINNER OF THE BAILLIE GIFFORD PRIZE 2020 A Spectator Book of the Year * A Times Book of the Year * A Telegraph Book of the Year * A Sunday Times Book of the Year From the award-winning author of Ma'am Darling: 99 Glimpses of Princess Margaret comes a fascinating, hilarious, kaleidoscopic biography of the Fab Four. John Updike compared them to 'the sun coming out on an Easter morning'. Bob Dylan introduced them to drugs. The Duchess of Windsor adored them. Noel Coward despised them. JRR Tolkien snubbed them. The Rolling Stones copied them. Loenard Bernstein admired them. Muhammad Ali called them 'little sissies'. Successive Prime Ministers sucked up to them. No one has remained unaffected by the music of The Beatles. As Queen Elizabeth II observed on her golden wedding anniversary, 'Think what we would have missed if we had never heard The Beatles.' One Two Three Four traces the chance fusion of the four key elements that made up The Beatles: fire (John), water (Paul), air (George) and earth (Ringo). It also tells the bizarre and often unfortunate tales of the disparate and colourful people within their orbit, among them Fred Lennon, Yoko Ono, the Maharishi, Aunt Mimi, Helen Shapiro, the con artist Magic Alex, Phil Spector, their psychedelic dentist John Riley and their failed nemesis, Det Sgt Norman Pilcher. From the bestselling author of Ma'am Darling comes a kaleidoscopic mixture of history, etymology, diaries, autobiography, fan letters, essays, parallel lives, party lists, charts, interviews, announcements and stories. One Two Three Four joyfully echoes the frenetic hurly-burly of an era.
More Details
Elton John
Sanchez Vegara, Maria Isabel
Laminated
In this momentous 50th book in the critically acclaimed, multimillion-copy bestselling Little People, BIG DREAMS series, discover the life of Elton John, the piano wizard who rocketed to stardom with his music. As a child, Elton started playing his grandmother's piano in Harrow, London. He could pick tunes out by ear and was soon attending lessons at the Royal Academy. After answering an advertisement in a newspaper, Elton teamed up with a lyric-writing buddy: Bernie Taupin. The rest was history. Elton's songwriting talent, musical skill and dazzling outfits have made him one of the all-time greats. This moving book features stylish and quirky illustrations and extra facts at the back, including a biographical timeline with historical photos and a detailed profile of the musician's life. Little People, BIG DREAMS is a bestselling biography series for kids that explores the lives of outstanding people, from designers and artists to scientists and activists. All of them achieved incredible things, yet each began life as a child with a dream. This empowering series of books offers inspiring messages to children of all ages, in a range of formats. The board books are told in simple sentences, perfect for reading aloud to babies and toddlers. The hardback and paperback versions present expanded stories for beginning readers. With rewritten text for older children, the treasuries each bring together a multitude of dreamers in a single volume. You can also collect a selection of the books by theme in boxed gift sets. Activity books and a journal provide even more ways to make the lives of these role models accessible to children. Inspire the next generation of outstanding people who will change the world with Little People, BIG DREAMS!
More Details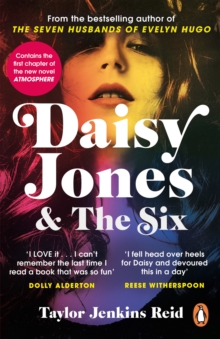 Daisy Jones & the Six
Jenkins Reid, Taylor
Paperback
NOW A SMASH HIT AMAZON PRIME TV STARRING SAM CLAFLIN, RILEY KEOUGH AND CAMILA MORRONETHE SUNDAY TIMES AND NEW YORK TIMES BESTSELLERFrom the author of THE SEVEN HUSBANDS OF EVELYN HUGO and the bestselling MALIBU RISING'I LOVE it . . . I can't remember the last time I read a book that was so fun' DOLLY ALDERTONEverybody knows Daisy Jones and the Six. Their sound defined an era. Their albums were on every turntable. They sold out arenas from coast to coast. Then, on 12 July 1979, Daisy Jones walked barefoot onto the stage at Chicago Stadium. And it all came crashing down. Everyone was there. Everyone remembers it differently. Nobody knew why they split. Until now . . . 'The verdict: Daisy Jones steals the limelight' STYLIST'New obsession, incoming' TELEGRAPH'I didn't want this book to end' FEARNE COTTON'Utterly believable . . . fantastically enjoyable' THE TIMES'Pitch perfect' SUNDAY TIMES'Reads like an addictive Netflix documentary meets A Star Is Born - despite being utterly fictional. It's also a call-to-arms that when you find your niche, don't doubt, embrace it' EMERALD STREET'Well observed, sensitively told . . . a great read' BBC'A tremendously engaging, and completely believable tale of rock and roll excess... inventive, persuasive and completely satisfying' DYLAN JONES'I spent a lost weekend in this book. Daisy Jones is an instant icon' ERIN KELLY'DAISY JONES & THE SIX is a transporting novel - at once a love story, a glimpse into the combustible inner workings of a rock-and-roll band, and a pitch-perfect recreation of the music scene of the Fleetwood Mac era. You'll never want it to end' CECILIA AHERN'Once in a blue moon you get to discover a book you end up pressing upon many other people to read. Taylor Jenkins Reid has got every nuance, every detail exact and right. I loved every word' PAUL REES'So brilliantly written I thought all the characters were real . . . I couldn't put it down' EDITH BOWMAN'Explosive . . . a gorgeous novel and a ravishing read' SUNDAY EXPRESS'The characters leap off the page, seducing you with their dramas, and making you wish the band was real' HEAT'The heady haze of the 70s music scene, and a perfectly flawed Daisy, combine to create a fresh, rock n roll read. I loved it' ALI LAND, author of Good Me Bad Me
More Details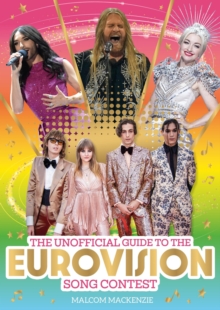 The unofficial guide to the Eurovision Song Contest
Mackenzie, Malcolm
Paperback
The must-have guide for Eurovision fans! Packed full of trivia, party games, high scores and nil points. Plus 32 pages of full colour photos. Hello, bonjour, Hola! It's Eurovision calling and what better way to celebrate the flamboyant show than with this ultimate (and unofficial) guide to the biggest singing contest in the world!How well do you know the Eurovision Song Contest? With this unofficial guide you'll know your Conchita Wurst's from your Alexander Rybanks, why we all love Kalush Orchestra, what made Sam Ryder the nation's sweetheart and which band takes top of the polls - Abba vs. Maneskin - or could it even be Scooch?This ultimate guide recaps the highs and lows of the decades old contest including its bangers and ballads, most shocking moments, photos of the worst dressed acts, top scoring countries - and those who score nil points, and plenty of games to play at your Eurovision party. Eurovision bingo anyone?
More Details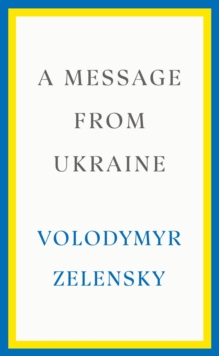 A message from Ukraine : speeches, 2019-2022
Zelensky, Volodymyr
Hardback
'Remarkable' The Times'Inspiring' Caroline Lucas 'Compelling' Observer'A masterpiece' Paul MasonPresident Volodymyr Zelensky's message to the world - a rallying cry for us all to stand up, support Ukraine and fight for democracyThe words of a man. The message of a people. Bringing together a new introduction by Volodymyr Zelensky with his most powerful war speeches, this book recounts Ukraine's story through the words of its president. It is the story of a nation valiantly defending itself from Russian aggression. And it is the story of a people leading the world in the struggle for democracy. Above all, it is a battle cry for us all to stand up and fight for liberty. If not now, when?_'If you want to understand who we are, where we are from, what we want and where we are going, you need to learn more about who we are. This book will help you do just that.' President Volodymyr Zelensky_All President Zelensky's proceeds from this book - amounting to at least 60p per copy of the print edition sold in the UK - will go to United24, his initiative to collect donations in support of Ukraine. United24 is run by the government of Ukraine. For more information, visit u24.gov.ua.
More Details
You don't know what war is
Skalietska, Yeva
Paperback
***A SUNDAY TIMES BOOK OF THE YEAR****** Shortlisted for the Children's Book of the Year: Older Non Fiction The Week Junior Book Awards***Featured on This Morning, Steph's Packed Lunch, Radio 4: Today and Channel 4 News_______________Everyone knows the word 'war'. But very few understand what it truly means. When you find you have to face it, you feel totally lost, walled in by fright and despair. Until you've been there, you don't know what war is. This is the gripping and moving diary of young Ukrainian refugee Yeva Skalietska. It follows twelve days in Ukraine that changed 12-year-old Yeva's life forever. She was woken in the early hours to the terrifying sounds of shelling. Russia had invaded Ukraine, and her beloved Kharkiv home was no longer the safe haven it should have been. It was while she was forced to seek shelter in a damp, cramped basement that Yeva decided to write down her story. And it is a story the world needs to hear. Yeva captured the nation's heart when she was featured on Channel 4 News with her granny as they fled Ukraine for Dublin. In You Don't Know What War Is, Yeva records what is happening hour-by-hour as she seeks safety and travels from Kharkiv to Dublin. Each eye-opening diary entry is supplemented by personal photographs, excerpts of messages between Yeva and her friends and daily headlines from around the world, while three beautifully detailed maps (by Kharkiv-native Olga Shtonda) help the reader track Yeva and her granny's journey. You Don't Know What War Is is a powerful insight into what conflict is like through the eyes of a child and an essential read for adults and older children alike. Published in association with UNHCR, the UN Refugee Agency, with a foreword by Michael Morpurgo. _______________'Everyone, absolutely everyone, should read it. You will love Yeva' Christy Lefteri, No.1 international bestselling author of The Beekeeper of Aleppo'Yeva speaks a truth all of us must listen to' Michael Morpurgo, award-winning author of War Horse'Exhilarating, shattering, heartbreaking, brilliant' Roddy Doyle, Booker Prize-winning author'The most important story of our times' Viv Groskop, podcaster and writer'A herstory of Ukraine' Olia Hercules, Ukrainian chef and food writer
More Details