Browns Super 6 – Teen Ghost & Horror Stories
20th February 2023
Our 'Browns Super 6' highlights six of our favourite books on a chosen theme or topic, chosen by an experienced member of the Browns Selection Team. We hope you enjoy our selection!
We are currently binge-watching and loving the new Netflix series Lockwood & Co. - it's great to see one of our favourite series of books on the small screen and we can't wait for the second season!
Being scared and spooked by all things ghostly and creepy is something that many people enjoy. I genuinely had to sleep with the lights on after reading the first Lockwood & Co. book and it still makes me shiver when I re-read it, even though I know what's coming!
Check out our pick of books that will make the hairs on the back of your neck stand on end, send a shiver down your spine and have you checking under the bed before going to sleep. We've included books that are age-appropriate for Teens - they feature a sarcastic skeleton private detective (Skulduggery Pleasant), a terrifying zombie thriller (The Enemy) and possibly one of the most chilling ghost stories ever written (The Woman in Black). We also love Neil Gaiman's brilliant and award winning The Graveyard Book and have picked a collection of short stories if you fancy a quicker scare (Horowitz Horror). Of course, our list wouldn't be complete without the first book in Jonathan Stroud's super-spooky series – The Screaming Staircase. So turn down the lights, grab a pet for protection and prepare to be spooked…
- Kate, Content Selection Team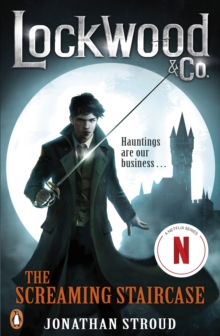 The screaming staircase
Stroud, Jonathan
Paperback
Now a major Netflix series!When the dead come back to haunt the living, Lockwood & Co. step in . . . For more than fifty years, the country has been affected by a horrifying epidemic of ghosts. A number of Psychic Investigations Agencies have sprung up to destroy the dangerous apparitions. Lucy Carlyle, a talented young agent, arrives in London hoping for a notable career. Instead she finds herself joining the smallest most ramshackle agency in the city, run by the charismatic Anthony Lockwood. When one of their cases goes horribly wrong, Lockwood & Co. have one last chance of redemption. Unfortunately this involves spending the night in one of the most haunted houses in England, and trying to escape alive. Set in a city stalked by spectres, The Screaming Staircase is the first in a chilling new series full of suspense, humour and truly terrifying ghosts. Your nights will never be the same again . . . Suspenseful, supernatural adventure - MetroPut The Screaming Staircase on your 'need to read' list - Rick Riordan
More Details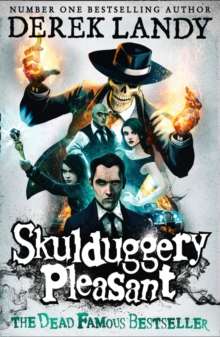 Skulduggery Pleasant
Landy, Derek
Paperback
Get ready for the biggest NEW children's publishing phenomenon, now in paperback! "So you won't keep anything from me again?" He put his hand to his chest. "Cross my heart and hope to die." "Okay then. Though you don't actually have a heart," she said. "I know." "And technically, you've already died." "I know that too." "Just so we're clear." Stephanie's uncle Gordon is a writer of horror fiction. But when he dies and leaves her his estate, Stephanie learns that while he may have written horror, it certainly wasn't fiction. Pursued by evil forces intent on recovering a mysterious key, Stephanie finds help from an unusual source -- the wisecracking skeleton of a dead wizard. When all hell breaks loose, it's lucky for Skulduggery that he's already dead. Though he's about to discover that being a skeleton doesn't stop you from being tortured, if the torturer is determined enough. And if there's anything Skulduggery hates, it's torture! Will evil win the day? Will Stephanie and Skulduggery stop bickering long enough to stop it? One thing's for sure: evil won't know what's hit it.
More Details
The enemy
Higson, Charlie
Paperback
Charlie Higson's The Enemy is the first in a jaw-dropping zombie horror series for teens. Everyone over the age of fourteen has succumbed to a deadly zombie virus and now the kids must keep themselves alive. When the sickness came, every parent, police officer, politician - every adult fell ill. The lucky ones died. The others are crazed, confused and hungry. Only children under fourteen remain, and they're fighting to survive. Now there are rumours of a safe place to hide. And so a gang of children begin their quest across London, where all through the city - down alleyways, in deserted houses, underground - the grown-ups lie in wait. But can they make it there - alive?'Higson has got the balance of blood and gore just right' Daily Mirror'Clever...fast-paced...inventive' GuardianCharlie Higson is the author of the bestselling Young Bond series of novels for young readers, including Silverfin and Double or Die, and the spine-tingling, teen zombie-horror series The Enemy. Can't wait for the next instalment? This edition contains the first chapter of the mind-blowing first chapter of the second book The Dead. Check out www.the-enemy.co.uk for more blood, more zombies and more terror.
More Details
The graveyard book
Gaiman, Neil
Paperback
Discover the bewitching, classic children's novel The Graveyard Book by Neil Gaiman, featuring spellbinding illustrations from Chris RiddellWINNER of the 2010 CILIP CARNEGIE MEDAL and the 2009 JOHN NEWBERY MEDAL'Every page is crowded with invention, both funny and scary' PATRICK NESS'A tale of unforgettable enchantment' NEW YORK TIMESNobody Owens, known to his friends as Bod, is a normal boy. He would be completely normal if he didn't live in a graveyard, raised and educated by ghosts. There, living among the dead, Bod discovers that he possesses remarkable magical powers: he can avoid people's notice, scare them, and even invade their dreams. There are dangers and adventures for Bod in the graveyard. But it is in the land of the living that the real danger lurks, for it is there that the man Jack lives - and he has sinister plans for Bod... WINNER OF THE LOCUS YOUNG ADULT AWARDWINNER OF THE HUGO BEST NOVEL PRIZEWINNER OF THE BOOKTRUST TEENAGE AWARD
More Details
The woman in black
Hill, Susan
Paperback
'Heartstoppingly chilling' Daily ExpressArthur Kipps, a junior solicitor, is summoned to attend the funeral of Mrs Alice Drablow, the sole inhabitant of Eel Marsh House. The house stands at the end of a causeway, wreathed in fog and mystery, but it is not until he glimpses a wasted young woman, dressed all in black, at the funeral, that a creeping sense of unease begins to take hold, a feeling deepened by the reluctance of the locals to talk of the woman in black - and her terrible purpose. 'No one chills the heart like Susan Hill' Daily Telegraph**If you love The Woman in Black, try The Various Haunts of Men, the first book in Susan Hill's Simon Serrailler series**
More Details
Horowitz horror : 17 chilling tales from the master of storytelling
Horowitz, Anthony
Paperback
Seventeen brilliantly chilling tales from the master of storytelling. Welcome to a strange and twisted world where the spooky, the shocking, and the positively petrifying are lurking just out of sight. A bus ride home ... turns into your worst nightmare. A quaint country cottage ... has a grisly secret. A hot bath ... swirls with blood. Horowitz Horror. It's all around you. Alive. Waiting. Enter if you dare. Horror fans will love these twisted tales from the bestselling author of the Alex Rider books.
More Details