Browns Super 6 - Muslim Protagonists in Picture Books
12th April 2023
Our 'Browns Super 6' highlights six of our favourite books on a chosen theme or topic, chosen by an experienced member of the Browns Selection Team. We hope you enjoy our selection!
In the CLPE's latest Reflecting Realities report (an annual survey of ethnic representation within UK Children's Literature since 2017) it was reported that 61% of picture books published in the UK in 2021 featured characters from racially minoritised backgrounds within their casts – up from 6% in 2017 when the survey was first held. At first this seems a figure we should all be proud of, but the reality is that there are publishers who have seen picture books as a diversity tick box exercise - as picture books can be easier to adapt to include characters of colour. What is still lacking is main protagonists of colour who are relatable, nuanced and their story central to the narrative of the picture book. So whilst there's no denying that 61% is a huge stride forward, we shouldn't become complacent and keep on demanding and supporting titles from publishers that feature well developed and authentic characters of colour.
As every child deserves to see themselves truly represented in books – especially at a very young age, and as Ramadan is observed between 22nd March and 20th April this year we've taken the timely opportunity to recommend 6 fantastic picture books with Muslim children as the main character. These books show real children who have agency in their story - children who wear a hijab and celebrate Ramadan with their family or books that portray Muslim culture, traditions and values. These carefully crafted picture books can help to create an inclusive classroom environment - showing young children the diverse society we live in, and foster an understanding for other cultures and religious beliefs.
Claudia, Content Selection Team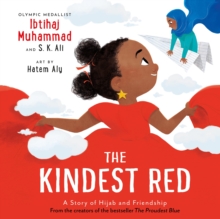 The kindest red : a story of hijab and friendship
Muhammad, Ibtihaj
Laminated
The highly-anticipated sequel to The Proudest Blue; a NEW YORK TIMES BESTSELLER which explores sisterhood, and kindness, from trailblazer and Olympic medallist Ibtihaj Muhammad. I want a kind world. A world where kindness passes from one to another. When Faizah's teacher asks her class to imagine what kind of world they want to live in Faizah imagines a world where everyone is kind to one another, and tries to create that world in the school playground. But what Faizah wants most is to be like her big sister, Asiya. Will Faizah's classmates repay her kindness and find a way for her to match Asiya in time for school photo day?An important and uplifting story about celebrating each other's differences and similarities.
More Details
Deep in the Sahara
Cunnane, Kelly
Paperback
A little Mauritanian girl realises that the traditional clothing of women in her country represents many things but most importantly faith. Lalla lives in the Muslim country of Mauritania, and more than anything, she wants to wear a malafa, the colourful cloth Mauritanian women, like her mama and big sister, wear to cover their heads and clothes in public. But it is not until Lalla realizes that a malafa is not just worn to show a woman's beauty and mystery or to honour tradition—a malafa for faith—that Lalla's mother agrees to slip a long cloth as blue as the ink in the Koran over Lalla's head, under her arm, and round and round her body. Then together, they pray. An author's note and glossary are included in the back of the book.   "Poetic language, attractive illustrations and a positive message about Islam, without any didacticism: a wonderful combination," declares Kirkus Reviews in a starred review.
More Details
Zahra's blessing : a Ramadan story
Shamsi, Shirin
Paperback
Zahra hugs her cherished teddy bear and prays that Ramadan will bring her a longed-for sister. When her bear subsequently goes missing, Zahra finds herself grappling with intense feelings of loss. Over the next few weeks, as she volunteers with her mother at a local shelter for asylum seekers, Zahra befriends a displaced child, resulting in a newfound sense of gratitude and an unexpected Ramadan blessing.
More Details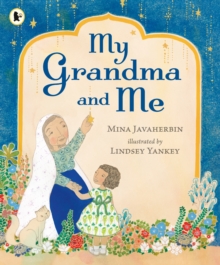 My grandma and me
Javaherbin, Mina
Paperback
In a true tale of a young girl in Iran and her grandmother, this beautiful ode to family celebrates small moments of love that become lifelong memories. "This apparently uneventful story is imbued with quiet richness; the careful delight of daily routines adding up to a lifetime's worth of love." GuardianIn this big universe full of many moons, I have travelled and seen many wonders, but I have never loved anything or anyone the way I love my grandma. While Mina is growing up in Iran, the centre of her world is her grandmother. Whether visiting friends next door, going to the mosque for midnight prayers during Ramadan, or taking an imaginary trip around the planets, Mina and her grandma are never far apart... At once deeply personal and utterly universal, this story is a love letter of the rarest sort: the kind that shares a bit of its warmth with every reader.
More Details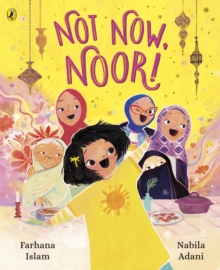 Not now, Noor!
Islam, Farhana
Paperback
Noor loves her mum, and all the other hijabi women in her family, but wonders why do they wear headscarves? Is it so they can hide snacks for later? Or because they're a super spy and hiding their secret identity?Full of curiousity, Noor sets out to find her answer, but her family are all busy and have no time to answer this important question. Just as Noor is ready to give up on her quest, her Ammu arrives home and knows just the thing to say. This heart-warming yet funny tale is a celebration of Muslim women, curious children, and family love.
More Details
One sun and countless stars
Khan, Hena
Laminated
From one sun to countless stars, this gentle introduction to numbers also celebrates the many diverse traditions of the Muslim world, encouraging readers young and old to reflect upon - and count - their many blessings. Like GOLDEN DOMES AND SILVER LANTERNS and CRESCENT MOONS AND POINTED MINARETS, this latest offering in the Concepts of the Muslim World series has stunning illustrations, rhyming read-aloud text, and informative back matter, and it is equally at home in the classroom or being read on a parent's lap.
More Details