Browns Super 6 - Romantasy
13th October 2023
Our 'Browns Super 6' highlights six of our favourite books on a chosen theme or topic, chosen by an experienced member of the Browns Selection Team. We hope you enjoy our selection!

Flowers, candle-lit dinners, music, walks on the beach, dragons, ghosts, magic… Romance can mean different things to us all.

If you like your fantasy with an added love story or romance with something a little bit different, then Romantasy could be for you. Both Fantasy and Romance are hugely popular with readers and so it's no surprise that Romantasy is an increasingly popular fiction sub-genre – the hashtag on TikTok has over 250 million views.
What is Romantasy?
Essentially Romantasy is a portmanteau word, joining Fantasy and Romance. It is also referred to as Fantasy Romance. It's important to mention that Romantasy needs a romance at the heart of the novel, and a romance by definition means a love story with a happy ending. Romantasy is also not just 'fantasy with romance'. Many well-known fantasy novels have romantic elements (Aragorn and Arwen in Lord of the Rings for example) but for it to be a Romantasy the romance needs to be at the forefront of the novel, or its central story. There is no one arbiter on fiction genres so there are numerous thoughts and theories and various fans going into minute detail on what makes a Romantasy, but for us it's essentially a swoon-worthy story with fantastical creatures and set in a fantastical world!
So, what is so special about Romantasy? If you are after escapism in your next read, then this could be the genre you are looking for; readers can have the magic of a fabulous fantasy world and the alchemy of a romantic story where you fall in love with one or more of the characters. Romantasy readers don't have to sacrifice a thrilling adventure for a swoon-worthy love story and can loose themselves in a beautifully drawn new world whilst indulging their romantic side at the same time. Some of the big well-known fantasy series can have several (or many!) books in them which can feel like a bit of a commitment to a new reader; whilst there are some great Romantasy series (such as Sarah J Maas's A Court of Thorns and Roses series), there are also fantastic stand-alone books if you fancy a quicker dip into the genre. There are Romantasy books that are retellings of fairy-tales, traditional fables or well-known stories (These Violent Delights is a dark and twisty reworking of Romeo and Juliet whilst Elizabeth Lim's Six Crimson Cranes is a retelling of Brother's Grimm fairytale The Six Swans); there are also Romantasy books that are very funny – Assistant to the Villain is a giggle-out-loud rom-com that is impossible not to fall in love with.
So, whether you are looking to explore a magical new world, have a fabulous fictional flirtation or are just looking for a perfect piece of escapism in your next read, Romantasy could be just the thing to fall for.
Kate, Content Selection Team
These violent delights
Gong, Chloe
Paperback
'A deliciously dark twist on Romeo and Juliet' Natasha Ngan, New York Times bestselling author of Girls of Paper and Fire In glittering Shanghai, a monster awakens . . . The year is 1926, and Shanghai hums to the tune of debauchery. A blood feud between two gangs runs the streets red, leaving the city in chaos. Juliette Cai is the proud heir of the Scarlet Gang - a network of criminals far above the law. Roma Montagov is the prodigal son of her greatest rivals, the White Flowers, who have fought the Scarlets for generations. He is also Juliette's first love . . . and first betrayal. When a deadly madness strikes gangsters on both sides, the people start to whisper. Of a contagion, and a monster in the shadows. And as the deaths stack up, Juliette and Roma must set their guns - and grudges - aside and work together. For if they can't stop this mayhem, there will be no city left to rule. Filled with romance, intrigue and betrayal, this heart-stopping fantasty retelling of Romeo and Juliet is perfect for fans of The Last Magician and Descendant of the Crane. Praise for Chloe Gong'Heady, smart, and vicious' Tessa Gratton, author of The Queens of Innis Lear 'Deliciously dark' Natasha Ngan, New York Times bestselling author of Girls of Paper and Fire 'Dark and beautiful' Emiko Jean, author of Empress of all Seasons'A terrific, deliciously unputdownable read' June Hur, author of The Silence of Bones
More Details
A court of thorns and roses
Maas, Sarah J.
Paperback
THE FIRST BOOK IN THE BESTSELLING SERIES AND A TIKTOK SENSATION'With bits of Buffy, Game Of Thrones and Outlander, this is a glorious series of total joy' STYLISTFeyre is a huntress. And when she sees a deer in the forest being pursued by a wolf, she kills the predator and takes its prey to feed herself and her family. But the wolf was not what it seemed, and Feyre cannot predict the high price she will have to pay for its death... Dragged away from her family for the murder of a faerie, Feyre discovers that her captor, his face obscured by a jewelled mask, is hiding even more than his piercing green eyes suggest. As Feyre's feelings for Tamlin turn from hostility to passion, she learns that the faerie lands are a far more dangerous place than she realized. And Feyre must fight to break an ancient curse, or she will lose him forever. _________________________ Sarah J. Maas's books have sold millions of copies worldwide and have been translated into 37 languages. Discover the tantalising, sweeping romantic fantasy, soon to be a major TV series, for yourself.
More Details
Children of blood and bone
Adeyemi, Tomi
Paperback
Tomi Adeyemi conjures a stunning world of dark magic and danger in her West African-inspired fantasy debut Children of Blood and Bone. Winner of the Tonight Show Summer Reads with Jimmy Fallon. They killed my mother. They took our magic. They tried to bury us. Now we rise. Zelie remembers when the soil of Orisha hummed with magic. When different clans ruled - Burners igniting flames, Tiders beckoning waves, and Zelie's Reaper mother summoning forth souls. But everything changed the night magic disappeared. Under the orders of a ruthless king, anyone with powers was targeted and killed, leaving Zelie without a mother and her people without hope. Only a few people remain with the power to use magic, and they must remain hidden. Zelie is one such person. Now she has a chance to bring back magic to her people and strike against the monarchy. With the help of a rogue princess, Zelie must learn to harness her powers and outrun the crown prince, who is hell-bent on eradicating magic for good. Danger lurks in Orisha, where strange creatures prowl, and vengeful spirits wait in the waters. Yet the greatest danger may be Zelie herself as she struggles to come to terms with the strength of her magic - and her growing feelings for an enemy. The movie of Children of Blood and Bone is in development at Fox 2000/Temple Hill Productions with the incredible Karen Rosenfelt and Wyck Godfrey (Twilight, Maze Runner, The Fault In Our Stars) producing it.
More Details
Six crimson cranes
Lim, Elizabeth
Paperback
A princess in exile. Six enchanted cranes. An unspeakable curse. A beautiful and immersive YA fantasy retelling of the Grimm brothers' The Six Swans fairytale, set in an East-Asian inspired world, by the author of Spin the Dawn. 'A dazzling fairy tale full of breathtaking storytelling' Stephanie Garber, Sunday Times bestselling author of Caraval Shiori'anma, the only princess of Kiata, has a secret. Forbidden magic runs in her veins. And on the morning of her betrothal ceremony, Shiori loses control. At first, her mistake seems like a stroke of luck, forestalling the wedding she never wanted, but it also catches the attention of Raikama, her stepmother. A sorceress in her own right, Raikama banishes the young princess, turning her brothers into cranes, and warning Shiori that she must speak of it to no one: for with every word that escapes her lips, one of her brothers will die. Penniless, voiceless, and alone, Shiori searches for her brothers, and uncovers a dark conspiracy to seize the throne. Only Shiori can set the kingdom to rights, but to do so she must place her trust in a paper bird, a mercurial dragon, and the very boy she fought so hard not to marry. And she must embrace the magic she's been taught all her life to contain - no matter what it costs. Praise for Six Crimson Cranes'An unputdownable, sweeping fairytale that thrills as much as it delights' Kerri Maniscalco, #1 New York Times bestselling author of Kingdom of the Wicked'This book is magic!' Kristin Cashore, New York Times bestselling author of Graceling'A stunning remake of a fairytale' Chloe Gong, New York Times bestselling author of These Violent Delights'This is a gem for all lovers of whimsical fantasy!' Natasha Ngan, New York Times bestselling author of Girls of Paper and Fire
More Details
The dead romantics
Poston, Ashley
Paperback
The Seven Year Slip, the magical new rom-com from Ashley Poston is available to pre-order now! *The New York Times and USA Today bestseller!* 'I LOVED this book! Funny, hopeful and dreamy' Ali Hazelwood 'An absolute delight' Christina Lauren *** Florence Day is a ghost-writer with one big problem. She's supposed to be penning swoon-worthy novels for a famous romance author but, after a bad break-up, Florence no longer believes in love. And when her strict (but undeniably hot) new editor, Benji Andor, won't give her an extension on her book deadline, Florence prepares to kiss her career goodbye. Although when tragedy strikes and Florence has to head home, the last thing she expects to see is a ghost at her front door. Not just any ghost, however, but the stern form of her still very hot - yet now unquestionably dead - new editor. As sparks start to fly between them, Florence tells herself she can't be falling for a ghost - even an infuriatingly sexy one. But can Benji help Florence to realise love isn't dead, after all? If you fell in love with Beach Read, The Love Hypothesis and The Hating Game, this laugh-out-loud romance packed with sizzling chemistry will give you all the feels! *** Readers LOVE The Dead Romantics: 'The perfect rom-com, especially if you like your book editors as sexy as Benji Andor' Red 'Smart, quick, delicious' Emma Straub 'Fresh, fun, thoroughly modern... truly a rom-com to die for!' Rachel Hawkins 'Made me fall in love, broke my heart then reassembled it, and left me swooning. Romantic, hilarious, heart-warming' Gwenda Bond 'A refreshing rom-com about love, loss, and hope... the sparkling dialogue makes the characters come alive' Publishers Weekly 'This book made me sob, wow.It made me feel so many feelings... Please prepare to have nonstop tears running down your face.' Netgalley, 5 stars 'This book destroyed my life but in a hot way... I haven't cried this much because of a book in probably two years.' Netgalley, 5 stars 'Adorably romantic and an absolute pleasure to read.' Netgalley, 5 stars
More Details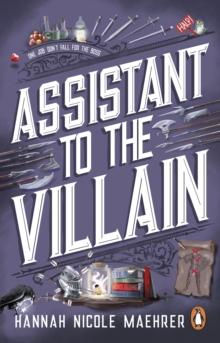 Assistant to the villain
Maehrer, Hannah Nicole
Paperback
A #1 New York Times bestseller from the creator of a viral TikTok series about the sunshine assistant to the evil villain and their unexpected romance. ASSISTANT WANTED: Notorious, high-ranking villain seeks loyal, level-headed assistant for unspecified office duties, supporting staff for random mayhem, terror, and other Dark Things in General. Discretion a must. Excellent benefits. With ailing family to support, Evie Sage's employment status isn't just important, it's vital. So when a mishap with Rennedawn's most infamous Villain results in a job offer-naturally, she says yes. No job is perfect, of course, but even less so when you develop a teeny crush on your terrifying, temperamental, and undeniably hot boss. Don't find evil so attractive, Evie. But just when she's getting used to severed heads suspended from the ceiling and the odd squish of an errant eyeball beneath her heel, Evie suspects this dungeon has a huge rat...and not just the literal kind. Because something rotten is growing in the kingdom of Rennedawn, and someone wants to take the Villain-and his entire nefarious empire-out. Now Evie must not only resist drooling over her boss but also figure out exactly who is sabotaging his work... and ensure he makes them pay. After all, a good job is hard to find.... Readers have fallen head over heels for Assistant to the Villain: 'The slow burn romance was done so well - all the tension and build up with the characters' relationship had me grinning like crazy''I absolutely raced through this novel . . . I loved this book so much, it was laugh out loud funny, the characters were amazing and the tension was high!''The perfect one-sitting binge read for any fantasy or rom-com lover''Perfect blend of fantasy, romance and laugh out loud writing!'
More Details