Browns Super 6 – Books about Running
6th February 2023
Our 'Browns Super 6' highlights six of our favourite books on a chosen theme or topic, chosen by an experienced member of the Browns Selection Team. We hope you enjoy our selection!

Running is hard. Really hard. But it's also addictive and before you know it the speed walk turns into a jog round the block, which leads to your local park run 5k, you then enter the city's 10k and before you know it you've landed yourself a place in the London Marathon 2023 (eek!).
The physical and mental benefits are endless. It's a great way to keep your body and brain in great shape, you can do it any time, any place, your confidence is boosted and best of all it's free! (Unless you acquire an expensive obsession with running trainers…)
As a non-stop mum of two little ones, running provides valuable 'me time'. A time to reset, chase that runner's high, clear head-space, appreciate nature, set goals and enjoy the feeling of euphoria when the endorphin rush hits. Although nothing makes me happier than when my 6-year-old son asks to come for a run with me (and my 3-year-old daughter now refers to me as 'Running Mum'). It's one way to ensure we all get a good night's sleep.
I really believe that running is an inclusive sport and the books I've chosen show that there's no limit to our potential (as Ghost realises in Jason Reynolds' 'Run' series). These titles include relatable role models, destroy gender stereotypes and deliver inspiration and motivation.
So, lace up your trainers, explore new places (I've already bookmarked my dream routes in Lonely Planet's 'Epic Runs of the World') and focus on the journey, not the destination.
- Laura, Content Selection Team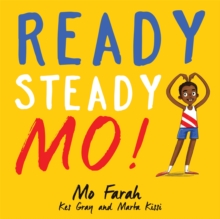 Ready steady Mo!
Farah, Mo
Paperback
From Olympic gold medal winner Mo Farah and bestselling author of Oi Frog!, Kes Gray, comes a fun and action-packed picture book that will get kids reading, and running too!So, what are you waiting for? Warm up, do the MOBOT, and then ... Run on the pavementRun on the grassRun in the playgroundPerhaps not in class!Follow Mo on his madcap adventures as his running skills go from strength to strength. The perfect book to share and read aloud. With vibrant illustrations and a rhyming text. The nation watched with bated breath as Mo Farah seized Olympic gold in the 10,000m and 5000m - he's been a national treasure ever since. In this adventurous picture book father of three, Mo Farah, combines two lifelong passions - literacy and exercise. Children's books by Mo Farah: Ready Steady Mo!, Go Mo Go: Monster Mountain Chase!, Go Mo Go: Dinosaur Dash!, Go Mo Go: Seaside Sprint!
More Details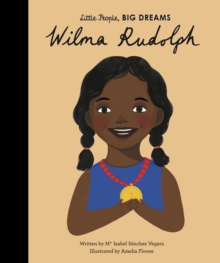 Wilma Rudolph
Sanchez Vegara, Maria Isabel
Laminated
In this book from the critically acclaimed, multimillion-copy bestselling Little People, BIG DREAMS series, discover the life of Wilma Rudolph, the remarkable sprinter and Olympic champion. Wilma was born into a family with 22 brothers and sisters, in the segregated South. She contracted polio in her early years and her doctors said she would never walk again. But Wilma persisted with treatment, and she recovered her strength by the age of 12. At school, Wilma showed a talent for basketball and sprinting, earning the nickname 'Skeeter' (mosquito) as she ran so fast. Wilma was in college when she went to the 1960 Olympics. She not only won gold in sprint events, but also broke world records with her sprinting skill. She had beaten polio to become an Olympic champion. She is a huge inspiration to many women in sports around the world. This moving book features stylish and quirky illustrations and extra facts at the back, including a biographical timeline with historical photos and a detailed profile of the athlete's life. Little People, BIG DREAMS is a bestselling biography series for kids that explores the lives of outstanding people, from designers and artists to scientists and activists. All of them achieved incredible things, yet each began life as a child with a dream. This empowering series of books offers inspiring messages to children of all ages, in a range of formats. The board books are told in simple sentences, perfect for reading aloud to babies and toddlers. The hardback and paperback versions present expanded stories for beginning readers. With rewritten text for older children, the treasuries each bring together a multitude of dreamers in a single volume. You can also collect a selection of the books by theme in boxed gift sets. Activity books and a journal provide even more ways to make the lives of these role models accessible to children. Inspire the next generation of outstanding people who will change the world with Little People, BIG DREAMS!
More Details
Run like a girl
Brown, Danielle
Paperback
The Sunday Times Children's Sports Book of the Year 2022 WinnerRun Like a Girl presents inspirational biographical stories from 50 of the world's top female athletes. All over the world, there are female athletes breaking barriers, pushing limits, and achieving amazing things, but where did their journeys begin? And what challenges did they have to overcome to get where they are today? The award-winning Run Like a Girl is a collection of fascinating biographical stories told by 50 highly successful sportswomen, from boxing superstar Nicola Adams to record-breaking yachtswoman Ellen MacArthur and fearless mountain biker Rachel Atherton. As well as giving an insight into their influences, motivations and achievements, each story reminds us that failing can teach us just as much as winning; success isn't limited to the sports field; and 'running like a girl' can lead you all the way to the top.  
More Details
Born to run 2 : the ultimate training guide
McDougall, Christopher
Paperback
'Invaluable' - WATERSTONES BEST SPORTS BOOKS OF 2022'Born to Run 2 is a must read for every runner out there' Rich Roll'Amazing, really incredibly inspiring book' Joe Wicks on Born to RunBorn to Run's Chris McDougall and long-time running coach Eric Orton show us how to join the global barefoot running movement and explore the world on our own two feet. Born to Run 2: The Ultimate Training Guide teaches every runner, new or experienced, how to master humankind's first true superpower and tap into hidden reserves of strength and stamina. With chapters dedicated to the Free Seven - Food, Fitness, Form, Focus, Footwear, Fun and Family - we learn exactly how to change our biomechanics, clean up our diets, heal our injuries, adapt to healthier footwear, and prepare for our dream challenge. Packed with advice and inspiring stories from runners who have made the transition, it includes:- A rock-solid food primer on optimum diet and power-packed On the Run recipes - Techniques for running with dogs and baby buggies to help you run with the whole family - 'Perfect Form' exercises that will overhaul your stride in less than ten minutes - A 90-Day Run Free Programme, designed to give everything you need to run faster and farther, forever.
More Details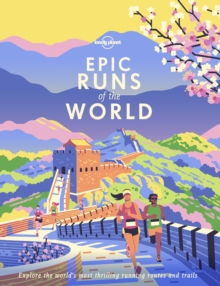 Epic runs of the world : explore the world's most thrilling running routes and trails
Lonely Planet
Laminated
Put on your running shoes - it's time to hit the road, the trails and the great outdoors. In this comprehensive runner's companion, you'll find 50 of the world's greatest running routes - from short city runs and must-do marathons to cross-country trails and challenging ultras - plus a further 150 courses around the globe to satisfy runners of all abilities. Each run is accompanied by stunning photos and a map and toolkit of practical details - where to start and finish, how to get there, where to stay and more - to help you plan the perfect trip. Suggestions for similar runs around the world are also included. Organised by continent, Lonely Planet's Epic Runs of the World takes runners past giraffes, zebras and rhinos in Africa, along courses the length of Vancouver's Stanley Park Seawall in the Americas, offers spectacular views of Hong Kong from Victoria Peak in Asia and jogs along Rome's Tiber River in Europe, while inviting athletes to push themselves to the limit in Oceania's Blue Mountains Ultra. Runs in Africa include: The Lewa Safari Marathon (Kenya)Marathon Des Sables (Morocco)The Great Ethiopian RunThe Comrades Ultramarathon (South Africa) Run in the Americas include: The Big Sur Marathon (USA)Havana's El Malecon (Cuba)Rio at Dawn (Brazil)An Illuminating Ascent in La Paz (Bolivia) Runs in Asia include: The Great Wall Marathon (China)Angkor Wat Half Marathon (Cambodia)A Temple Ascent in Pokhara (Nepal)Kyoto's Riverside (Japan) Runs in Europe include: Amalfi Coast's Path of the Gods (Italy)A Classic Fell Run in the Lakes (England)The Athens Marathon (Greece)Dublin's Wild Side (Ireland) Runs in Oceania include: Great Ocean Road Marathon (Australia)The Kepler Track (New Zealand)Freycinet Peninsula (Tasmania)A Ghost Run in Waihi Gorge (New Zealand) About Lonely Planet: Lonely Planet is a leading travel media company and the world's number one travel guidebook brand, providing both inspiring and trustworthy information for every kind of traveller since 1973. Over the past four decades, we've printed over 145 million guidebooks and grown a dedicated, passionate global community of travellers. You'll also find our content online, on mobile, video and in 14 languages, 12 international magazines, armchair and lifestyle books, ebooks, and more.
More Details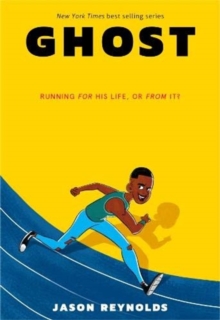 Ghost
Reynolds, Jason
Paperback
Running. That's all Ghost (real name Castle Cranshaw) has ever known. But Ghost has been running for the wrong reasons -until he meets Coach, an ex-Olympic Medallist who sees something in Ghost: crazy natural talent. If Ghost can stay on track, literally and figuratively, he could be the best sprinter in the city. Can Ghost harness his raw talent for speed, or will his past finally catch up to him?READ THE RUN SERIES:Ghost. Lu. Patina. Sunny. Four kids from wildly different backgrounds with personalities that are explosive when they clash. But they are also four kids chosen for an elite middle school running team-a team that could qualify them for the Junior Olympics if they can get their acts together. They all have a lot to lose and a lot to prove. Not only to each other, but to themselves.
More Details