Browns Super 6 - Soggy Summer Days
8th August 2023
It's the summer holidays! For many of us this will conjure thoughts of sunny days, trips to the park or beach, strolling around with an ice-cream or relaxing in the garden whilst wearing shorts and sandals. Unfortunately the weather so far hasn't really supported those activities, July was one of the wettest on record in the UK and August has been soggy so far.
So what can you do when children are stuck indoors feeling bored during the holidays? Fortunately there are lots of books available that have great ideas for keeping kids happy and entertained whatever the weather with activities that you can do together or to help them entertain themselves. Try books like Never Get Bored or Unlock Your Imagination for great ideas on activities to try out for a variety of ages, often with no or very low cost. Or try a new skill or develop an existing hobby; The Complete Book of Art Ideas has something for everyone from beginners to more accomplished artists whilst Unleash Your Creative Monster is a fantastic and funny guide to writing your own stories. If you aren't heading abroad this holiday you can still try different foods from around the globe with lots of tasty things to try making in The World in My Kitchen. For younger children, curling up on the sofa and reading Rainy Day Stories together (maybe with an ice cream!) may prove just as lovely as games in the garden.
Don't forget the Summer Reading Challenge is a great way to keep children entertained and engaged with reading over the holidays, whether you read the books outside or indoors! You can sign up at your local library or online and collect stickers or online rewards as well as a certificate when you finish Summer Reading Challenge

Kate, Content Selection Team
Rainy day stories
Blyton, Enid
Paperback
Pull on your welly boots for these short stories by the world's best-loved story teller. Ideal for children aged 5 and up!In this charming collection by Enid Blyton, children stumble upon secret rooms on rainy days and gnomes pretend they can forecast the weather. The rain may be pouring down in these stories, but there's plenty of mischief and adventure to be found. These classic tales are ideal for younger children being read to and for newly confident readers to read alone. Each story stands alone and is the perfect length for reading at bedtime or in the classroom. Enid Blyton remains one of Britain's favourite children's authors and her bumper short story collections are perfect for introducing her to the latest generation of readers. Read all of Enid Blyton's bumper short story collections. New in 2021: Rainy Day StoriesPet StoriesStories of Spells and EnchantmentsChristmas Tales *** Enid Blyton (R) and Enid Blyton's signature are registered trade marks of Hodder & Stoughton Limited. No trade mark or copyrighted material may be reproduced without the express written permission of the trade mark and copyright owner.
More Details
Never get bored book
Maclaine, James
Laminated
This treasure trove of boredom-busting ideas will keep children entertained for hours on end, whatever the weather. Stage a shadow puppet show, make musical instruments, fly a kite and lots more, then stimulate your brain with riddles, word games and memory puzzles. With specially selected links to websites with even more fun things to do.
More Details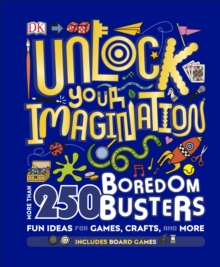 Unlock your imagination
DK
Laminated
This exciting activity book for kids has over 250 ideas to keep them entertained and screen-free! Includes everything you need to play checkers, chess, and more! Way more. Whether it's a rainy day or a sunny afternoon, you'll find plenty to make, play, and do. There's something in it for everyone. A good balance of creative and outdoor activities in one huge illustrated guide with board games included. With everything from writing a story to creating your own obstacle course or making paper aeroplanes to recycling, you'll be hard-pressed to find a child who can't find something to enjoy in this kids book. Packed with fun facts and rainy (or not so rainy) day activities, it's the perfect boredom buster for screen-free, on-the-go entertainment, nurturing children's natural curiosity and imagination. While there are activities that might require purchasing some craft supplies, plenty only require your imagination or things that you can find around the house or garden. What's great is that it's designed to encourage children to put their own spin on anything they try in some way or another. What sets this educational book apart is the box at the back with everything you need to play checkers, chess and snakes-and-ladders. The playing pieces are made from card, and you get to build the dice yourself. Some activities require an adult to join in on the fun, but overall, it gives a lot of freedom and gender-neutral fun. Get creative and even dramatic to build confidence and bust boredom in many different ways. Never Be Bored Again!This book contains more than 250 awesome things for you to make and do. Put down your electronic device and unleash the power of your brain with challenges, crafts, creative learning, and oh-so-many cool games for kids. Put on a play - write the script, make props and more. Play some of the cool road trip games like I-Spy and storytelling. Perform magic tricks, write a song, discover all the different games you can play with a frisbee. The list goes on! With so many fun activities for kids to try, here is a small taste of what you'll get up to:- Write a story- Make a bee hotel- Create an obstacle course- Learn some super cool illusions- Invent a board game of your own design- And much, much more!
More Details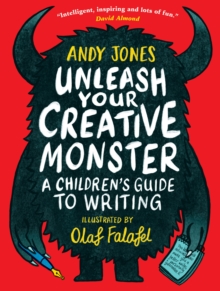 Unleash your creative monster : a children's guide to writing
Jones, Andy
Paperback
A funny and accessible guide to creative writing, packed with practical advice, exciting story prompts and a cast of creative monsters. Winner of the Lollies 2023 Book Awards for Non Fiction!In the pages of Unleash Your Creative Monster, budding writers will sink their teeth into story basics, essential writing tools and the hidden secrets of the wordsmith. Featuring top tips on finding inspiration, how to keep a story moving and beating writer's block, this essential guide has everything you need to unleash your creative monster.
More Details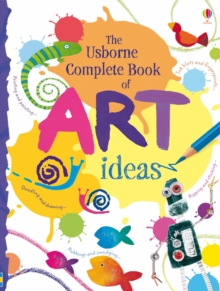 The Usborne complete book of art ideas
Watt, Fiona
Spiral
This is a new great-value edition of this inspiring book, which is filled with original ideas for painting, drawing and collage to help novices of all ages to develop their art skills. The projects will be of great value to art teachers as well as aspiring young artists, who will gain confidence as they progress through the book. It helps children to explore the uses of a range of materials including chalk, paint and pencil, elastic bands, salt and watercolour through a number of highly imaginative projects including ink beetles, deep-sea fish, and lemon juice frogs.
More Details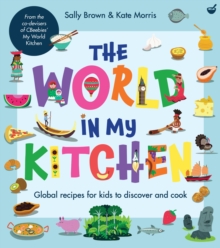 The world in my kitchen : global recipes for kids to discover and cook
Morris, Sally Brown and Kate
Paperback
Imagine a book that transports kids thousands of miles away with the fresh, healthy dishes of different lands. This book leads little people to explore countries and cuisines to try themselves. Simple recipes, using fresh, healthy and easy-to-source ingredients, with suggested substitutions, will open up different tastes, aromas and cuisines. With charming maps, interesting facts, health benefits of various foods and glorious photos that put the dishes in their home contexts, the book includes staple foods and popular dishes from a range of countries from Brazil to Thailand. Each recipe has step by step instructions that kids can follow easily, and simple serving suggestions to make the meal look fantastic. Each chapter homes in on a country with both interesting information such as climate and native landscape/animals. It focuses on healthy food products and famous dishes with a combination of 2 or 3 classic local recipes reworked with up-to-date twists using easily-accessible ingredients for kids to try. Take your kid on an amazing culinary journey of adventure without having to leave the kitchen!
More Details