Women's World Cup
19th July 2023
Our 'Browns Super 6' highlights six of our favourite books on a chosen theme or topic, chosen by an experienced member of the Browns Selection Team. We hope you enjoy our selection!
The countdown to the 2023 FIFA Women's World Cup has begun! The tournament will be jointly hosted by Australia and New Zealand; the opening match takes place on July 20th and will be between hosts New Zealand and Norway and the final takes place on 20th of August. England's first match is against Haiti and will be played on July 22nd. This time the tournament will feature 32 teams (up from the previous 24) and the United States are the defending champions having won in both 2015 and 2019.
After their amazing victory at the 2022 Euros, we will be closely watching and cheering on England's Lionesses. Women's football in the UK has a long and interesting history; it was a huge sport during World War I but was then banned by the FA in 1921 who gave the reason that "…the game of football is quite unsuitable for females and ought not to be encouraged." The FA said that no teams should allow women to play in their grounds and this ban wasn't overturned for 50 years – it was finally lifted in 1971.
Today, players from the Euro winning team are household names and role models, many of us are familiar with Jill Scott, Beth Mead and Fran Kirby. But just over a century ago, during and just after World War I, the Dick, Kerr Ladies - a team made up of 11 factory workers from locomotive and tramcar manufacturer Dick, Kerr & Co. in Preston- also became international celebrities and according to the National Football Museum they remain the most successful women's team of all time. In 1920, a Boxing Day match between Dick, Kerr Ladies and St Helen's Ladies at Goodison Park drew a crowd of 53,000 spectators with a further 14,000 people outside trying to get in. One of the most remarkable players of this era was Lily Parr who scored over 1,000 goals in her 31-year playing career. Lily scored 34 goals in her first season when she was just 14 and had a shot so powerful she once broke a (professional, male) goalkeepers arm! In 2002 Lily Parr was the first woman to be inducted into the English Football Hall of Fame at The National Football Museum.
Over 100 years after Lily and her team mates wowed the crowds at Goodison park we can't wait to cheer on the Lionesses in what will be an exciting and unforgettable tournament. Check out our favourite books on women's football below.

Kate, Content Selection Team

'Unsuitable for females' : the rise of the Lionesses and women's football in England
Dunn, Carrie
Paperback
Shortlisted for the 2023 Sports Book Awards for Best Football Writing of the YearDiscover the origins of the Lionesses that brought football home. England's Lionesses are on the front and back pages; their stars feature on prime-time television; they are named in the national honours lists for their contribution to their sport and to society. The names of Lucy Bronze, Steph Houghton and Ellen White are emblazoned across the backs of children's replica jerseys. These women are top athletes - and top celebrities. But in 1921, the Football Association introduced a ban on women's football, pronouncing the sport 'quite unsuitable for females'. That ban would last for half a century - but despite official prohibition the women's game went underground. From the Dick, Kerr Ladies touring the world to the Lost Lionesses who played at the unsanctioned Women's World Cup in Mexico in 1971, generations of women defied the restrictions and laid the foundations for today's Lionesses - so much so that in 2018 England's Women's Super League became the first fully professional league in Europe...when just a few decades previously women were forbidden to play the sport in England at all. This book tells the story of women's football in England since its 19th-century inception through pen portraits of its trailblazers. The game might have once been banned because of its popularity - find out about the subversive women who kept organising their teams and matches despite the prohibition, who broke barriers and set records - the legends of the game who built the foundations of the stage upon which today's stars flourish. 'At what feels like a pivotal moment, Carrie's forensic research and depth of knowledge make her the perfect person to guide us through the constantly changing landscape of women's football' - Kelly Cates, TV presenter
More Details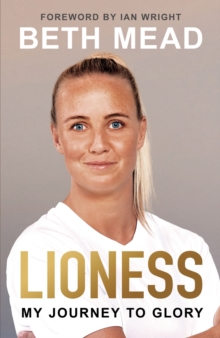 Lioness : my journey to glory
Mead, Beth
Hardback
THE INSTANT SUNDAY TIMES BESTSELLER FROM EUROS CHAMPION AND BBC SPORTS PERSONALITY OF THE YEAR BETH MEADWINNER OF THE SUNDAY TIMES SPORTS BOOK AWARDS AUTOBIOGRAPHY OF THE YEAR 2023With foreword by Ian Wright & afterword by Jermain DefoeBeth Mead is one of the world's most talented footballers - Golden Boot winner and Player of the Tournament at the UEFA Euro 2022, England Player of the Year 2021-22, Arsenal Player of the Season 2021-22, and runner-up for the 2022 Ballon d'Or. But long before this, Beth was just an ordinary kid from Hinderwell, North Yorkshire who wanted to play football. From being placed in the local boys' team as a child because her mum wanted her to run off her boundless energy, to joining Middlesbrough FC's Centre of Excellence and making her professional debut at Sunderland, Beth and women's football have come a long way. Now, Beth shares the challenges that shaped her, what she faced on the journey to the top, and the life events that made her stronger - from being dropped from the England squad and receiving devastating family news, to finding her best form under the guidance of Jonas Eidevall and Sarina Wiegman. Filled with positive lessons and an exclusive account of England's triumphant Euros campaign, Beth offers readers of all ages a heartfelt, behind-the-scenes look into her remarkable journey to glory. Empowering, inspirational and honest, this is Beth's story.
More Details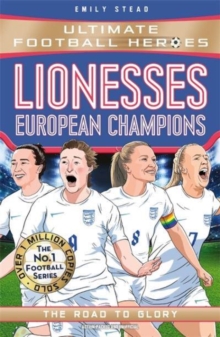 Lionesses, European champions : the road to glory
Stead, Emily
Paperback
The story of the Lionesses from the No.1 football series - over 1 million copies sold. Celebrating the success of the phenomenal Lionesses, this book follows four key players in their journey from the playground to the pitch, as they prepare for the biggest match of their lives. Learn how star players Lucy Bronze, Ellen White, Leah Williamson and Beth Mead stepped up to help the Lionesses secure the title of European Champions 2022. Ultimate Football Heroes is a series of biographies telling the life stories of the biggest and best footballers in the world and their incredible journeys from childhood fan to superstar professional player. Written in fast-paced, action-packed style these books are perfect for all the family to collect and share.
More Details
Our beautiful game
Kuenzler, Lou (Author)
Paperback
A stand-out novel inspired by the incredible true stories of female football legends like Lily Parr and Alice Woods. They can take our ball, but they can never stop the game. Polly Nabb is no stranger to trouble. When her brother Joe is sent to serve in the trenches, all Polly wants is to kick a ball about and forget the war. Mam has other ideas, and makes her stay home to help with endless chores. But football is something Polly is prepared to fight for - it's her life! She's determined to do whatever it takes to fulfil her dream and show the world that football is not just for boys . . . The war years: a time of trailblazing female footballers, like the legendary Lily Parr, who played to sell-out crowds. Polly's dramatic wartime story celebrates those bold young players who changed attitudes to women on the pitch and salutes the unsung heroes on the Home Front too. 'Absolutely magnificent! A glorious tale of football, friendship, feminism and social history.' Emma Carroll'A very entertaining and enjoyable read.' LoveReading4Schools'A powerful story.' Sophie McKenzie'A gripping read.' School Reading List
More Details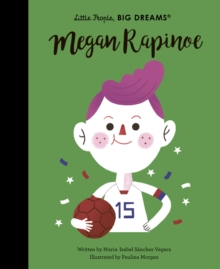 Megan Rapinoe
Sanchez Vegara, Maria Isabel
Laminated
In this book from the critically acclaimed, multimillion-copy bestselling Little People, BIG DREAMS series, discover the life of Megan Rapinoe, the world record-breaking footballer and activist. Chasing a ball in the school playground, Megan discovered her calling at a young age. Even if she didn't always fit in at school, she was a star on the field - and her teammates thought so too. Her passion, skill and leadership took Team USA to Olympic Gold and a World Cup victory, while she continues to champion women's and LGBTQ+ rights and representation in sport. This inspiring book features stylish and quirky illustrations and extra facts at the back, including a biographical timeline with historical photos and a detailed profile of the US co-captain's life. Little People, BIG DREAMS is a bestselling biography series for kids that explores the lives of outstanding people, from designers and artists to scientists and activists. All of them achieved incredible things, yet each began life as a child with a dream. This empowering series of books offers inspiring messages to children of all ages, in a range of formats. The board books are told in simple sentences, perfect for reading aloud to babies and toddlers. The hardback and paperback versions present expanded stories for beginning readers. With rewritten text for older children, the treasuries each bring together a multitude of dreamers in a single volume. You can also collect a selection of the books by theme in boxed gift sets. Activity books and a journal provide even more ways to make the lives of these role models accessible to children. Inspire the next generation of outstanding people who will change the world with Little People, BIG DREAMS!
More Details
Dick, Kerr Ladies : football's forgotten legends
Newsham, Gail
Paperback
Lace up your boots and get ready for kick-off - it's time discover the true story of the Dick, Kerr Ladies football team, courageous pioneers of women's football in the UK. From the founding of the team in World War One to the eventual ban of the women's game by the FA, join the team in their journey to the top of the league. Written by a world authority on the Dick, Kerr Ladies, and featuring original artefacts, and history of the game, this Companion Guide is a must for any football fan. Gail is a former footballer and lives in Preston. She's 100% dedicated to bringing this remarkable story to younger readers. The Dick, Kerr Ladies: the greatest sporting heroes you've never heard of.
More Details