International Talk Like A Pirate Day – 19th September
16th September 2022
Avast me hearties! What be that approaching on the horizon? Aye aye! It be International Talk Like A Pirate Day!
A day to fly the Jolly Roger, natter like swashbuckling seadogs and celebrate the mythology and traditions associated with pirates.
Browns Buccaneers have selected some of the best Pirate books for you to enjoy as you hoist the mainsail. Agrrr!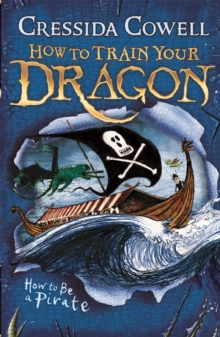 How to be a pirate
Cowell, Cressida
Paperback
Read the HILARIOUS books that inspired the HOW TO TRAIN YOUR DRAGON films! Hiccup Horrendous Haddock the Third is a smallish Viking with a longish name. Hiccup's father is chief of the Hairy Hooligan tribe which means Hiccup is the Hope and the Heir to the Hairy Hooligan throne - but most of the time Hiccup feels like a very ordinary boy, finding it hard to be a Hero. When a huge, six-and-a-half-foot floating coffin with the words BEWARE! DO NOT OPEN THIS COFFIN arrives, can you guess what happens next? The Quest to discover the treasure of Hiccup's ancestors begins and Hiccup needs to find it before Alvin the Treacherous gets his hands on it. But when a dragon called the Monstrous Strangulator is thrown into the mix, things are about to get seriously SCARY. READ ALL 12 BOOKS IN THE SERIES! You don't have to read the books in order, but if you want to, this is the right order: 1. How to Train Your Dragon 2. How to Be a Pirate 3. How to Speak Dragonese 4. How to Cheat a Dragon's Curse 5. How to Twist a Dragon's Tale 6. A Hero's Guide to Deadly Dragons 7. How to Ride a Dragon's Storm 8. How to Break a Dragon's Heart 9. How to Steal a Dragon's Sword 10. How to Seize a Dragon's Jewel 11. How to Betray a Dragon's Hero 12. How to Fight a Dragon's Fury How to Train Your Dragon is now a major DreamWorks franchise starring Gerard Butler, Cate Blanchett and Jonah Hill and the TV series, Riders of Berk, can be seen on CBeebies and Cartoon Network.
More Details
Pirate stew
Gaiman, Neil
Paperback
From the multi-award-winning Neil Gaiman comes the biggest picture book of the year: a joyfully riotous, brilliantly anarchic, deliciously rhyming adventure, with glorious piratical illustrations by Chris Riddell'Neil Gaiman is the nearest thing children's books have to a rock star: if you enjoy fantasy, he is irresistible' The TimesMeet LONG JOHN McRON, SHIP'S COOK . . . and the most unusual babysitter you've ever seen. Long John has a whole crew of wild pirates in tow, and - for two intrepid children - he's about to transform a perfectly ordinary evening into a riotous adventure beneath a pirate moon. It's time to make some PIRATE STEW. Pirate Stew! Pirate Stew!Pirate Stew for me and you!Pirate Stew, Pirate StewEat it and you won't be blueYou can be a pirate too!Marvellously silly and gloriously entertaining, this tale of pirates, flying ships, donut feasts and some rather magical stew is perfect for all pirates, both young and old. With a deliciously rhyming text from master storyteller Neil Gaiman, and spellbinding illustrations by the supremely talented Chris Riddell, three-times-winner of the Kate Greenaway Medal, this is the picture book of the year! Joyful, quirky and action-packed, it makes a spectacular and magical gift.
More Details
The pirate mums
Lancet-Grant, Jodie
Paperback
Billy's family is not what you'd call ordinary. His mums won't listen to NORMAL music. They love to sing sea shanties and dance jigs in the lounge. Their clothes are highly unusual, they have a rude parrot for a pet, and their taste in house design is, well . . . FISHY. Billy wishes his family could be more like everyone else's. Until a swashbuckling adventure changes everything!
More Details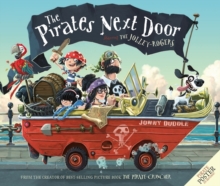 The pirates next door : starring the Jolley-Rogers
Duddle, Jonny
Paperback
The Jolley-Rogers - a pirate family, are moving to Dull-on-Sea, a quiet seaside town. Stopping to fix up their ship, this unusual family get the whole neighbourhood spreading rumours. Defying the grown-ups, Matilda from next door decides to become friends with the youngest pirate son. When the Jolley-Rogers leave, the town discovers they were wrong to assume the worst - the pirate clan have buried treasure in everyone's gardens (shown in a stunning double-gatefold). Matilda feels sad until she discovers her own treasure - an incredibly exciting new pen friend.
More Details
Pirates ahoy!
Corderoy, Tracey
Paperback
The detective dogs are back for a swashbuckling pirate adventure!Shifty and Sam have swapped their life of crime for a career in cupcakes. But when they're asked to bake for a pirate party, they find themselves caught up in the middle of a robbery. Uh-oh! Captain Sharpwhiskers and his criminal crew have stolen Captain Chucklebeard's treasure! Can Shifty and Sam catch those BAD pirates and bring back the loot? Find out in this hilarious, rhyming picture book adventure!Tracey Corderoy is a multi-award-winning author and has written over 70 books for children including collaborations with Rosalind Beardshaw and Sarah Massini. Steven Lenton has created many books with Tracey Corderoy and also illustrates books by David Baddiel, Frank Cottrell-Boyce and Peter Bently. His books have won awards such as the Sainsbury's Children's Book Award and have been selected for the WHSmith Children's Book of the Year and Tom Fletcher Book Club. Read all the Shifty and Sam picture book adventures: Shifty McGifty and Slippery Sam Shifty McGifty and Slippery Sam: The Cat Burglar Shifty McGifty and Slippery Sam: The Diamond ChaseShifty McGifty and Slippery Sam: The Missing MasterpieceShifty McGifty and Slippery Sam: Santa's Stolen SleighHave you read Shifty and Sam's two-colour early readers? Shifty McGifty and Slippery Sam: Jingle Bells! Shifty McGifty and Slippery Sam: Up, Up and Away! Shifty McGifty and Slippery Sam: The Spooky School Shifty McGifty and Slippery Sam: The Aliens Are Coming!
More Details
Cats ahoy!
Bently, Peter
Paperback
A hilarious, rhyming adventure about a band of pirate cats! From Peter Bently and Jim Field - illustrator of the bestselling Oi Frog books. Winner of the Roald Dahl Funny Prize!Off shot Alfonso as swift as an arrow, through alleys and gardens and streets dark and narrow. He told every cat to prepare for a treat: "Follow me and you'll get all the fish you can eat!"When Alfonso the cat hears there's a boat coming into harbour stuffed with tasty haddock, he hatches a plan. It's brave! It's bold! And it involves a ghost pirate ship, some rather gullible fishermen and cats... LOTS of cats. With a bouncy, rhyming story and illustrations from the bestselling Jim Field - perfect for reading aloud!
More Details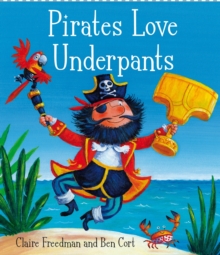 Pirates love underpants
Freedman, Claire
Paperback
This hilarious title in the Underpants series is full of pirates, sharks and treasure. You'll be yo-ho-ho-ing until the sails come down! NOW A MAJOR TV SERIES!These pirates SO love underpants, They're on a special quest To find the fabled Pants of Gold, For the Captain's Treasure chest. CLAIRE FREEDMAN is the author of several successful picture books including Aliens Love Underpants, Dinosaurs Love Underpants, Oliver and Patch and My Grandparents Love Me for Simon & Schuster. Claire lives in Essex with her husband. BEN CORT is one of the most sought after illustrators in children's book publishing. His books include the Aliens Love Underpants titles. Ben lives in Bedfordshire with his wife and children. 'Guaranteed to get the little ones giggling' Daily Mail 'Hilarious' Western Morning News 'A piratical romp from the Aliens team, and sure to be a summer bestseller in paperback' The Bookseller 'Another winning tale from this talented duo, which will undoubtedly be extremely popular' Bookseller Children's Choice 'You'll find bouncy, perfectly rhythmic verses; lively and colourful pictures with plenty of hilarious details' Teach Primary 'Full of rollicking fun' Parents in Touch 'Pirates Love Underpants will persuade you that there's always room on the shelf for another picture book on one of children's favourite subjects...Hilarious!' Nursery World
More Details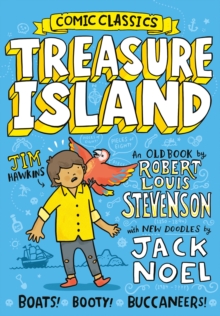 Treasure Island
Noel, Jack
Paperback
OLD books get NEW doodles - it's the classics as you've never seen them before! A hilarious new series that brings the classics to life with illustrations by Jack Noel. Perfect for 7-9 year olds and fans of Tom Gates, Wimpy Kid and Dav Pilkey. And PIRATES. Get your HOOKS into the one and only original pirate adventure! Jim Hawkins spends his life helping out at his mum's boring old inn by the sea, wishing he could sail away and have adventures. But when an old sea captain turns up with a secret, it's the start of a bigger adventure than Jim could ever have imagined - soon he's on a ship on the trail of buried treasure, accompanied by a suspicious sailor named Long John Silver ... Will Jim escape the pirates? Or will he walk the plank? Climb aboard with Jim, a chatty parrot and a bunch of crazy pirates for a hilarious adventure across the seven seas. Look out for more COMIC CLASSICS: GREAT EXPECTATIONS:Join Pip in a rip-roaring story of family secrets, scary grannies and a REALLY annoying big sister. Get on the trail of THE HOUND OF THE BASKERVILLESSolve the case with Holmes and Watson in a thrilling tale of mystery, murder and things that go woof in the night. Praise for GREAT EXPECTATIONS:A funny, thought-provoking treat, it's the ideal way into [Dickens] (Imogen Russell Williams Guardian) Buy a copy of Jack Noel's retelling of Great Expectations before I set the dogs on you. Now, begone! (Philip Ardagh, Roald Dahl Funny Prize-winning author) It is BRILLIANT! (Jenny Pearson, author of The Super Miraculous Journey of Freddie Yates) Jack Noel's brilliantly witty art perfectly complements Dickens' Great Expectations, making this a fab KS2 text to sit alongside the classic. Brilliant for dyslexic kids who may struggle with Dickens' prose ... this book could bring a generation of kids to the classics (Abi Elphinstone, author of Rumblestar, Sky Song and the Dreamsnatcher trilogy) Jack Noel is a Jack of three trades: author, illustrator, designer, who works mainly on children's books and is a co-host on the Down the Rabbit Hole children's books podcast. Once upon a time Jack sent this tweet, and rest is history (history with doodles): https://twitter.com/jackdraws/status/965492074157166592https://jacknoelillustration.tumblr.com
More Details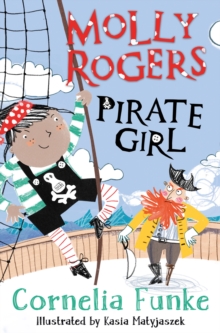 Molly Rogers, pirate girl
Funke, Cornelia
Paperback
Ferocious Captain Firebeard and the crew of the Horrible Haddock rule the high seas. But the dastardly pirates meet their match when they kidnap a small, feisty girl called Molly. Molly also knows the real pirate to fear is her own mum, and she won't be pleased to find her daughter kidnapped!A swashbuckling adventure from global bestseller Cornelia Funke, now in a hi-lo, dyslexia-friendly format for the struggling middle grade reader.
More Details
Pirates
DK
Paperback
Ignite curiosity in your children, and take kids back in time to discover the truth behind the myth!Discover what pirates ate, what life was like on-board a pirate ship, and whether the really did bury treasure. Covering everything from Viking Pirates to Blackbeard, DKfindout! Pirates will satisfy any child who is eager to learn more about the history of pirates!Inside the pages of this factual pirate book for kids you'll discover:- A common myth-buster section, separating the facts from the fiction that you can trust!- Famous pirate locations, towns, and details on the ships, crew and their weapons - Non-fictional information written by experts and inspiring curriculum-based content that can be trusted by parents and teachers - Age appropriate text and imagery in an easy-to-follow formatSee pirates come to life through dynamic and interactive activities and content that includes quizzes, annotations, and stunning photography and illustrations. Supporting the national curriculum, DKfindout! is perfect for children aged 7-9 and is packed with fun facts for kids. What do you want to find out next?Perfect for help with homework, the DKfindout! Series uses clear, reliable, and highly visual content that covers all curriculum subjects and more! Read awe-inspiring facts about the Solar System in DKfindout! Solar System. Learn amazing facts about the animal kingdom in DKfindout! Animals. Discover explosive facts about the world of volcanoes in DKfindout! Volcanoes.
More Details