Travel in Time - Best books to read about Time Travel
18th July 2022
The likelihood of us stumbling across a time machine in our local coffee shop is small, but fear not… The simple truth is that BOOKS are the most effective time travel machine that have ever been invented!
Time travel stories are not new with HG Wells offering us The Time Machine in 1895, and fifty years before that Charles Dickens allowed us to glimpse the future and past in A Christmas Carol. Today time travel stories abound - whether it be achingly romantic stories like The Time Travellers Wife, alternative sci-fi realities like Time and Again, time-bending murder mysteries like The Seven Deaths of Evelyn Hardcastle or books that explore memory and what it means to be human-like bestselling The Midnight Library.
Below are 10 of our favourites which offer something for everyone, with even more linked at the bottom of the page, so get ready to travel in time with the simple turn of a page…. Let's go!
Kindred
Butler, Octavia E.
Paperback
**MAJOR TV SERIES COMING SOON TO DISNEY+**Octavia E. Butler's ground-breaking masterpiece, with an original foreword by Ayòbámi Adébáyò. 'A marvel of imagination, empathy and detail' NEW YORK TIMES'The marker you should judge all other time-travelling narratives by' GUARDIAN'One of the most significant literary artists of the twentieth century. One cannot exaggerate the impact she has had' JUNOT DIAZ--In 1976, Dana dreams of being a writer. In 1815, she is assumed a slave. When Dana first meets Rufus on a Maryland plantation, he's drowning. She saves his life - and it will happen again and again. Neither of them understands his power to summon her whenever his life is threatened, nor the significance of the ties that bind them. And each time Dana saves him, the more aware she is that her own life might be over before it's even begun. This is the extraordinary story of two people bound by blood, separated by so much more than time. 'No novel I've read this year has felt as relevant, as gut-wrenching or as essential' CAROLINE O'DONOGHUE--PRAISE FOR OCTAVIA E. BUTLER, THE NEW YORK TIMES BESTSELLING AUTHOR'Unnervingly prescient and wise' YAA GYASI'Butler's evocative, often troubling, novels explore far-reaching issues of race, sex, power and, ultimately, what it means to be human' NEW YORK TIMES'Butler's prose, always pared back to the bone, delineates the painful paradoxes of metamorphosis with compelling precision' GUARDIAN'Octavia Butler was a visionary' VIOLA DAVIS'An icon of the Afrofuturism world, envisioning literary realms that placed black characters front and center' VANITY FAIR'Butler writes with such a familiarity that the alien is welcome and intriguing. She really artfully exposes our human impulse to self-destruct' LUPITA NYONG'O
More Details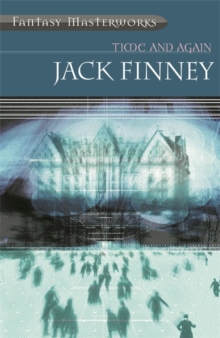 Time and again
Finney, Jack
Paperback
Si Morley is bored with his job as a commercial illustrator and his social life doesn't seem to be going anywhere. So, when he is approached by an affable ex-football star and told that he is just what the government is looking for to take part in a top-secret programme, he doesn't hesitate for too long. And so one day Si steps out of his twentieth-century, New York apartment and finds himself back in January 1882. There are no cars, no planes, no computers, no television and the word 'nuclear' appears in no dictionaries. For Si, it's very like Eden, somewhere he could find happiness. But has he really been back in time? The portfolio of tintype photographs and sketches that he brings back convince the government. But all Si wants is to return...
More Details
The house on the strand
Du Maurier, Daphne
Paperback
Dick Young is lent a house in Cornwall by his friend Professor Magnus Lane. During his stay he agrees to serve as a guinea pig for a new drug that Magnus has discovered in his biochemical researches. The effect of this drug is to transport Dick from the house at Kilmarth to the Cornwall of the 14th century. There, in the manor of Tywardreath, the domain of Sir Henry Champernoune, he witnesses intrigue, adultery and murder. As his time travelling increases, Dick resents more and more the days he must spend in the modern world, longing ever more fervently to get back into his world of centuries before ...
More Details
The rise and fall of D.O.D.O.
Stephenson, Neal
Paperback
You think you know how the world works? Think again. 21st Century America Magic has faded from the minds of mankind, until an encounter between Melisande Stokes, linguistics expert at Harvard, and Tristan Lyons, shadowy agent of government, leads to the uncovering of a distant past. After translating a series of ancient texts, Melisande and Tristan discover the connection between science, magic and time travel and so the Department of Diachronic Operations – D.O.D.O. – is hastily brought into existence. Its mission: to develop a device that will send their agents back to the past, where they can stop magic from disappearing and alter the course of history. But when you interfere with the past, there's no telling what you might find in your future… Written with genius and complexity, this vividly realised novel will make you believe the impossible, and question the very foundations of the modern world.
More Details
Life after life
Atkinson, Kate
Paperback
The PRIZE-WINNING BESTSELLER, now a major BBC1 DRAMA SERIES starring Thomasin McKenzie, Sian Clifford and James McArdle, directed by BAFTA award-winning John Crowley. 'Dazzling, witty, moving, joyful, mournful, profound... one of the best novels I've read this century' Gillian Flynn, bestselling author of GONE GIRL'A box of delights ... it grips the reader's imagination on the first page and never lets go.' HILARY MANTEL, author of THE MIRROR AND THE LIGHT___________________________________What if you had the chance to live your life again and again, until you finally got it right?During a snowstorm in England in 1910, a baby is born and dies before she can take her first breath. During a snowstorm in England in 1910, the same baby is born and lives to tell the tale. What if there were second chances? And third chances? In fact an infinite number of chances to live your life? Would you eventually be able to save the world from its own inevitable destiny? And would you even want to?Life After Life follows Ursula Todd as she lives through the turbulent events of the last century again and again. With wit and compassion, Kate Atkinson finds warmth even in life's bleakest moments, and shows an extraordinary ability to evoke the past. Here she is at her most profound and inventive, in a novel that celebrates the best and worst of ourselves. ____________________'Merging family saga with a fluid sense of time and an extraordinarily vivid sense of history at its most human level. A dizzying and dazzling tour de force' Daily Mail'Absolutely brilliant...it reminded me a bit of her first book Behind the Scenes at the Museum, which is one of my most favourite books ever.' Marian Keyes, author of Rachel, Again'An exceptional writer' Guardian'[A] magnificently tender and humane novel' Observer'A ferociously clever writer...a big, bold novel that is enthralling, entertaining' New Statesman'Exceptionally captivating' New York Times'Truly brilliant...Think of Audrey Niffenegger's The Time Traveler's Wife or David Nicholl's One Day.. a rare book that you want to start again the minute you have finished.' The Times
More Details
All our wrong todays
Mastai, Elan
Paperback
'A witty, time-travelling romance' Maria Semple, author of Where'd You Go, Bernadette This is a love story that could only happen because of an accident of time travel. Tom and Penny belong to a world so perfect there's no war, no poverty, no under-ripe avocados. But when something awful happens to Penny, and Tom tries to make it right, he accidentally destroys everything, waking up in our broken, dysfunctional world. Only here, Penny and Tom have a second chance. Should Tom go back to his brilliant but loveless existence, or risk everything by staying in our messy, complicated world for his one and only chance at true love? 'Thrilling and refreshingly optimistic' Andy Weir, author of The Martian 'Sharp and funny' Daily Mail 'It's a Wonderful Life meets The Jetsons' Buzzfeed'All Our Wrong Todays is an entertaining romp that should appeal to fans The Time Traveler's Wife' The Guardian, BEST RECENT SCIENCE FICTION
More Details
The girl from everywhere
Heilig, Heidi
Paperback
'One of my absolute favourite reads of 2016, Heidi Heilig's debut captured me completely from the first page. A lushly written time-traveling adventure with an imaginative magical twist, real heart and real heartbreak, and a major dash of swoon.' - Alwyn Hamilton, author of Rebel of the SandsIt was the kind of August day that hinted at monsoons, and the year was 1774, though not for very much longer. Sixteen-year-old Nix Song is a time-traveller. She, her father and their crew of time refugees travel the world aboard The Temptation, a glorious pirate ship stuffed with treasures both typical and mythical. Old maps allow Nix and her father to navigate not just to distant lands, but distant times - although a map will only take you somewhere once. And Nix's father is only interested in one time, and one place: Honolulu 1868. A time before Nix was born, and her mother was alive. Something that puts Nix's existence rather dangerously in question . . . Nix has grown used to her father's obsession, but only because she's convinced it can't work. But then a map falls into her father's lap that changes everything. And when Nix refuses to help, her father threatens to maroon Kashmir, her only friend (and perhaps, only love) in a time where Nix will never be able to find him. And if Nix has learned one thing, it's that losing the person you love is a torment that no one can withstand. Nix must work out what she wants, who she is, and where she really belongs before time runs out on her forever.
More Details
The time traveler's wife
Niffenegger, Audrey
Paperback
This extraordinary, magical novel is the story of Clare and Henry who have known each other since Clare was six and Henry was thirty-six, and were married when Clare was twenty-two and Henry thirty. Impossible but true, because Henry is one of the first people diagnosed with Chrono-Displacement Disorder: periodically his genetic clock resets and he finds himself pulled suddenly into his past or future. His disappearances are spontaneous and his experiences are alternately harrowing and amusing. The Time Traveler's Wife depicts the effects of time travel on Henry and Clare's passionate love for each other with grace and humour. Their struggle to lead normal lives in the face of a force they can neither prevent nor control is intensely moving and entirely unforgettable.
More Details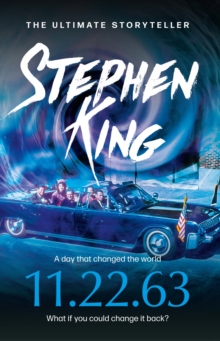 11.22.63 : a novel
King, Stephen
Paperback
Now a major TV series from JJ Abrams and Stephen King, starring James Franco (Hulu US, Fox UK and Europe, Stan Australia, SKY New Zealand). WHAT IF you could go back in time and change the course of history? WHAT IF the watershed moment you could change was the JFK assassination? 11.22.63, the date that Kennedy was shot - unless . . . King takes his protagonist Jake Epping, a high school English teacher from Lisbon Falls, Maine, 2011, on a fascinating journey back to 1958 - from a world of mobile phones and iPods to a new world of Elvis and JFK, of Plymouth Fury cars and Lindy Hopping, of a troubled loner named Lee Harvey Oswald and a beautiful high school librarian named Sadie Dunhill, who becomes the love of Jake's life - a life that transgresses all the normal rules of time. With extraordinary imaginative power, King weaves the social, political and popular culture of his baby-boom American generation into a devastating exercise in escalating suspense.
More Details
The shining girls
Beukes, Lauren
Paperback
The jaw-dropping, page-turning, critically-acclaimed book of the year: a serial-killer thriller unlike any other from the award-winning Lauren Beukes. 'GONE GIRL has not exactly gone. But THE SHINING GIRLS have arrived' (The Times). THE SHINING GIRLS is now streaming on Apple TV+, starring Elisabeth Moss and Jamie Bell "It's not my fault. It's yours. You shouldn't shine. You shouldn't make me do this." Chicago 1931. Harper Curtis, a violent drifter, stumbles on a house with a secret as shocking as his own twisted nature - it opens onto other times. He uses it to stalk his carefully chosen 'shining girls' through the decades - and cut the spark out of them. He's the perfect killer. Unstoppable. Untraceable. He thinks... Chicago, 1992. They say what doesn't kill you makes you stronger. Tell that to Kirby Mazrachi, whose life was shattered after a brutal attempt to murder her. Still struggling to find her attacker, her only ally is Dan, an ex-homicide reporter who covered her case and now might be falling in love with her. As Kirby investigates, she finds the other girls - the ones who didn't make it. The evidence is ... impossible. But for a girl who should be dead, impossible doesn't mean it didn't happen...
More Details