Don't Get Too Scared By Our Halloween Spooktacular
20th October 2021
Sure, you've got the sweets ready and you've even got your costume picked out, but you're missing something... the books! We've put together lists of Halloween-themed books for Early Years, Primary and Secondary aged readers, all available at scarily low prices.
Check out our top 10 books for Halloween 2021!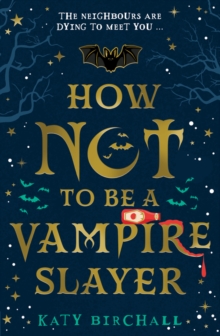 How not to be a vampire slayer
Birchall, Katy
Paperback
A fang-tastic story of unlikely friendship. Maggie Helsby isn't afraid of spooky legends and she's willing to prove it. But when she agrees to a dare to venture into the forest, she doesn't expect to find... 1. A creepy castle enchanted against humans 2. A vegetarian vampire who wants to be her friend 3. An ancient book naming HER as the latest of the Helsby slayers! Can Maggie persuade her family, her new (human) friends and the greedy Mayor Collyfleur that their nocturnal neighbours need protecting just as much as they do? Or will her neck be on the line... Perfect for fans of Witch Wars and Buffy the Vampire Slayer. Ideal reading for 9+ through Halloween and beyond. Have you read Morgan Charmley: Teen Witch by Katy Birchall?
More Details
We're going to find the monster!
Blackman, Malorie
Paperback
A rip-roaring picture book adventure from superstar pairing Malorie Blackman and Dapo Adeola. Over the shimmering ocean, up the huge, high mountain, through the deep, dark forest . . . WE'RE GOING TO FIND THE MONSTER!Join two intrepid adventurers as their imaginations transform their house into a wild wonderland - and their big brother becomes a mighty monster. A joy to read-aloud with its cumulative refrain, and full of funny, relatable characters, this is a contemporary celebration of creativity, fantasy and family. Written by bestselling author of Noughts & Crosses, Malorie Blackman, this story was originally published as Marty Monster. This new version has been stunningly brought to life by the award-winning illustrator of Look Up!, Dapo Adeola.
More Details
The haunting of Aveline Jones
Hickes, Phil
Paperback
Turn on your torches and join Aveline Jones!Aveline loves reading ghost stories, so a dreary half-term becomes much more exciting when she discovers a spooky old book. Not only are the stories spine-tingling, but it belonged to a girl called Primrose Penberthy, who vanished mysteriously, never to be seen again. Intrigued, Aveline decides to investigate Primrose's disappearance, with some help from her new friend, Harold. Now someone...or something, is stirring. And it is looking for Aveline. The first in a deliciously spine-tingling, spooky new series, where mysteries are always solved, spirits are always laid to rest, and everybody gets to bed on time. Perfect for adventurers aged 9+ and fans of Michelle Harrison, Piers Torday and Jamie Littler.
More Details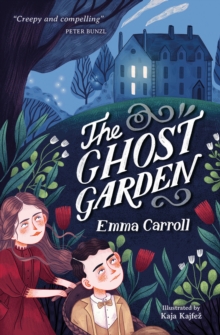 The ghost garden
Carroll, Emma
Paperback
SUMMER 1914When Fran uncovers a bone in the garden of Longbarrow House on the same afternoon that Leo breaks his leg, it is just the first in a series of strange and unsettling coincidences. Leo is left immobilised for the rest of the summer and Fran is roped in to keep him company, forced to listen to his foolish theories about the looming threat of war in Europe. Suddenly the garden she has loved all her life seems to hold threatening shadows of the future, and Fran starts to fear what she and Leo might find next ... Queen of Historical Fiction, Emma Carroll, makes her Barrington Stoke debut with a powerful, evocative, and spine-tingling story of childhood on the brink of war.
More Details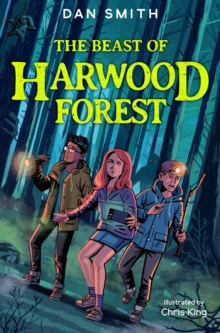 The beast of Harwood Forest
Smith, Dan
Paperback
What's hiding in Harwood Forest?When Pete, Nancy and Krish arrive at Heathland Camp for a school trip, they're in for an adventure - just not the kind they were expecting. Nearby sits the abandoned Harwood Institute. The crumbling buildings are out of bounds but strange screams come from the surrounding forest at night. Mystery shrouds the events that took place at the institute during the war, so Pete and his friends make it their mission to find out the truth. But the forest is hiding a sinister secret, and the trio could be in real danger ... Are some mysteries best left undisturbed?
More Details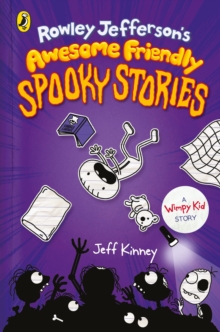 Rowley Jefferson's awesome friendly spooky stories
Kinney, Jeff
Laminated
Scare yourself silly with Rowley Jefferson's Awesome Friendly Spooky Stories by Jeff Kinney, the #1 international bestselling author of Diary of a Wimpy Kid! Grab a flashlight, crawl under the covers, and dive into the twisted, unexpectedly hilarious world of Rowley Jefferson's imagination. You'll meet zombies, vampires, ghosts, and much more in these comically terrifying tales. Rowley's spooky stories might leave you laughing, but beware-you could end up sleeping with the lights on!And don't miss Rowley Jefferson's first two awesome friendly books, the instant #1 bestsellers Diary of an Awesome Friendly Kid: Rowley Jefferson's Journal and Rowley Jefferson's Awesome Friendly Adventure!
More Details
Shadow chaser
Tudhope, Simon
Paperback
This magically illustrated gamebook plunges you into a story with a difference - one where the hero is YOU. Woken one night by a bang at the door, you creep to the window and see five hooded strangers below. The leader looks up and beckons you down. What do you do? Open the door, play for time, or escape through the window out back? The choice is yours... From this point onwards you are in control of an epic adventure, and your survival depends upon the decisions you make. Who to fight? Who to trust? In a book where nothing is as it seems, even the pictures hold secrets that must be unlocked. But as you race across land, sea and sky, one thing becomes clear: it's not just your fate that hangs in the balance - it's the fate of the entire kingdom. Bringing together a sweeping story, beautifully illustrated picture puzzles and an exciting combat system, this is an adventure that will have you gripped from beginning to end.
More Details
Pumpkinheads
Rowell, Rainbow
Paperback
Bestselling author Rainbow Rowell and Eisner Award-winning artist Faith Erin Hicks have teamed up to create Pumpkinheads: a smart and swoony Rainbow Rowell romance in full colour graphic novel form, about two teens discovering what it means to leave behind a place - and a person - with no regrets. Deja and Josiah are seasonal best friends. Every autumn, all through high school, they've worked together at the best pumpkin patch in the whole wide world (not many people know that the best pumpkin patch in the whole wide world is in Omaha, Nebraska, but it definitely is). They say goodbye every Halloween, and they're reunited every September. But this Halloween is different - Josiah and Deja are finally seniors, and this is their last season at the pumpkin patch. Their last shift together. Their last goodbye. Josiah's ready to spend the whole night feeling melancholy about it. Deja isn't ready to let him. She's got a plan: what if instead of moping, they went out with a bang? They could see all the sights! Taste all the snacks! And Josiah could finally talk to that cute girl he's been mooning over for three years . . . What if their last shift was an adventure?
More Details