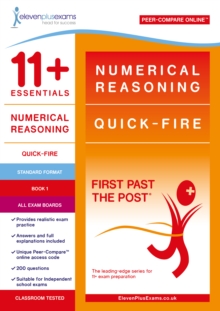 11+ Essentials Numerical Reasoning: Quick-fire Book 1
1912364301 / 9781912364305
210 x 297 mm, 274 grams 72 pages
This 11 plus numerical reasoning book provides practice for standard-format quick-fire style questions.
Numerical reasoning involves the interpretation and analysis of worded questions.
Quick-fire questions are akin to traditional short maths questions and in this book cover the key mathematical topics.
Each numerical reasoning test comprises ten tests, made up of twenty short questions.
For further practice in this format see 11+ Essentials Numerical Reasoning: Quick-Fire Book 2, and our 11+ Essentials Numerical Reasoning range.
BIC:
YQM Educational: Mathematics & numeracy, YQX Educational: General studies / study skills general, YQZ Educational: study & revision guides