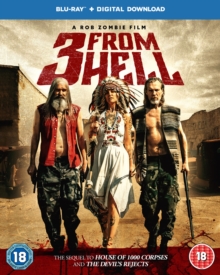 Blu-ray (Blu-ray / with Digital Download)
(18) Suitable for 18 years and over.
Rob Zombie writes and directs this horror sequel to 'House of 1000 Corpses' (2003) and 'The Devil's Rejects' (2005).
After surviving a shootout with the police, the Firefly family's crimes have become a media sensation, with Otis Driftwood (Bill Moseley), Captain Spaulding (Sid Haig) and Baby Firefly (Sheri Moon Zombie) locked up behind bars.
After Spaulding is executed, Otis and his half-brother Foxy (Richard Brake) escape incarceration and break Baby out of prison before heading to Mexico on another violent killing spree.
Commentary: Rob Zombie (writer/director)