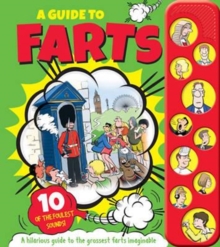 A Guide to Farts
Part of the Fart Book series
1785572830 / 9781785572838
Usually dispatched within 4 weeks
170 x 205 mm 24 pages, cased cover
Ever fallen foul of a fart fail? Whether you've been caught downwind of a smelly breeze, or released a dud with more squeak than stink, this book contains all the guidance you need to let one rip like a pro.
Learn how to identify each whiff and become an expert in fart execution with this illustrated guide to the most disgusting farts of all time, complete with tremendous trump sounds to help you achieve maximum devastation.
Brew, deploy, evacuate and enjoy with this essential Guide to Farts!
BIC:
* Variable discounts between 0% and 15% are applied to items where BBfS cannot determine exact discounts from suppliers.
Other Formats