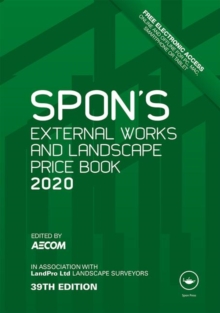 Spon's external works and landscape price book 2020
0367271060 / 9780367271060
Stock expected by 27/09/2019
Now in its 39th edition, Spon's External Works and Landscape Price Book 2020 offers the only comprehensive source of information for detailed external works and landscape costs.
It covers all the items to be found in hard and soft landscape contracts, and forms an indispensable reference book for quantity surveyors, landscape architects, contractors and local authority managers - essential for compiling estimates, specifications, bills of quantities and works schedules - no matter what the size of the project being undertaken.
Use the access code inside the front cover of the book to get set up with an ebook of this 2020 edition on the VitalSource (R) Bookshelf platform, available for access and use until the end of December 2020. This NRM edition provides a detailed breakdown of preliminaries in a series of cost models for different projectsIt also Includes several new items:Recycled versions of a number of landscape materials and systems - especially retaining walls, fencing and barriers, ground protection grids, and street furniture; New equipment for playgroundsAggregates Haddonstone balustrades, and New flag and block product ranges of Marshalls paving, especially permeable formatsAll the standard features that you expect from SPON'S EXTERNAL WORKS AND LANDSCAPE PRICE BOOK remain: - material and measured work prices covering contract items from preliminaries and site clearance and encompassing the core external works activities with full breakdowns into labour, materials and other components - detailed guidance on wage rates, landscape consultants' fee scales - an extensive Approximate Estimates section for rapid spot estimating - updates, free of charge, twice a year - see inside for registration details.
Updates are available online at www.pricebooks.co.uk
BIC:
AMV Landscape art & architecture, GBCY Yearbooks, annuals, almanacs, TNCB1 Quantity surveying