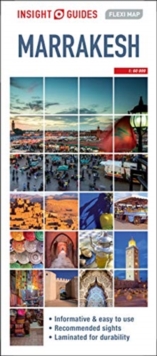 Insight Guides Flexi Map Marrakesh (Insight Maps) (4 Revised edition)
1789190673 / 9781789190670
Insight Guides Flexi Map MarrakeshAfrican Capital of Culture 2020Let us guide you on every step of your travels... Designed for easy usage and durability, this map is all you need to explore Marrakesh. This easy to use, full-colour, waterproof map is all you need to navigate Marrakesh.
It also includes dotted highlight sights such as the Souk des Babouches and Jemaa el Fna, as well as essential information on getting around. Features of this tap to Marrakesh:- Detailed cartography: produced to the highest cartographic standards, highlighting all the main tourist sights, places to visit and transport networks- Informative text: useful travel information, essential facts about the destination, recommendations for the best places to see and tips for getting around- Easy to use: lightweight and wipe-clean in a handy pocket-size format.
Sights linked to the mapping by numbered markers- Laminated finish: durable, weatherproof and easier to fold than conventional paper maps- The main map is at a scale of 1:9000You may also be interested in: Insight Guides MarrakeshAbout Insight Guides: Insight Guidesis a pioneer of full-colour guide books, with almost 50 years' experience of publishing high-quality, visual travel guides with user-friendly, modern design.
We produce around 400 full-colour print guide books and maps, as well as phrase books, picture-packed eBooks and apps to meet different travellers' needs.
Insight Guides' unique combination of beautiful travel photography and focus on history and culture create a unique visual reference and planning tool to inspire your next adventure.
BIC: