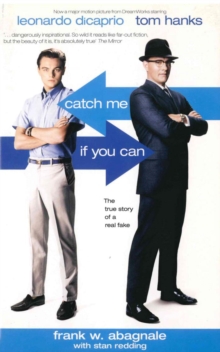 Catch me if you can : the amazing true story of the most extraordinary liar in the history of fun and profit
1840187166 / 9781840187168
Reprint. Published in Scotland. Film tie-in. Originally published: New York: Grosset & Dunlap, 1980; Edinburgh: Mainstream, 2001.
Frank W. Abagnale, alias Frank Williams, Robert Conrad, Frank Adams and Ringo Monjo, was a daring conman, forger, impostor and escape artist.
In his brief but notorious career, Abagnale donned a pilot's uniform and co-piloted a Pan Am jet, masqueraded as a member of hospital management, practised law without a licence, passed himself off as a college sociology professor and cashed over $2.5 million in forged checks, all before he was 21.
Known by the police of 26 foreign countries and all 50 US states as "The Skywayman", Abagnale lived a sumptuous life on the run - until the law caught up with him.
Now recognized as a leading authority on financial foul play, Abagnale is a charming rogue whose hilarious, stranger-than-fiction international escapades and ingenious escapes - including one from an aeroplane - make "Catch Me If You Can" an irresistible tale of deceit.
Abagnale's story has now been made into a film, starring Tom Hanks and Leonardo DiCaprio.
BIC: