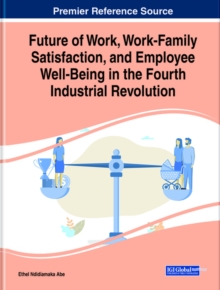 Future of work, work-family satisfaction, and employee well-being in the Fourth Industrial Revolution
179983347X / 9781799833475
Stock expected by 18/06/2020
Disruptions are being caused in the workplace due to the development of advanced software technology and the speed at which these technological advancements are being produced.
These disruptions could take diverse forms and affect various aspects of work and the lives of entities in the workplaces and families of the individual employees.
Work and family are caught in the crossfire between technological disruptions and human adaptation.
Hence, there is a need to assess the overall effect that the Fourth Industrial Revolution would have on work, employee work-family satisfaction, and employee well-being.
Future of Work, Work-Family Satisfaction, and Employee Well-Being in the Fourth Industrial Revolution is a critical reference source that discusses practical solutions and strategies to manage challenges and address fears regarding the effect of the Fourth Industrial Revolution on the future of employment and the workforce.
Featuring research on topics such as corporate governance, job satisfaction, and mental health, this book is ideally designed for human resource professionals, business managers, industry professionals, government officials, policymakers, corporate strategists, consultants, work-life balance experts, human resources software developers, business policy experts, academicians, researchers, and students.
BIC:
JH Sociology & anthropology, KJMV2 Personnel & human resources management, KJW Office & workplace