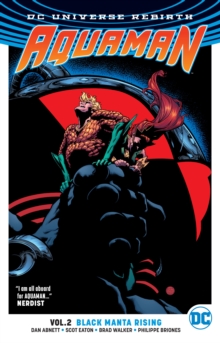 Black manta rising
1401272274 / 9781401272272
26 cm 1 volume (unpaged) : chiefly illustrations (colour)
A part of DC Rebirth, as the tales of the King of the Seven Seas continuesin this new hit series!
Aquaman's investigation into the mysterious Atlanteanterrorist attacks on the surface is cut short when Black Manta taps his newfoundweapons cache and unleashes an unstoppable weapon upon the undersea kingdom: arelentless behemoth from the deep that lays waste to anything in its path.
Inthis brand new series by fan-favorite writer Dan Abnett (TITANS HUNT) andall-star penciller Brad Walker (SINESTRO), Arthur Curry continues his blood feudwith his most dangerous enemy.
Collects AQUAMAN #7-12. Rebirth honors therichest history in comics, while continuing to look towards the future.
Theseare the most innovative and modern stories featuring the world's greatestsuperheroes, told by some of the finest storytellers in the business. Honoring the past, protecting our present and looking towards the future. This is the next chapter in the ongoing saga of the DC Universe.
The legacycontinues.
BIC: