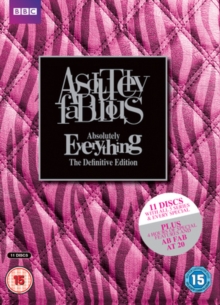 Absolutely Fabulous: Absolutely Everything
DVD (DVD / Definitive Edition)
(15) Suitable for 15 years and over.
All five series, plus the Christmas specials, of Jennifer Saunder's Emmy and BAFTA award-winning television show.
Joanna Lumley stars as Patsy, the Bollinger-swigging fashion writer; Saunders plays Edina, the terminally-adolescent magazine editor; and Julia Sawalha appears as Saffron, Edina's prudish daughter.
June Whitfield also makes an appearance, teetering on the edge of dementia, as Edina's mother.