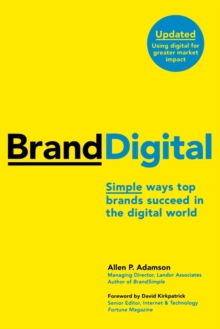 BrandDigital : simple ways top brands succeed in the digital world
023061762X / 9780230617629
Usually dispatched within 2 weeks
Reprint. Originally published: 2008.
In his best-selling book, BrandSimple: How the Best Brands Keep it Simple and Succeed, Allen P.
Adamson showed in a straightforward manner how powerful brands get built.
In a similarly engaging style, BrandDigital explains that in the quickly accelerating digital marketplace the basic principles of branding have not changed, but rather, are more important than ever.
He clearly demonstrates that brand professionals have an unprecedented opportunity to use digital tools and media to learn more about their customers and offer experiences that better reinforce customer relationships - and build brand equity. Based on over 100 interviews with top branding professionals, Adamson makes his point with case studies from companies including Ameriprise, Burger King, General Mills, Hewlett-Packard, Johnson& Johnson, Nike, PepsiCo, and Procter& Gamble.
He provides numerous examples of why, particularly in the digital arena, it's never been more important to gain significant insights about consumers; to establish a simple, compelling, and credible brand promise; and to make good on this promise. Along with putting into proper context the role Google, YouTube, Second Life, social media, and blogs play in the branding process, Adamson shows how the best companies are taking advantage of evolving digital technology to build stronger brands and stronger bonds with their customers. See Allen's interview on ABC: http://abcnews.go.com/video/playerIndex?id=5652297
BIC: