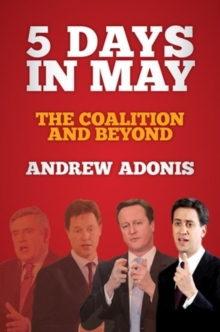 5 days in May : the coalition and beyond
1849545669 / 9781849545662
Stock expected by 11/07/2020
In the wake of the inconclusive May 2010 general election Lord Adonis and other senior Labour figures sat down for talks with the Liberal Democrat leadership to try to persuade them to govern Britain together in a Lib - Lab coalition.
The talks ultimately resulted in failure for Labour amid recriminations on both sides and the accusation that the Lib Dems had conducted a dutch auction, inviting Labour to outbid the Tories on a shopping list of demands.
Despite calls for him to give his own account of this historic sequence of events, Adonis has kept his own counsel until now.
Published to coincide with the third anniversary of the general election that would eventually produce an historic first coalition government since the Second World War, 5 Days In May is a remarkable and important insider account of the dramatic negotiations that led to its formation.
It also offers the author's views on what the future holds as the run-up to the next election begins. 5 Days in May presents a unique eyewitness account of a pivotal moment in political history.
BIC:
1DBK United Kingdom, Great Britain, 3JMG c 2010 to c 2020, HBJD1 British & Irish history, JPHF Elections & referenda, JPHL Political leaders & leadership, JPL Political parties