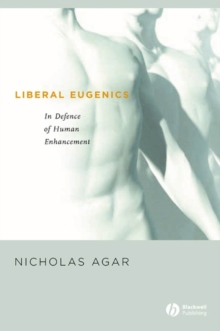 Liberal eugenics : in defence of human enhancement
1405123907 / 9781405123907
Stock expected by 29/01/2020
postgraduate Learn More
research & professional
undergraduate
Public debate about the use of genetic technology is dominated by fears of a Huxleyan 'Brave New World' or a return to the fascist eugenics of the past.
In this controversial book, philosopher Nicholas Agar defuses these anxieties and defends the idea that parents should be allowed to enhance their children's genetic characteristics.
Agar describes three technologies that may soon make liberal eugenics a practical possibility - cloning by somatic cell nuclear transfer, genomics, and genetic engineering - and argues that parents can use these technologies to realize their procreative goals without harming the people they will bring into existence.
He rejects the idea that eugenics need divide society into genetic haves and have-nots, and denies that social pressures need force eugenic choices to converge on a single view of human excellence, suggesting that these threats to liberal social arrangements can be resisted.
BIC: