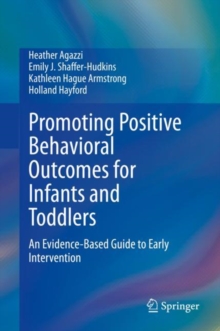 Promoting Positive Behavioral Outcomes for Infants and Toddlers : An Evidence-Based Guide to Early Intervention (1st ed. 2020)
303051613X / 9783030516130
155 x 235 mm 158 pages, 5 Illustrations, black and white; VIII, 158 p. 5 illus.
This book provides a guide for planning, providing, and documenting effective early interventions for infants and toddlers and their families.
It discusses best practices for engaging the family, team problem-solving, developing individual treatment plans, incorporating evidence-based interventions, tracking progress, and identifying and solving challenges and obstacles presenting during treatment.
The book focuses on the approximately 13% of U.S. children under age 3 who have developmental delays/disabilities, many of which may impair their ability to talk, move, learn, socialize, and become independent.
When delivered effectively, early intervention can improve daily function and outcomes for these children, many of whom present with multiple and unique challenges.
Each chapter in this book is written to guide practitioners, clinicians, therapists, and related professionals in their daily work with young children and their families.
It addresses everyday challenges, including creating routines for parents of infants and toddlers, teaching parents how to play with their children and respond to problem behaviors, and managing caregiver stress.
Promoting Positive Behavioral Outcomes for Infants and Toddlers is an essential resource for scientist-practitioners/professionals and clinicians as well as researchers and graduate students in child and school psychology; educational psychology; behavioral therapy; infancy and early childhood development; speech pathology, and occupational therapy.
BIC:
JKSN Social work, JMC Child & developmental psychology, MMJT Psychotherapy
* Variable discounts between 0% and 15% are applied to items where BBfS cannot determine exact discounts from suppliers.