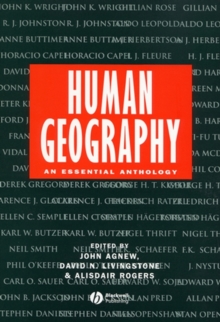 Human geography : an essential anthology
0631194614 / 9780631194613
Stock expected by 17/08/2022
postgraduate Learn More
research & professional
undergraduate
This book provides students in human geography with a vital resource - a collection of writings critical to understanding the field as a whole and revealing the interactions of its component parts.
It is designed to give students ready access to the literature their studies are most likely to lead them to consult.The book is divided into five parts.
Parts I and II describe the nature of the enterprise and show the origins and current state of thinking on central issues.
Part III is concerned with interactions between nature, culture and landscape.
Part IV considers area differences and geographic units such as region, place and locality.
Part V provides insights into the concepts of space, time and space-time.
The editors have provided a general introduction, introductions to each part and contextual notes for each chapter.
Each part concludes with sections of further reading by subject and the volume ends with a time chart of the main developments in geography.
This collection of seminal articles aims to be revealing, challenging and engaging. It amply demonstrates why human geography is a subject worthy of the student's engagement and provides a vital and rewarding resource for its understanding.
BIC:
RGC Human geography, RNT Social impact of environmental issues