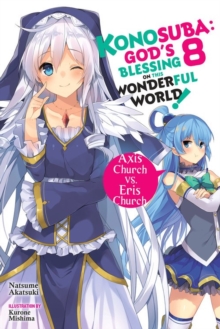 Konosuba: God's Blessing on This Wonderful World!, Vol. 8 (light novel)
0316468851 / 9780316468855
137 x 206 mm, 195 grams 224 pages
Out of nowhere, devout followers decide to throw an"Aqua Festival" and Kazuma gets dragged into helping out.
At the same time,Chris asks for Kazuma's help with a festival of her own.
While all this is goingon, Chris also ropes Kazuma into infiltrating a mansion to recover the SacredTreasure, the "Talking Armor." Between helping out with two different festivalsand tracking down another Sacred Treasure, can Kazuma catch abreak...?
BIC: