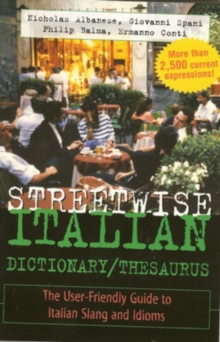 Streetwise Italian dictionary/thesaurus : the user friendly guide to Italian slang and idioms
0071430709 / 9780071430708
This fascinating reference to current Italian colloquial expressions and slang provides over 2,500 current terms and expressions conveniently arranged into alphabetically arranged topics.
These topics are further split into subcategories, helping users to quickly locate the subject they are looking for.
Unlike most competitive titles, expressions are marked for register to guide the learner in avoiding inappropriate usage.
Additional notes provide more detailed advice on where and when words and phrases should or should not be used.
Extensive example sentences, together with their English translations, provide helpful context.
A dictionary contains all the terms and is cross-referenced to the main entries in the thesaurus.
Entertaining exercises for each topic enable learners to check their active and passive knowledge and also provides a spur to browsing the book.
Answers are provided at the back of the book.
BIC:
2AB English, 2ADT Italian, CBDX Bilingual & multilingual dictionaries, CBF Thesauri