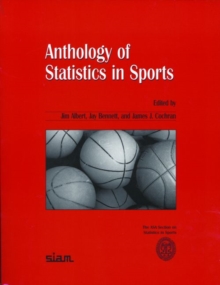 Anthology of statistics in sports
0898715873 / 9780898715873
Stock expected by 06/02/2020
The worlds of sports fans and statisticians collide in this interesting and accessible collection of previously published articles on the use of statistics to analyze sports, that the editors have thoughtfully culled from a variety of American Statistical Association (ASA) publications.
Heavily weighted in the areas of competition (rating players and teams, evaluating strategies for victory), the articles vary in mathematical complexity, but most will be accessible to readers with a general knowledge of statistics.
Newly written material from the editors and other notable contributors introduces each section of the book, and a chapter with suggestions on using the articles in the classroom is included.
This book will appeal to statisticians with an interest in sports who could use the chapters as engaging classroom examples.
Sports fans with some understanding of statistics also will find the book of interest, especially the chapters written at a modest mathematical level.
BIC:
1KBB USA, PBT Probability & statistics, WS Sports & outdoor recreation