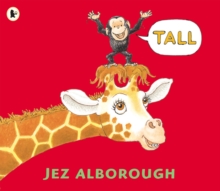 Tall
1406301736 / 9781406301731
24 x 27 cm [33] p. : chiefly col. ill.
Reprint. Originally published: 2005.
Bobo the baby chimp is walking through the jungle. Everyone seems to be taller than he is! So he climbs on top of a lizard, a lion cub, an elephant and even a giraffe in his attempt to be tallest...until he wobbles, and wobbles...and slips!
Luckily, mummy is there to rescue him. Bobo realizes that sometimes the size you are is the size you're meant to be!
BIC: