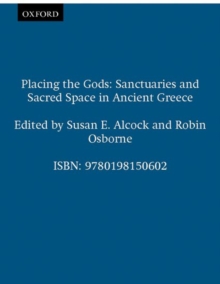 Placing the gods : sanctuaries and sacred space in ancient Greece
0198150601 / 9780198150602
Stock expected by 20/12/2019
No one disputes the centrality of cult activity in the lives of individuals and communities in ancient Greece.
The significance of where people worshipped their gods has been far less acknowledged.
In 1884 Francois de Polignac argued that the placing of cult centres played a major part in establishing the concept of the city-state in archaic Greece.
The essays in this collection, headed by that of de Polignac himself in which he re-assesses his position, critically examine the social and political importance of sanctuary placement, not only by re-examining the case of the archaic Greece discussed by de Polignac, but by extending analysis both back to Mycenaean times and onwards to Greece under Roman occupation.
These essays reveal something of the complexity of relations between religion and politics in ancient Greece, demonstrating how vital factors such as tradition, gender relations, and cult identity were in creating and maintaining the religious mapping of the Greek countryside.
BIC:
1QDAG Ancient Greece, HBJD European history, HBLA Ancient history: to c 500 CE, HDDK Classical Greek & Roman archaeology, HRKP Ancient religions & mythologies