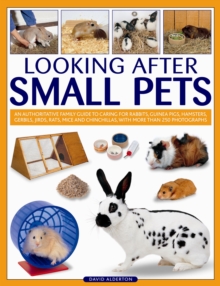 Looking after small pets : an authoritative family guide to caring for rabbits, guinea pigs, hamsters, gerbils, jirds, rats, mice and chinchillas, with more than 250 photographs
1780191928 / 9781780191928
Stock expected by 16/03/2021
29 cm 96 pages : illustrations (colour)
This is an authoritative family guide to caring for rabbits, guinea pigs, hamsters, gerbils, jirds, rats, mice and chinchillas, with more than 250 photographs.
It features all the practical advice you need to ensure a happy home for your small pet: choosing and buying, housing, feeding and nutrition, general care, handling, exercise, breeding, grooming and showing.
It provides instructions for all the most familiar types of small pet - including smooth-coated and long-haired varieties - as well as more unusual pets such as chipmunks, spiny mice and sugar gliders.
It is an authoritative guide to health care and first aid: common problems to watch out for in your pet, and what to do when things go wrong.
It is an informative text from one of the subject's leading petcare experts, and fully illustrated with over 250 photographs for identification and to show how to do each practical task.
Rabbits, guinea pigs, hamsters, gerbils, jirds, rats, mice and chinchillas make excellent animal companions, particularly for children.
For anyone unable to decide which pet to buy, the range and depth of information covered here will ensure an informed choice. There are descriptions of the temperament and physical characteristics of each species, and practical advice on indoor and outdoor housing, handling and exercising your pet, nutrition, grooming, showing, and pet health.
Beautifully illustrated with over 250 photographs, this expertly written manual will provide all the knowledge you need to care for your pet with complete confidence.
BIC: