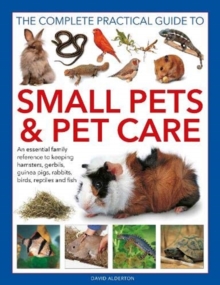 The complete practical guide to small pets & pet care : an essential family reference to keeping hamsters, gerbils, guinea pigs, rabbits, birds, reptiles and fish
0754835324 / 9780754835325
29 cm 256 pages : illustrations (colour)
A newly-updated practical guide to pet-keeping, covering all aspects of choosing and caring for small mammals including rabbits, guinea pigs, hamsters, gerbils and jirds, chinchillas, rats and mice - plus birds, herptiles, invertebrates and fish.
Each chapter features the most popular breeds in each species, based on general availability and suitability.
Find out how to choose the best pet for your lifestyle plus practical tips on buying a pet; housing and exercise; foods for a balanced diet; pet health and what to do when your pet is sick.
This is a perfect reference book on petcare for any owner.
Expert advice on choosing and buying a pet, the breeds, housing, feeding, handling, showing and health care.
Helpful information and fascinating insights about every aspect of caring for the most popular pet species.
How to select the right pet for your lifestyle, including choosing exotic species and the most suitable pets for young children and families.
Maintaining a pet's health, plus the equipment needed to house, feed and exercise pets correctly, and detailed advice on training, handling, showing and breeding pets.
BIC:
WNGF Fishes & aquaria, WNGK Birds, including cage birds, as pets, WNGR Rabbits & rodents as pets, WNGS Reptiles & amphibians as pets