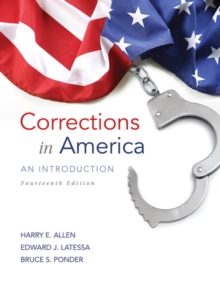 Corrections in America : an introduction (14th edition)
0133591212 / 9780133591217
Usually dispatched within 4 weeks
Based on its established tradition of comprehensive, student-friendly coverage with extensive supplemental material, Corrections in America has been the best-selling text in the field for over 40 years.
It covers virtually all aspects of corrections, including its history, prisons in the present, correctional ideologies, sentencing and legal issues, alternatives to imprisonment, institutional corrections, and correctional clients.
This new edition includes expanded coverage of contemporary issues, including juvenile facilities, state and federal prisons, and security threats and gangs.
Photos and figures provide a visual learning experience that presents complex data in a very simple and readable manner.
Key words, review questions, definitions and objective-based summaries make instruction more focused, and help students master the materials.
KEY TOPICS: Part 1 Historical Perspectives; Early History (2000 b.c. to a.d. 1800); Prisons (1800 to the Present); Correctional Ideologies: The Pendulum Swings; The Sentencing and Appeals Process; Part 2 Alternatives to Imprisonment; Probation; Diversion and Intermediate Sanctions; Part 3 Institutional Corrections; Custody Functions; Security Threat Groups and Prison Gangs; Management and Treatment Functions; Jails and Detention Facilities; State and Local Prison Systems; The Federal System; Private-Sector Systems; The Death Penalty; Parole and Reentry; Part 4 Correctional Clients; Inmate and Ex-Offender Rights; Male Offenders; Female Offenders; Juvenile Offenders; Facilities for Juveniles; Special-Category Offenders.
MARKET: This title is intended for use in the Introduction to Corrections course.
BIC:
JKV Crime & criminology, LNFX5 Police law & police procedures